CNN's Chris Cuomo criticized President Donald Trump after it emerged that he had declined a request from Annapolis Mayor Gavin Buckley to lower American flags in honor of the victims of the shooting at the headquarters of the Capital Gazette last week.
"It's been four days since the most recent mass shooting that robbed this world of five lives, shattered families, and added another layer of shame on all lawmakers for not doing something to stop all the damn shootings," Cuomo said.
---
Why was the Mayor of Annapolis turned down by the White House on his request to lower flags to mark the lives of fa… https://t.co/KugyDzXDx3

— Cuomo Prime Time (@Cuomo Prime Time) 1530586710.0
He then proceeded to deconstruct the president's reasoning, noting that the White House had paid respect to the victims of other mass shootings with no pushback:
So why did this happen? Is there a protocol that would make it weird to respect the dead journalists? No. The Las Vegas shooting, the Parkland shooting... They warranted flags being lowered. Why not this?
"Maybe not enough people," Cuomo pondered, before pointing out that the White House had previously lowered American flags in honor of the lives of Barbara Bush (who passed away in April) and the Reverend Billy Graham (who passed away in February).
"Important people, but it wasn't about big numbers of people," Cuomo said.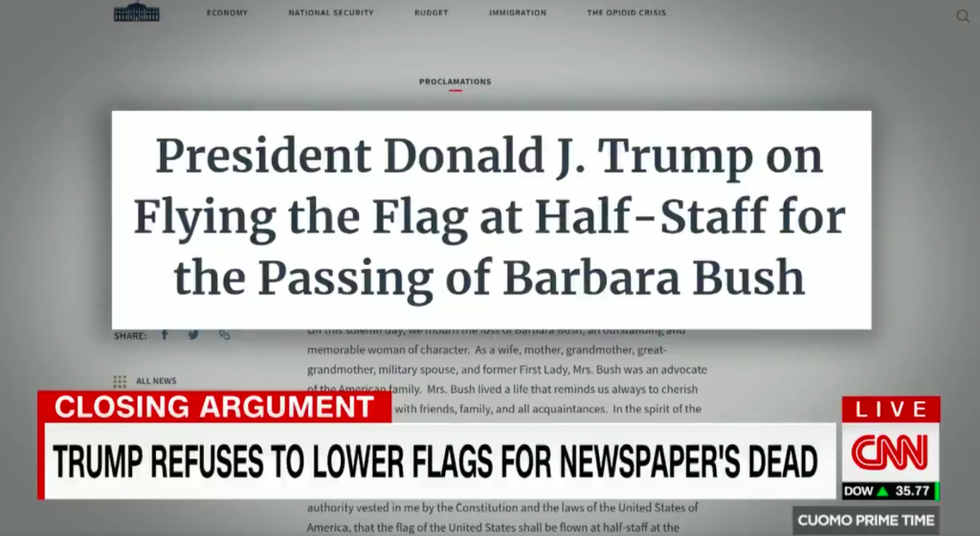 Screenshot via Twitter.
"So why would the Mayor of Annapolis say he was turned down with such a no-brainer request?" Cuomo asked his viewers. "Now, I'm afraid I know the answer, and it's because President Trump doesn't like the media."
He continued, this time referencing the president's history of pettiness, a characteristic which has been front and center, for example, in the way he has treated Senator John McCain (R-AZ):
I know that sounds extraordinarily petty and callous but more facts: Trump is the man who mocked John McCain for being captured during Vietnam and who hardly condemned his staffer [Kelly Sadler] who mocked McCain's illness. In fact, he allowed her to stay at her job. And he still attacks McCain with his thumbs down swipes about the senator's "nay" vote on an insurance bill, a bill which, by the way, would have taken insurance from even more people than the bill the senator eventually voted for.
The president's treatment of the veteran senator, Cuomo said, indicates that "Trump is entirely capable of disrespecting people no matter their predicament if it suits him or his interests."
This same behavior is present in his response to the humanitarian crisis taking place along the U.S.-Mexico border, Cuomo said, referencing the "zero tolerance" family separations policy which tore children away from their families. (A federal judge has ordered the Trump administration to reunite children with their parents by no later than July 10.)
"Look, look at what's happening on the border," Cuomo said. "Kids ripped from their families. Still not returned, despite that sham of an executive order and promises to fix it all rapido. Mentiras! Lies, those were. And that's the truth."
Cuomo wasn't the only one to criticize the president.
Many others pointed out the president's hypocrisy in refusing to lower flags for the journalists killed in the shooting.
This man is unfit to be leading our country. He is well aware his rhetoric against the media, calling them fake new… https://t.co/vWGmSTHd6K

— Amy Siskind 🏳️‍🌈 (@Amy Siskind 🏳️‍🌈) 1530581472.0
Lowering flags in honor of the #CapitalGazetteShooting victims was literally the least he could do — and he still r… https://t.co/4fbU4syiPe

— shauna (@shauna) 1530578616.0
Sad to think more WH staff time & thought went into the political calculation for this decision than the effort to… https://t.co/JpmUboMoDC

— Rep. Ted Deutch (@Rep. Ted Deutch) 1530624723.0
It appears the pushback has worked because the Capital Gazette reports that the president has changed his mind.
The White House has reversed its decision and will permit Annapolis mayor Gavin Buckley to lower U.S. flags to half… https://t.co/hAMKWWPGQV

— Capital Gazette (@Capital Gazette) 1530621156.0
Other news outlets confirmed it.
JUST IN: President Trump orders American flags in the US and around the world to half-staff until sunset tonight "a… https://t.co/xBrFi8qfGx

— MSNBC (@MSNBC) 1530623129.0
"Our Nation shares the sorrow of those affected by the shooting at the Capital Gazette newspaper in Annapolis, Maryland," the president's proclamation reads. "Americans across the country are united in calling upon God to be with the victims and to bring aid and comfort to their families and friends."
That response is in stark contrast to the one the president gave to the request before, one which initially prompted Annapolis Mayor Gavin Buckley to express his disappointment.
"Obviously, I'm disappointed, you know? ... Is there a cutoff for tragedy?" Buckley said yesterday afternoon. "This was an attack on the press. It was an attack on freedom of speech. It's just as important as any other tragedy."
President Trump's initial response to the shooting garnered significant criticism.
Prior to departing Wisconsin, I was briefed on the shooting at Capital Gazette in Annapolis, Maryland. My thoughts… https://t.co/DUhjdWWxBP

— Donald J. Trump (@Donald J. Trump) 1530218995.0
The president issued another response during a White House press conference later that day, noting that journalists should be able to do their jobs without fearing for their lives.
"I'd like to to address the horrific shooting that took place yesterday at Capital Gazette newsroom in Annapolis, Maryland," Trump said at the White House. "This attack shocked the conscience of our Nation, and filled our hearts with grief. Journalists, like all Americans, should be free from the fear of being violently attacked while doing their job."
The president continued:
To the families of the victims, there are no words to express our sorrow for your loss. Horrible, horrible event — horrible thing happened. When you're suffering, we pledge our eternal support. This suffering is so great. I've seen some of the people — so great. My government will not rest until we have done everything in our power to reduce violent crime and to protect innocent life. We will not ever leave your side. So, our warmest, best wishes and regrets. Horrific horrible thing.
The president's words rang hollow with many observers who cited his penchant for referring to the media as "fake news" and for branding it "the enemy of the people." He has further come under fire for his assertions that journalists are inherently dishonest. The president has often criticized news outlets for their coverage of Special Counsel Robert Mueller's investigation into Russian interference in the 2016 presidential election. His attacks on First Amendment rights are well documented; he once infamously claimed that he would seek to amend libel laws and penalize journalists who've reported negative coverage about him and his associates.