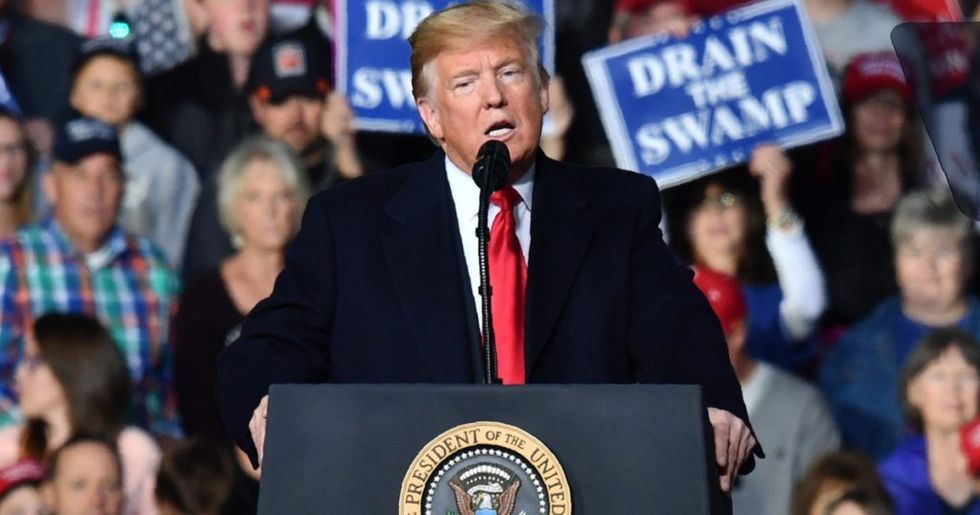 US President Donald Trump speaks during a 'Make America Great' rally in Missoula, Montana, on October 18, 2018. (Photo by Nicholas Kamm / AFP) (Photo credit should read NICHOLAS KAMM/AFP/Getty Images)
President Donald Trump is facing harsh criticism from the White House Correspondents' Association after he praised a Republican Congressman who body slammed a reporter last year.
"All Americans should recoil from the president's praise for a violent assault on a reporter doing his Constitutionally protected job," White House Correspondents' Association president Olivier Knox said in a statement. "This amounts to the celebration of a crime by someone sworn to uphold our laws and an attack on the First Amendment by someone who has solemnly pledged to defend it. We should never shrug at the president cheerleading for a violent act targeting a free and independent news media."
Representative Greg Gianforte (R-MT) body-slammed Guardian reporter Ben Jacobs in 2017 after Jacobs asked a question about health care.
At a campaign event in Missoula, Montana on Thursday, Trump said that "any guy who can do a body slam ... he's my guy," referring to Gianforte. "I shouldn't say this," Trump said, adding that "there's nothing to be embarrassed about."
Trump told the cheering Montana crowd how he reacted when he heard about the incident.
"Then I said, well wait a minute, I know Montana pretty well, I think it might help him," Trump said, "And it did."
Twitter immediately chimed in by blasting Republicans for their hypocritical calls for "civility" as Trump endorses violence against the press.
Trump has routinely chided the free press as "the enemy of the people" and has referred to Democrats as a "left-wing mob." His words in Montana, however, tell a much different story, as the audience cheered when Trump praised Gianforte.
What Trump said is true - Gianforte went on to win a U.S. House seat in a special election while facing legal consequences for his actions.
Gianforte was convicted of misdemeanor assault and received a 180-day deferred sentence. He was also ordered to perform 40 hours of community service, take 20 hours of anger management and pay a $300 fine along with an $85 court fee.
"He took me to the ground," Jacobs said after the attack. "I think he whaled on me once or twice … He got on me and I think he hit me … This is the strangest thing that has ever happened to me in reporting on politics."
The WHCA also faced some blowback from people who are tired of the dishonesty emitted from the White House on a near-daily basis.
There are people who think the WHCA should be doing more to check the Trump administration's constant barrage of falsehoods.
All of this is playing against the backdrop of Washington Post columnist Jamal Khashoggi's disappearance and murder in Turkey earlier this month.
Khashoggi vanished October 2 after entering the Saudi Consulate in Istanbul. Audio and video recordings would later confirm that Khashoggi was tortured and assassinated by 15 Saudi nationals. Their weapon of choice was a bone saw. An investigation into who gave the order is still ongoing.
Violence against reporters has also been on the upswing in the United States. In June, a gunman murdered five people at the Capital Gazette in Annapolis, Maryland.
And on Thursday, Jerry Walkowitz of New Jersey's Asbury Park Press died from injuries he sustained in May after he was beaten and run over with his own car because of his race.
Keep reading...Show less