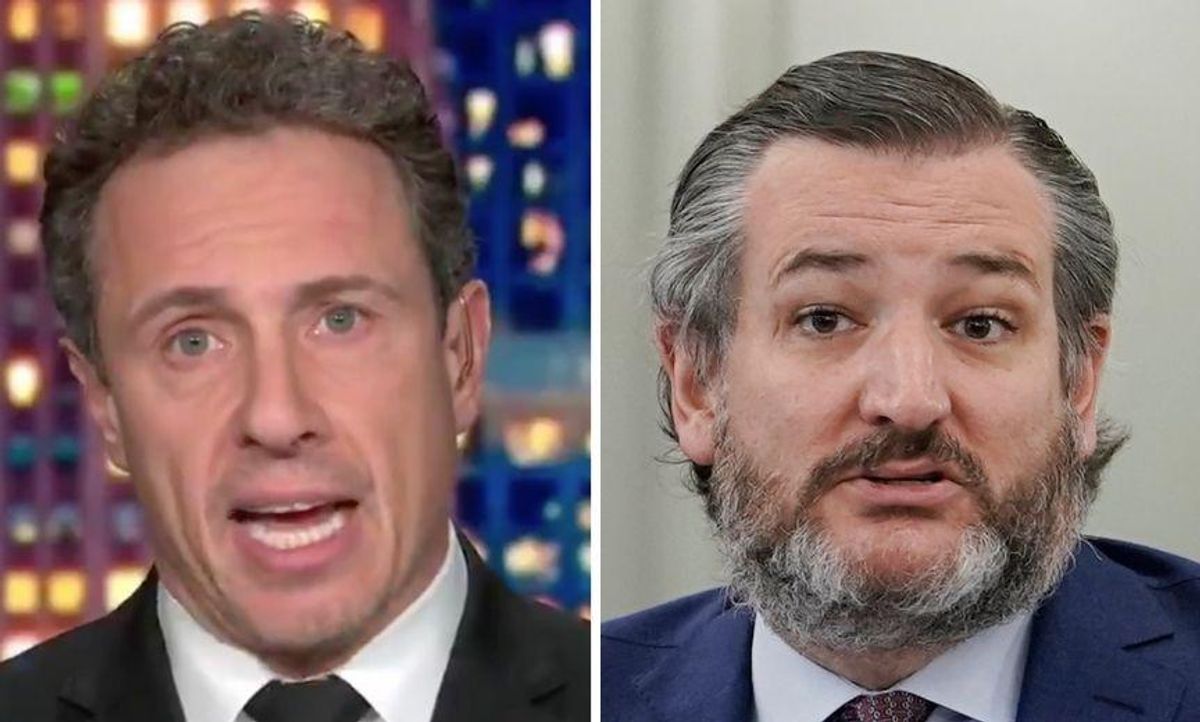 CNN // Ken Cedeno-Pool/Getty Images
On Wednesday, House impeachment managers delivered the most graphic and searing account yet of the deadly riot at the United States Capitol, as they argued that former President Donald Trump's constant lies about the 2020 election sparked the failed insurrection committed by a mob of pro-Trump extremists on January 6.
The impeachment managers played previously unreleased security camera footage that showed the violent rioters getting mere feet within multiple lawmakers. They also showed Trump's comments before and after the attack to make the case that the former President supported the violence.
According to journalists present for the trial, multiple Republican Senators were doodling or otherwise refusing to pay attention during the harrowing arguments.
Senator Ted Cruz (R-TX) appears to be one of those Senators.
As the historic impeachment trial was underway, Cruz tweeted about new guidelines at a hospital in the United Kingdom that advised against the use of terms like "breast milk" for trans or gender non-conforming patients.
Cruz, describing the guidelines as "Orwellian," continued the longstanding Republican trend of painting simple guidelines on inclusive language as an attack lobbed on the American public by trans people. This is despite trans people facing more violence and higher suicide rates in no small part due to the cruel rhetoric commonly deployed by Republicans like Cruz.
The tweet is even more damaging considering Cruz's amplification of the very lies that led to the deadly attack on the Capitol. In addition to peddling the lies that the 2020 election was illegitimate, Cruz objected to the counting of certified election results and their subsequent electoral votes in swing states Trump lost, even just hours after Trump extremists breached the Capitol.
CNN anchor Chris Cuomo took Cruz to task for his tweet in a lengthy segment about the arguments made in the trial.
Watch below at the 7:15 mark to hear Cuomo's comments to Cruz.
Cuomo told the Senator:

"Orwellian? Sir, you are at a trial that you're not even paying attention to, where you are saying that what happened didn't really happen, because you don't want to have to deal with the reality."
He continued:

"That, my brother, is Orwellian. Breast milk, why is that on your mind? Focus, Ted. If you got off Trump's teat a little bit, maybe you wouldn't be thinking about breast milk so much. Do your damn job! If Trump had his way, maybe you, but certainly not all of you, would've made it out of there."
Cruz's fellow critics applauded Cuomo's rebuke.
Cuomo was far from the only one to slam Cruz's ill-advised tweet.
After a Tuesday vote determined the impeachment trial of a former President is within the Senate's authority, the House impeachment managers are on their second day of arguing that Trump's lies incited the failed insurrection.