Back in September 2004, the United States was gearing up for an election year showdown between Republican incumbent George W. Bush and his Democratic challenger John Kerry. And the alternative-pop-punk-rock band Green Day released their seventh studio album: American Idiot.
The album was seen as a direct stab at oft ridiculed President Bush; a charge the band never denied. The album's success eventually inspired a Broadway musical of the same name.
---
The album debuted at number one in the United Kingdom back in 2004. And now in 2018, the first song from that album is gaining a resurgence in popularity there.
But why is a song from a 14 year old "punk rock opera" concept album suddenly surging back up the UK pop charts?
Two words: Donald Trump. The song? "American Idiot."
President Donald Trump is set to visit the UK on Thursday, July 12. The president arrives in London, England, in the afternoon. He comes straight from a meeting of the North Atlantic Treaty Organization (NATO) in Brussels, Belgium.
From his arrival point he and First Lady Melania Trump will go to Blenheim Palace in Oxfordshire, where UK Prime Minister Theresa May plays host at a black-tie dinner with 100 guests and ministers. Activists plan protests throughout the visit, including a giant floating diapered baby Trump in London and the Lord Mayor of Sheffield revoking the welcome mat.
In an effort to send another message to the president, activists began a social media campaign employing Facebook and Twitter and the hashtag #MAIGA. A take on Trump's own slogan, Make America Great Again or MAGA, MAIGA is Make "American Idiot" Great Again.
Both a Facebook page...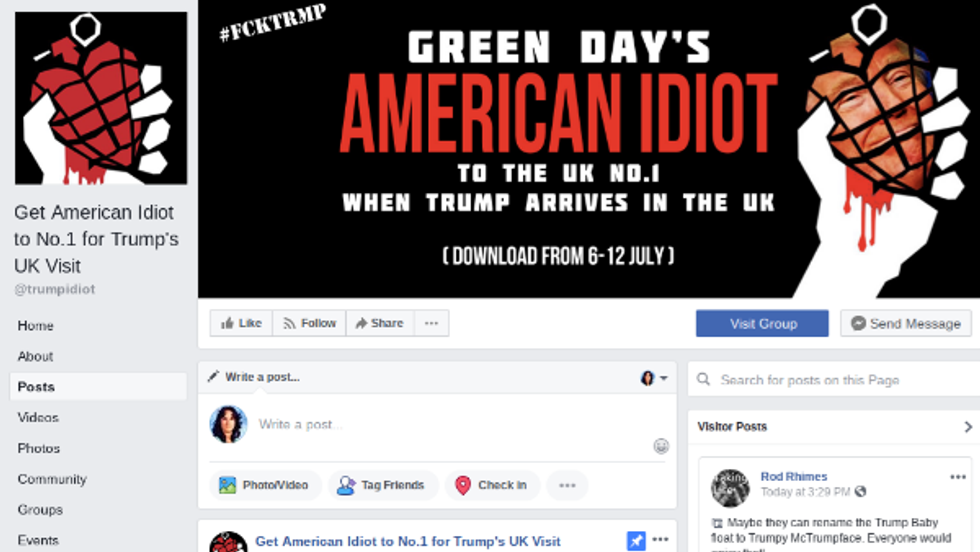 Get American Idiot to No.1 for Trump's UK Visit page on Facebook (Facebook screen grab)
...and a Twitter account were created to get the word out.
Let's put @GreenDay #AmericanIdiot to @officialcharts No.1 when #Trump has his official state visit https://t.co/8vYqv9anpO

— American Idiot For UK No.1 When Trump Visits (@American Idiot For UK No.1 When Trump Visits) 1485811895.0
People were encouraged to download the song from July 6 to 12, the day Trump is set to arrive in the UK. They hope to have "American Idiot" top the UK pop charts just in time for the president's arrival.
So far, it appears their efforts are working.
"American Idiot" sits at the number one spot on Amazon's UK best sellers list.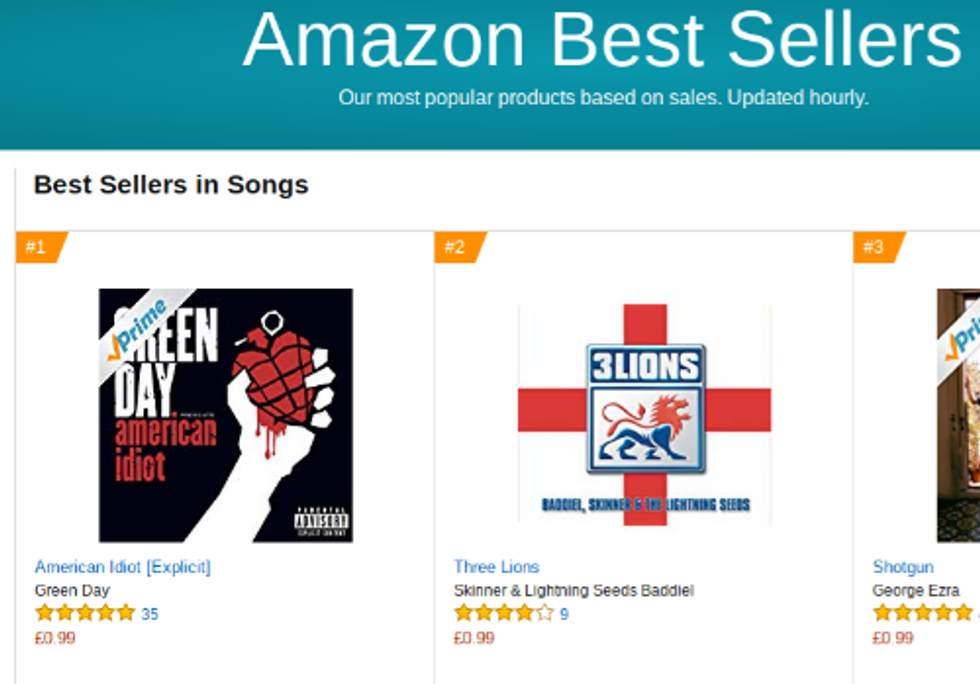 Amazon Best Sellers for the UK list as of 4:08pm EST, July 10, 2018. (Amazon screen grab)
As of Tuesday afternoon, the single had hit number 18 on the UK singles chart top 20.
Hey @TrumpIdiotNo1. This article (from 9 hours ago) says we're only 4,000 sales off a top ten spot. 😀 #MAIGA https://t.co/XAXmvWATnH

— Dances With Goths (@Dances With Goths) 1531250584.0
UK mid week (singles): "Three Lions" returns to #1, Drake's "In My Feelings" debuts and Green Day's "American Idiot" re-enters the top 20.

— chart data (@chart data) 1531155566.0
It also made it into iTunes top 10.
We've crept up into the iTunes Top 10 (AND another version at #17 too!) and still at #1 on Amazon! Keep sharing to… https://t.co/yrVjEHlbt5

— American Idiot For UK No.1 When Trump Visits (@American Idiot For UK No.1 When Trump Visits) 1530954642.0
As for the band that created the song, Green Day, in the tradition of punk rock's origins, never shied away from politics. In a September 2016 concert, Green Day frontman Billie Joe Armstrong asked a New Jersey crowd,
Have you been watching the news lately? What do you think of our candidates for the presidency of the United States of America? What do you think of New York's finest, Donald Trump?"

No racism, no racism, no racism in this fucking room, I'll tell you that right now. There is no white supremacy in this fucking room right now. We are coming together tonight here in New Jersey to call bullshit on all the fucking politicians tonight."
The band made no official announcement regarding the #MAIGA online campaign, but founding member, vocalist and bass guitarist Mike Dirnt, did give the effort a shout-out back in April.
Let's do this! 🤘🏽 Protestors want to get Green Day's American Idiot to No. 1 for Trump's UK visit https://t.co/ULZ1cDtOER

— Mike Dirnt (@Mike Dirnt) 1524950145.0
No social media posts have yet been made regarding the MAIGA protest by other Green Day  personnel Armstrong or founding member, drummer Tre' Cool.
While the reasons behind all the protests set to greet Trump in the UK are serious, like his attacks against allies and human rights record, people are still having fun taking the piss, as they say in the UK, out of the president.
Here's how Americans can get in on the #MAIGA campaign to make Green Day's "American Idiot" #1 in the UK during Tru… https://t.co/uHRdcIZLGI

— Sherry Lucich (@Sherry Lucich) 1531191400.0
There's a tweet for everything. #MAIGA https://t.co/0aXXEbGdwk

— lakeeriemonster (@lakeeriemonster) 1531213624.0
@StephenKing They know he is coming... that's why they are working hard to make @GreenDay 2004 hit "American Idiot"… https://t.co/lrw9gdetjP

— Chris MacNeil (@Chris MacNeil) 1531204796.0
"Why do you love the UK?" Me: #MAIGA #ShowYourRumpToTrump #TrumpVisit https://t.co/3aSTXXa6Xb

— ابن بالدوين #لبنان_ينتفض (@ابن بالدوين #لبنان_ينتفض) 1531151023.0