A group of 8th graders from South Orange Middle School in New Jersey have come under fire for refusing a photo-op with Speaker Paul Ryan on the grounds of the Capitol. Though those present were unable to provide a precise tally of how many opted out, different news outlets reported that as many as 100 students snubbed the speaker.
The students provided reasoned opinions for their choice. Some said that to participate in the photo-op would have signaled they endorse Ryan's policy proposals, which include repealing and replacing the Affordable Care Act.
---
"I can't take a picture with someone who supports a budget that would destroy public education and would leave 23 million people without healthcare," said student Matthew Malespina. "It's not just a picture," he told reporters. "It's being associated with a person who puts his party before his country."
Fellow student Wendy Weeks expressed similar sentiments. "I think that taking the picture represents that you agree with the same political views and I don't agree with his political views so I chose not to be in it," she said.
Sophia Kraiker, another student who declined to take the photo, told The Washington Post that she chose to distance herself from Ryan because he is "shadowing [President Donald] Trump's ideas."
Many students chose to participate, however, even if they personally disagreed with the speaker's politics.
"I thought it would be interesting to see one of the nation's lawmakers in person even if I strongly disagree with many of his views," said student Alex Klint.
Student Miles Handelman agreed. "I thought it would be very cool just seeing the man who is the third most powerful man in our country. It would be cool, even if you disagree with him," he said.
Ryan was reportedly unaware that some students had refused to take the photo. He later uploaded the photo with the willing students to his Instagram account.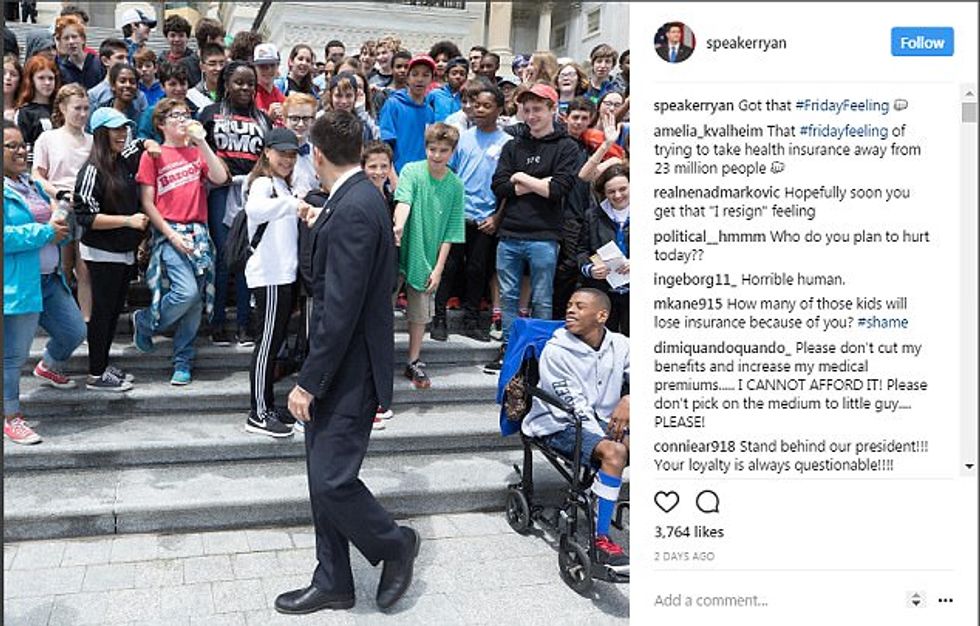 Credit: Source.
A spokesman for Ryan said the speaker "always appreciates the opportunity to welcome students to the Capitol" when asked about the incident.
Some South Orange locals found themselves conflicted over the students' decision.
"I'm sort of torn on this (although each kid has the right to make this choice)," wrote one resident. "Even though I totally disagree with everything he stands for, he is a legitimately elected official and represents our government at work. Meeting our representatives is an honor for a kid–at least for what the office stands for (even if the person occupying that chair is less than honorable). And I do feel if there had been some conservative school where the kids refused to pose with President Obama, we would have been appalled by that."
Elissa Malespina, the mother of Matthew Malespina, said she supported her son's decision not to participate.
"I am proud of my son and all the other students who chose to respectfully not to participate in the photograph with Speaker Ryan," she wrote in a message to Village Green, the South Orange newspaper. "My son does not believe in the policies that Speaker Ryan believes and does not want to be associated in any way with him or his policies. It is his right as a citizen to do so and I commend him and his fellow students for doing so in a respectful way. Listen to the children they get it."
Yesterday, South Orange-Maplewood Superintendent of Schools Dr. John J. Ramos Sr. issued a statement.
"While we should all respectfully and appropriately acknowledge those in authority, taking a conscientious position about a photo op is within our constitutional right. We are proud of all of our students, who exercised their rights and chose whether or not to participate for their own individual reasons," he said.