The Washington Redskins announced on Monday that after decades of controversy, the team would finally be changing its name and logo.
In the weeks before the change, President Donald Trump railed against changing racist names and branding for certain football teams—particularly those named for Native Americans—claiming the teams' names came from "strength."
So the Republican National Committee's response director Steve Guest likely thought he'd best Democratic nominee Joe Biden when posting a picture of the former Vice President with his children, one of whom is wearing a Redskins hat while the family apparently watches a game.
Guest asked Biden if he was "still a Redskins fan".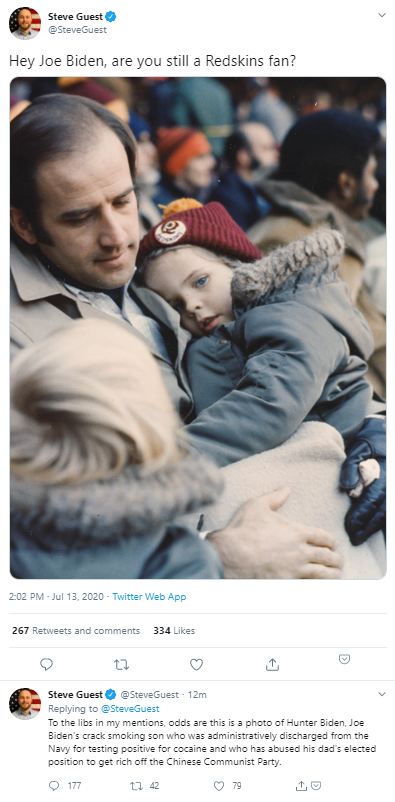 Guest went on to tweet:

"To the libs in my mentions, odds are this is a photo of Hunter Biden, Joe Biden's crack smoking son who was administratively discharged from the Navy for testing positive for cocaine and who has abused his dad's elected position to get rich off the Chinese Communist Party."
The photo was taken just a couple of years after Biden's wife and daughter were killed in a car accident in 1972. Biden's oldest son, Beau, died in 2015.

Guest appears to have taken the photo from a Father's Day post Biden sent last month.
Hunter Biden has been a favorite target of the Right since Trump's efforts to have him investigated by the Ukrainian government in exchange for military aid led to the President's impeachment.

People were astonished at the tone-deafness of Guest's now-deleted tweets.
People wanted to know why Guest was so unapologetic in his opinion, yet deleted the tweets.
Guest has yet to apologize for the tweet.