After efforts to upend the Electoral College vote confirming President-elect Joe Biden's victory failed, President Donald Trump is looking to Congress to help him subvert the will of the people and refuse to certify the Electoral College's votes on January 6th.
But Trump's most useful ally in the Senate is disrupting that effort.
Senate Majority Leader Mitch McConnell (R-KY) acknowledged on the Senate floor earlier this month that President-elect Biden and Vice President-elect Kamala Harris won the 2020 election, despite Trump's continued lies that widespread voter fraud coordinated by Democrats stole the election for Biden and Harris.
After losing over 50 legal cases seeking to overturn legal votes, failing to rally state officials to refuse to certify their results, failing to win in multiple recounts, and failing to stop electors from casting their votes, Trump is rallying his most devoted supporters in Congress to contest the election's certification by Congress next month, further eroding faith in the United States' democratic process.
McConnell is trying to prevent further embarrassment for his party by allowing that to happen. After acknowledging Biden's victory on the floor, McConnell privately urged Republican Senators not to ally with Congressman Mo Brooks (R-AL) in his effort to disrupt the certification—an effort that is destined to fail.
Now, Trump is souring on McConnell for a perceived lack of loyalty.
Axios reports that on Monday, the President sent a graphic taking credit for McConnell's reelection victory to Republican lawmakers.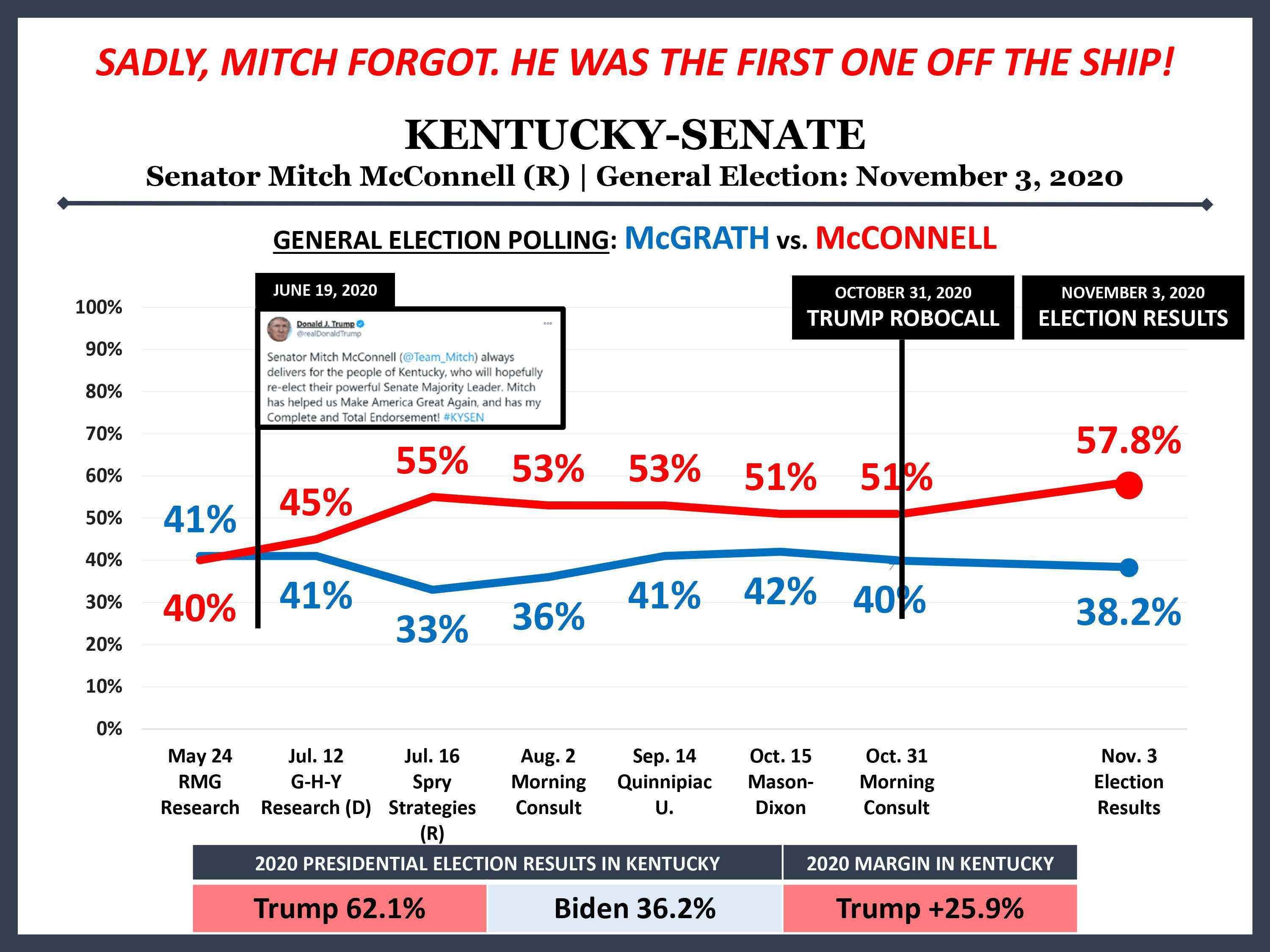 The graphic claims to show that a tweet and robocall from Trump is what bolstered McConnell's standing in the polls and ultimately delivered a win.
It reads in part:

"SADLY, MITCH FORGOT. HE WAS THE FIRST ONE OFF THE SHIP!"

Trump's critics on Twitter aren't upset to see the GOP in such disarray.
While Trump may be the star of the current GOP, McConnell has been in Washington for decades, and he has no shame in orchestrating any tactic to help Republicans get ahead, such as refusing to hear former President Barack Obama's nominations for the late Justice Antonin Scalia's vacant Supreme Court seat, instead letting it sit with only eight Justices for a year.
That's likely why Republicans in Kentucky have kept McConnell in office for nearly 30 years, despite the graphic's assertion that Trump's endorsement lead to McConnell's reelection.
People called out Trump's delusion that McConnell needs him more than he needs McConnell.
These divisions could be laid bare during the proceedings on January 6th.