Al Sharpton's half-brother is being accused of murder in Alabama after a 26-year-old woman was shot dead in an apparent dispute over a car. In a press release, the Dothan Police Department said that Kenneth Glasgow was being charged with capital murder along with another man, Jamie Townes, 26, in the shooting death of Breunia Jennings on March 25.
Authorities believe that it was Townes who shot Jennings. Townes believed that Jennings had stolen his car, which is how the dispute began.
---
The day before the shooting, Glasgow's Ordinary People Society participated in the March for Our Lives protest which preached for common sense gun reform.
Glasgow Said in Court that He Doesn't Know Why He Is Facing Murder Charges
Glasgow pictured with Hillary Clinton in October 2015.
Glasgow made his first court appearance on March 27. The Dothan Eagle reported that Glasgow said, "I don't know why I am facing capital murder charges. I'm not responsible for what someone else does. He just asked me for a ride to take him to look for his car." The Eagle report says that the judge told Glasgow to stop talking until he got legal advice.
Glasgow is being charged under an Alabama law which allows prosecutors to charge a person who is thought to have aided and abetted a murder suspect, with murder. The Eagle report adds that Glasgow is not eligible for bail because of the charges and that he will appear in court again on April 6.
The law in Alabama states, "a person is legally accountable for the behavior of another constituting a criminal act if, with the intent to promote or assist the commission of the offense (1) he procures, induces, or causes such other person to commit the offense; or (2) he aids or abets such other person in committing the offense; or (3) having a legal duty to prevent the commission of the offense, he fails to make an effort he is legally required to make."
The Organizers of March for Our Lives Have Called the Charges Against Glasgow 'Troubling'
A little over 24 hours before his arrest, Glasgow participated in a March for Our Lives protest in Dothan. In a statement, via WTVY, the organizers of the Dothan protest said:
As the organizer of the March for Our Lives, we are saddened to once again have to mourn the death of young life lost to gun violence in our community. Breunia Jennings' family and loved ones are in our thoughts and prayers as they seek justice for her. We stand behind them in advocating for any common sense legislation that would have kept a gun out of her killer's hands.

Kenneth Glasgow's alleged connection with this crime is very troubling to our organization. While we believe in due process of law, we wish to correct some misattribution of his participation in our march Saturday.

Kenneth Glasgow is the executive officer of The Ordinary People Society. The Ordinary People Society had participants in our march, and one of their officers coordinated emceeing duties and helped with permit registration. The bulk of the organization of the march was performed by myself, Kailee Maciulla and student organizing was performed by Morgan Shaw, a senior at a local high school.

Kenneth Glasgow was never a scheduled speaker at the march nor did he participate in its planning. It frankly came as a surprise to organizers when the person from his organization who temporarily emceed the event at Porter Park as an "organizer," as he had never attended an organizational meeting or donated funds.

The organizers of this event are relative newcomers to the area and unaware of the history surrounding many activists in this area. As such, they were not aware that Glasgow may claim credit that was not due him.

The organizers wish to remind the public that this march was not about one person. This march was about preventing gun violence. We stand in support of all law enforcement efforts to curtail such activity, and we pray for justice for Breunia Jennings.
Jamie Townes Has a Lengthy Criminal Record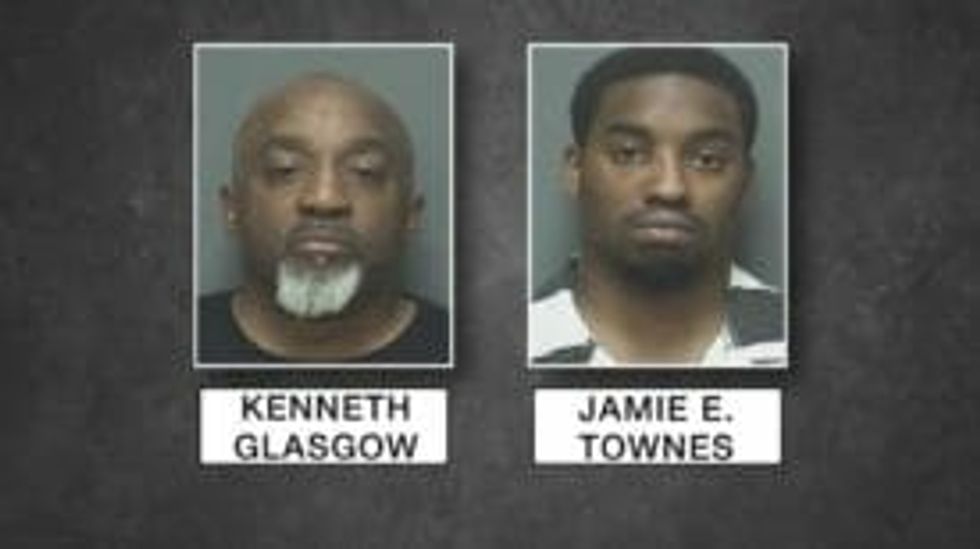 Screengrab via WTVY
The Dothan Eagle reports that Jamie Townes has a lengthy criminal record including arrests for drugs and theft. The Eagle article says that in 2015, Townes did time for stealing $2,000 worth of merchandise from a Burlington Coat Factory at the Wiregrass Commons Mall.