During the 2016 campaign, former Secretary of State and then-Democratic presidential nominee Hillary Clinton said that a fair number of then-Republican candidate Donald Trump's supporters fit into a "basket of deplorables," motivated in their support for him by bigotry.
The Trump campaign pounced on this, calling Clinton elitist and accusing her of attacking everyday Americans. Trump's supporters embraced the term as a form of rebellion, and soon the Trump campaign was selling merchandise labeled "Deplorable" in a show of defiance. A quick scroll through the Twitter profiles of Trump's supporters shows many self-labeling as "PROUD DEPLORABLE".
At the end of last month, Democratic House Speaker Nancy Pelosi responded to House Republican Leader Kevin McCarthy's claim that the chamber's mask mandate, revived at the recommendation of the House physician, was "not based in science."
The Speaker said:

"He's such a moron."
Now, in an attempt to replicate the Trump-era reclamation of "Deplorable," McCarthy and WinRed are selling shirts proudly emblazoned with the word "moron."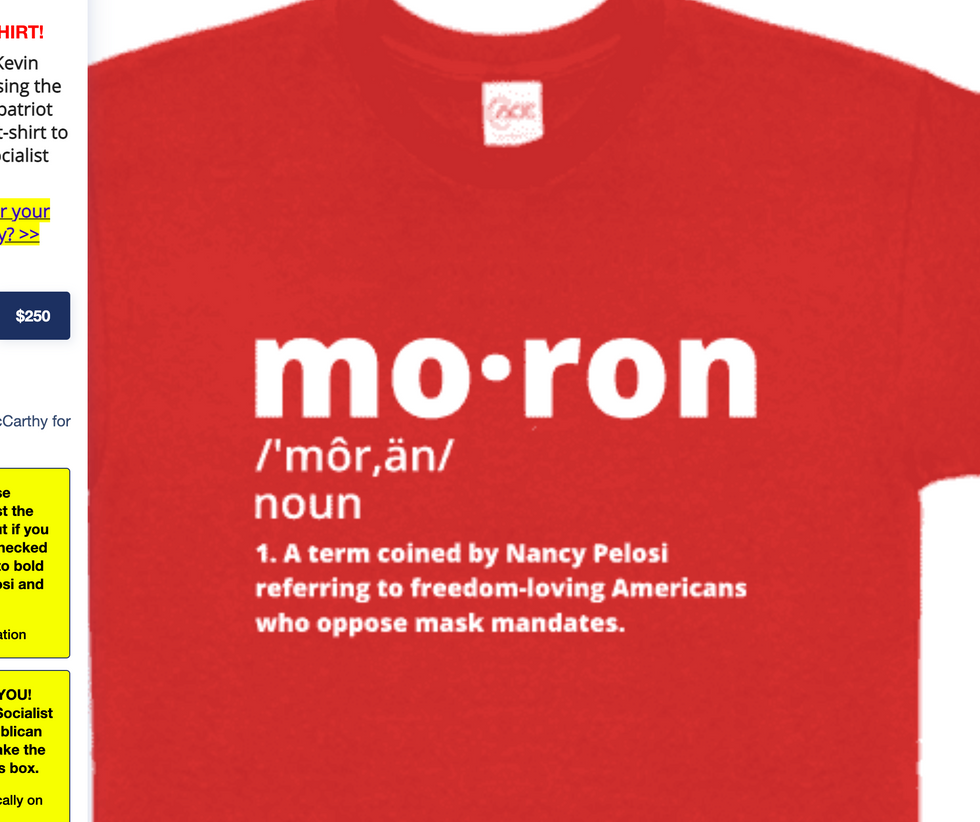 It features the supposed definition of the word, which reads:

"A term coined by Nancy Pelosi referring to freedom-loving Americans who oppose mask mandates."
But like so many instances where Republican politicians have tried to replicate Trump's popularity among the GOP base, it only resulted in mockery—including from Pelosi's daughter.
She wasn't the only one to mock McCarthy's latest piece of merchandise.
Then again, some encouraged McCarthy's supporters to wear the merchandise proudly.
It's unclear how many supporters have bought the shirts.