[DIGEST: The Guardian, Smithsonian, Forbes, Science Alert]
It has been six years since a tsunami caused fuel meltdowns at three of the reactors at Fukushima Daiichi nuclear plant. Yet recent readings taken from within the plant show the aftermath is far from over.
---
The facility's operator, Tokyo Electric Power (Tepco), said that atmospheric radiation readings from deep inside nuclear reactor 2 reached a maximum of 530 sieverts per hour. To put this in perspective, a single dose of 1 sievert of radiation could lead to infertility, hair loss and sickness. Four Sieverts of exposure would kill 50 percent of people within a month. Ten would kill a person within three weeks. Experts call the reading of 530 "unimaginable."
Even taking into account the test's 30 percent margin of error, the radiation readings would be at least 370 sieverts per hour, far surpassing the previous record of 73 set in 2012.
Tepco pointed out that the camera had probed deeper into the reactor than previous tests, which might help explain the high reading. The organization further cautioned that the reading "does not mean that levels there are rising, but that a previously unmeasurable high-radiation area has finally been measured." Radiation levels at other spots are estimated to be much lower.
Image analysis of the reactor revealed a three-foot hole in the metal grating beneath the pressure vessel. Images also showed "black chunks," which may be some of the melted nuclear fuel.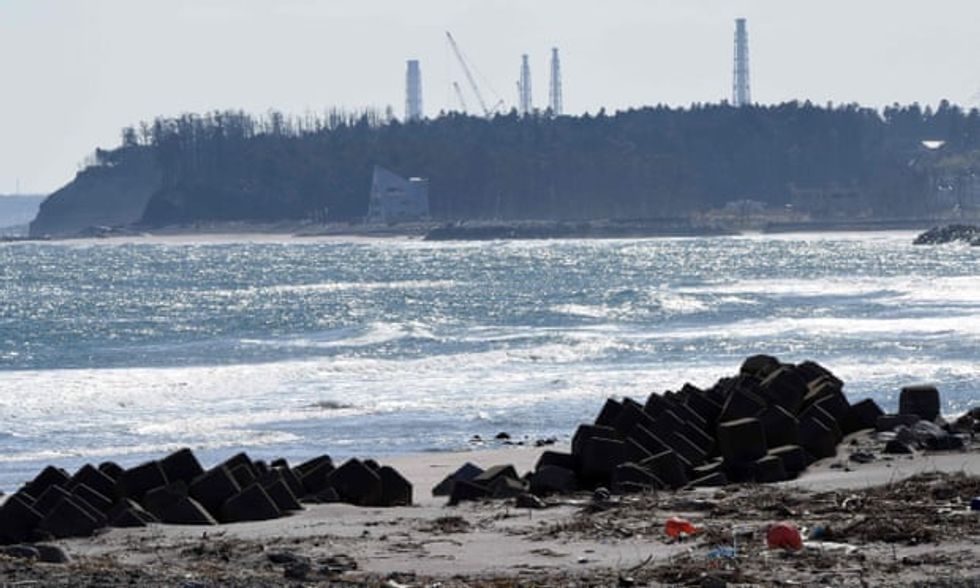 Credit: Source.
The reading, coupled with these images, suggests that some of the escaped melted fuel may be nearby. Though Tepco is hesitant to make any firm conclusions, its spokesman, Tatsuhiro Yamagishi, speculated that the hole "may have been caused by nuclear fuel that would have melted and made a hole in the vessel, but it is only a hypothesis at this stage." Yamagishi continued: "We believe the captured images offer very useful information, but we still need to investigate given that it is very difficult to assume the actual condition inside."
There is no indication that radiation is leaking outside the reactor. So while immediate safety is not a concern, these latest readings present further complications in the efforts to safely dismantle the plant. The robotic vehicle that operators planned to use to investigate the site can only absorb 1000 sieverts of radiation. That means it only has two hours to explore before it is disabled. Tepco is accordingly putting their plans to further explore the reactor on hold. Previous attempts to deploy robots inside reactor No. 2 fried the gadgets.
In order to safely decommission the site—an effort expected to take 40 years—scientists need this basic data about where nuclear fuel is located. Tepco has yet to identify the location or condition of melted fuel in the three more seriously damaged reactors.
"Confirming conditions inside the reactor is a first step toward decommissioning," said Hiroshige Seko, Minister of Economy, Trade and Industry. "While difficult tasks and unexpected matters may arise, we will mobilize all of Japan's technological capabilities to steadily implement decommissioning work and rebuild Fukushima."
The Japanese government announced in December that the estimated cost of decommissioning the plant and decontaminating the area is now roughly $190 billion, double its initial estimate.