In the 2018 election, several traditionally red districts went blue.
Now, some of those freshman Democratic members of the House of Representatives find themselves evaluating country over their reelection chances.

---
Among them is New Jersey Democrat Jeff Van Drew. Van Drew defeated his rookie Republican challenger in 2018 after the GOP incumbent Frank LoBiondo announced he would retire and not seek a 13th term.
Van Drew is one of the few Democrats who opposes impeaching President Donald Trump. Not because they do not believe he committed impeachable acts, but rather because the believe impeaching Trump will bolster support for him and lead to his reelection in 2020.
The majority of voters in the United States support impeachment, but for some of these freshman Democrats serving in traditionally red districts, the numbers may not match the national sentiment.
For some, the answer may be to vote against impeachment to appease their constituents. But for Van Drew, the answer could be leaving the Democratic Party and joining the GOP.
But according to colleagues of Van Drew, the New Jersey legislator is no fan of Donald Trump. While he publicly railed against the impeachment process as "unfair," "unfounded" and "damaging to the country" he sang a different tune in private.
Van Drew reportedly called President Trump stupid, crazy and mentally unstable, but his opposition to impeachment centered on the belief an impeached Trump would win in 2020 and Van Drew and other newly elected Democrats in flipped seats would lose.
A Democratic colleague stated:
"[Van Drew] was almost obsessively anti-Trump. His only justification, and this was adamant, was that he thinks that [impeachment] will help Trump win."
So how does someone so opposed to Trump justify joining the GOP?
It would seem even Van Drew is struggling with that part of his plan to get reelected in 2020. By Tuesday afternoon he was walking back his earlier announcement that he would leave the DNC and join the GOP.
Van Drew told the Philadelphia Inquirer:
"[I am] reevaluating my life and my thoughts."
Van Drew reiterated he plans to run for reelection and win in 2020, but how far he would go to attain that goal is no longer set in stone. But it appears to have been enough to get an endorsement out of the White House.
The New York Times reported Van Drew visited the White House over the weekend seeking Trump's blessing.
Tuesday morning, Trump tweeted:
"Congressman Jeff Van Drew is very popular in our great and very united Republican Party. It was a tribute to him that he was able to win his heavily Republican district as a Democrat. People like that are not easily replaceable!"
Congressman Jeff Van Drew is very popular in our great and very united Republican Party. It was a tribute to him th… https://t.co/mupsyjolXK

— Donald J. Trump (@Donald J. Trump) 1576561452.0
But the endorsement, posted on a day full of formulaic Trump endorsements, did not exactly resonate with the public.
@realDonaldTrump WAIT UNTIL NEXT TIME WHEN HE LOSES IT BECAUSE HE'S A TURNCOAT ONLY INTERESTED IN HIS OWN REELECTIO… https://t.co/gfQxG0jyHK

— Anita Canaday-Loth (@Anita Canaday-Loth) 1576594103.0
@dvillella @realDonaldTrump There are so many crooks in the trump mob I have to refer to a list of their jobs an th… https://t.co/B2dDHvS1nA

— MaryBeth Lathrop (@MaryBeth Lathrop) 1576589106.0
@Betsy70Utl @dvillella @realDonaldTrump Sadly true. They will go down in history like a bad version of The Godfath… https://t.co/QTYq3dglLQ

— Dandy (@Dandy) 1576596851.0
Apparently Van Drew's decision did not resonate with his staff either.
@realDonaldTrump It's amazing that this is what runs through your mind after 1 am & you just have to tweet. https://t.co/Q3a3WpxL1x

— D Villella ❄️ (@D Villella ❄️) 1576582324.0
And people wondered if the endorsement of how great Van Drew is will remain if he ultimately decides to remain a Democrat.
@briantylercohen @realDonaldTrump Or screenshot it bc he might delete the tweet

— M. M. McClain (@M. M. McClain) 1576612383.0
Van Drew did not give a timeline for when he would make his decision. But even if he stays with the Democratic Party, will the DNC stay with Van Drew?
A defeat in the primary for Van Drew's seat from a Democratic or Republican challenger is a possibility.
Have distinct opinions on the impeachment? This shirt is available here.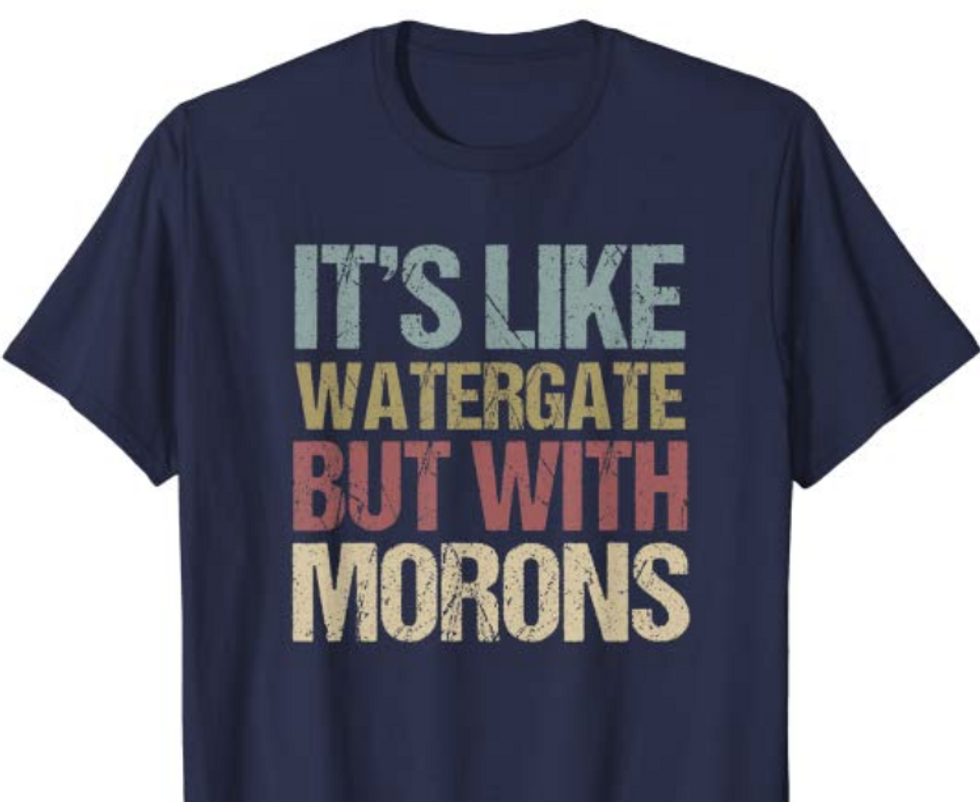 Amazon