For less than the cost of an Apple iPad, Matt McLaughlin started a statewide legal conversation.
An attorney from Huntington Beach, McLaughlin in late February spent $200 to propose a ballot measure that authorizes the killing of gays and lesbians by "bullets to the head," or "any other convenient method."
McLaughlin's "Sodomite Suppression Act" now is testing the limits of free speech and raising the question: Why can't the state's initiative process screen out blatantly illegal ideas?
---
The Legislature's Lesbian, Gay, Bisexual and Transgender Caucus wrote a letter to the State Bar, asking for an investigation into McLaughlin's fitness to practice law. More than 3,800 people signed a petition to State Bar President Craig Holden asking that McLaughlin lose his law license for advocating to "legalize the murder" of gays and lesbians.
Yet the measure is likely to proceed to the signature-gathering stage. At the moment, its fate rests with state Attorney General Kamala Harris, who is charged with writing a title and summary for the proposal. Legal experts say she has little choice but to let the process continue and that McLaughlin is unlikely to face professional repercussions.
Over the years, the $200 price tag for submitting an initiative has enabled California political activists to draft and submit thousands of orphan causes: eliminating divorce, requiring public schools to offer Christmas caroling, making criminals of those who lie during political campaigns.
Carol Dahmen, a media consultant in Sacramento who started the petition to disbar McLaughlin, argues that this one is different. Along with disbarment, Dahmen wants to draw attention to reforming the system, calling McLaughlin the "poster boy of what is still wrong with the initiative process."
"It's an interesting discussion about free speech, and I get that," Dahmen said. "But this is a lawyer, and he's advocating for murder."
To begin collecting signatures for a ballot measure, advocates must first submit their idea, along with $200, to the attorney general's office. As of Sunday, the office had received 125 public comments as officials consider whether to draft the title and 100-word summary for McLaughlin's measure.
Legal experts point to a 1978 case in which then-Attorney General Evelle Younger rejected a measure he believed dealt with multiple subjects. The proponent sued, and the state Supreme Court ruled that Younger did not have the authority to delay or impede the initiative process while claims of a measure's invalidity are determined.
Asked what authority Harris might have to block the current measure, political and election lawyer Tom Hiltachk said, "None." He said the process of issuing a title and summary to an initiative proponent is a ministerial act and is not subject to discretion.
To read more, continue to the next page. 
"While you might say that this initiative is 'clearly' illegal (and I would agree), the notion of what is or is not 'clearly' illegal is not always so cut and dried," Hiltachk wrote in an email. "If you give the (attorney general) discretion, there may be cases in which she refused to issue a title and summary asserting that the measure was 'clearly' illegal."
"While in this case, it seems foolish and perhaps unwise to issue a title and summary, the better approach is the current approach, prohibiting discretion, so that 'close cases' are not inappropriately derailed by a recalcitrant AG."
Vikram Amar, a law professor at UC Davis, echoed that view.
"This one drips of evil, so the instinct is to say 'Well, there's got to be a way to avoid wasting everybody's time,' " he said. "But in the law we often have limitations that are built not for the easy cases but because we are worried about the hard cases."
He said California law "generally favors judges making these decisions about what's legal (or) not rather than elected political officials like the attorney general."
"I could see a reason for wanting to kill it right now... I don't want to go to a BART station and have some idiot with a clipboard put this in front of me and say, 'Hey, do you want to sign this to put it on the ballot?' But that may be something we have to just deal with."
Even outraged activists aren't focusing on Harris, instead turning their attention to McLaughlin's standing and California's initiative filing fee.
Originally designed to cover the cost of analyzing and verifying a petition, the filing fee has not increased since 1943, with several attempts failing in the state Capitol.
The growing number of proposed initiatives – from 47 in the 1960s to nearly 650 in the 2000s – prompted lawmakers to revisit the issue in recent years. They contended that raising the fee would help defray the average $8,000 in administrative costs for state officials to prepare the title and summary for each proposal. It could also dissuade people from pitching multiple variations of a plan, or from turning in what would generally be viewed as a frivolous proposal.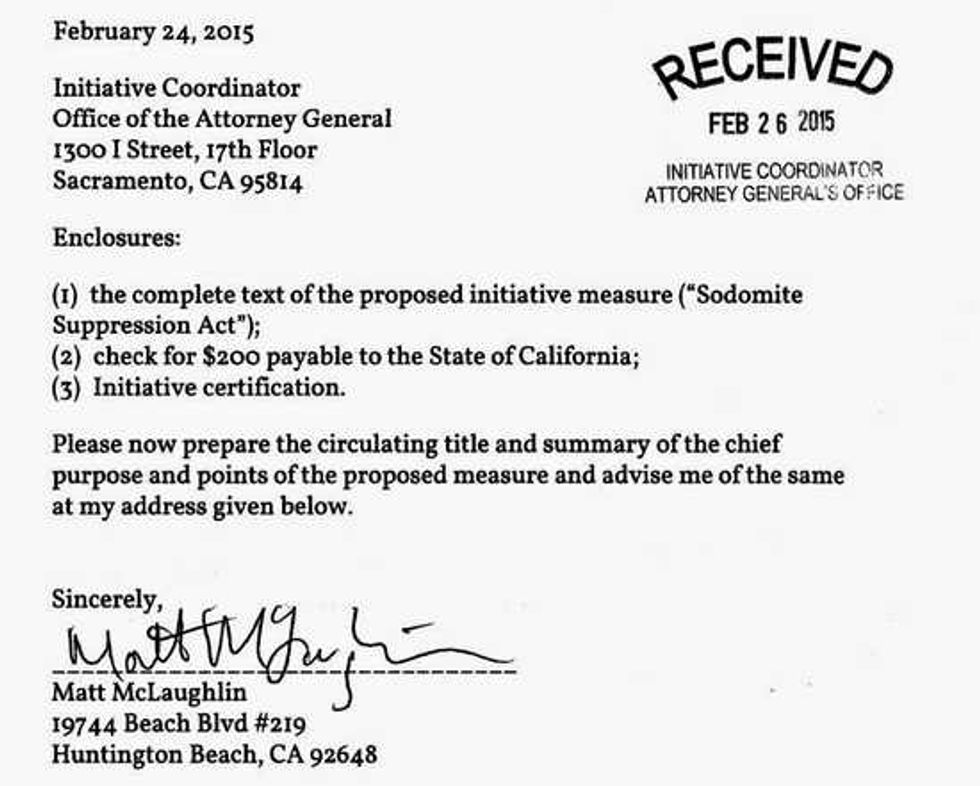 The Sacramento Bee
Kim Alexander, an expert on ballot measures, said she believes raising the filing fee is a good idea. Alexander said while she generally opposes changes that make the initiative process more restrictive, those serious about advancing a successful measure are going to need considerable resources.
"Increasing the fee, even to $500 or $1,000, would help ensure that those who put initiatives into circulation are sincere in their efforts," said Alexander, president and founder of the California Voter Foundation. "I don't think the fee should cover the costs, but it should provide more of a disincentive for people to submit initiatives for which they have no serious intention of attempting to qualify, which seems to happen a lot if you follow initiatives in circulation that fail."
The most recent legislation, in 2011, would have raised the fee to $2,000. The language was stripped from the measure and it became a vehicle for requiring that all initiatives appear only on general election ballots.
Before that, then-Gov. Arnold Schwarzenegger vetoed a pair of similar bills by Democrat Lori Saldaña in 2009 and 2010, writing he "cannot support increasing the fee ten-fold," and adding that "while well-funded special interest groups would have no problem paying the sharply increased fee, it will make it more difficult for citizen groups to qualify an initiative."
Jennifer Fearing, the president of Fearless Advocacy and a veteran of lower-wattage campaigns, said she isn't sure "there's a price that stops crazy."
"It's important to preserve access to direct democracy even if some jerks can get over the first and lowest hurdle on occasion," she said.
To read more, continue to the next page. 
While it's exceedingly unlikely McLaughlin's measure would qualify, the signature threshold for November 2016, at 365,880, is unusually low.
Fearing said unless he could come up with $1 million to pay signature collectors, and upward of $10 million to advertise, "we are all just going to have to hope he's having his shameful 15 minutes of infamy."
McLaughlin's plan refers to "buggery" or "sodomy" as "a monstrous evil that Almighty God, giver of freedom and liberty, commands us to suppress on pain of our utter destruction even as he overthrew Sodom and Gomorrah." Under the proposal, "... any person who willingly touches another person of the same gender for purposes of sexual gratification (would) be put to death by bullets to the head or by any other convenient method."

Credit: WarOnWomen via Twitter
Anyone transmitting "sodomistic propaganda" to a minor would be fined $1 million per offense, and/or imprisoned up to 10 years, and/or expelled from California for up to life. It would ban lesbian, gay, bisexual, and transgender people, or those who espouse sodomistic propaganda, or who belong to any group that does, from serving in public office, holding government jobs and obtaining public benefits.
"This law is effective immediately and shall not be rendered ineffective nor invalidated by any court, state or federal, until heard by a quorum of the Supreme Court of California consisting only of judges who are neither sodomites nor subject to disqualification hereunder," it states.
Sen. Ricardo Lara, D-Bell Gardens, wrote in a letter to the bar president that he's deeply disturbed a bar member would promote such "pitiful, evil and hateful sentiments" and called on officials to review his conduct and determine whether he meets the standards for membership.
On Thursday, the Legislature's LGBT Caucus, of which Lara is a member, released its letter to the State Bar requesting an investigation into McLaughlin's "provocative and potentially unethical actions."
"I support freedom of speech, but calling for state sanctioned execution of a protected class calls into question the proponent's character and judgment," Lara said.
Attempts to reach McLaughlin were unsuccessful, and the telephone number he provided to the state goes to a voice mail that is full.
The State Bar lists his status as active. The bar is aware of the public calls for disbarment, and the Office of Chief Trial Counsel takes them seriously, spokeswoman Laura Ernde said. However, she said the bar can't comment further since the investigation process is confidential by law.
Though the petition asserts McLaughlin is "immoral" and "unfit to practice law," ethicists said the bar would have a hard time finding he should be disciplined.
"It's offensive to anybody with a rational mind, but I don't know that it necessarily rises to the level of an ethics violation," said Jonathan Arons, a legal ethics attorney in San Francisco.
David Cameron Carr of San Diego spent a dozen years at the State Bar disciplining lawyers and the last 14 defending them. He said while attorneys could be disciplined for acts of "moral turpitude," that requirement relates to the ability to perform their work.
"This is not obviously the kind of act of moral turpitude that calls into question his fitness to practice law," Carr said.
Lawyers are disciplined as part of a process that closely mirrors criminal prosecution or civil lawsuits. The chief trial counsel must go into State Bar Court, file a case, and then prove it out to an independent adjudicator. Carr anticipates that the State Bar will look at the conduct, but doesn't see a prosecutable discipline case with McLaughlin.
"It's incredibly vile, and it's offensive and disgusting," Carr said. "That said, we have the First Amendment that protects speech, and the scope is pretty broad."
Originally published in Capitol Alert | The Sacramento Bee by Christopher Cadelago.