Rep. Matt Gaetz apologized to the family of William Buchanan after allowing his alleged murderer, Corey Beekman, to lead the Pledge of Allegiance at the House Judiciary Committee hearing.
13 February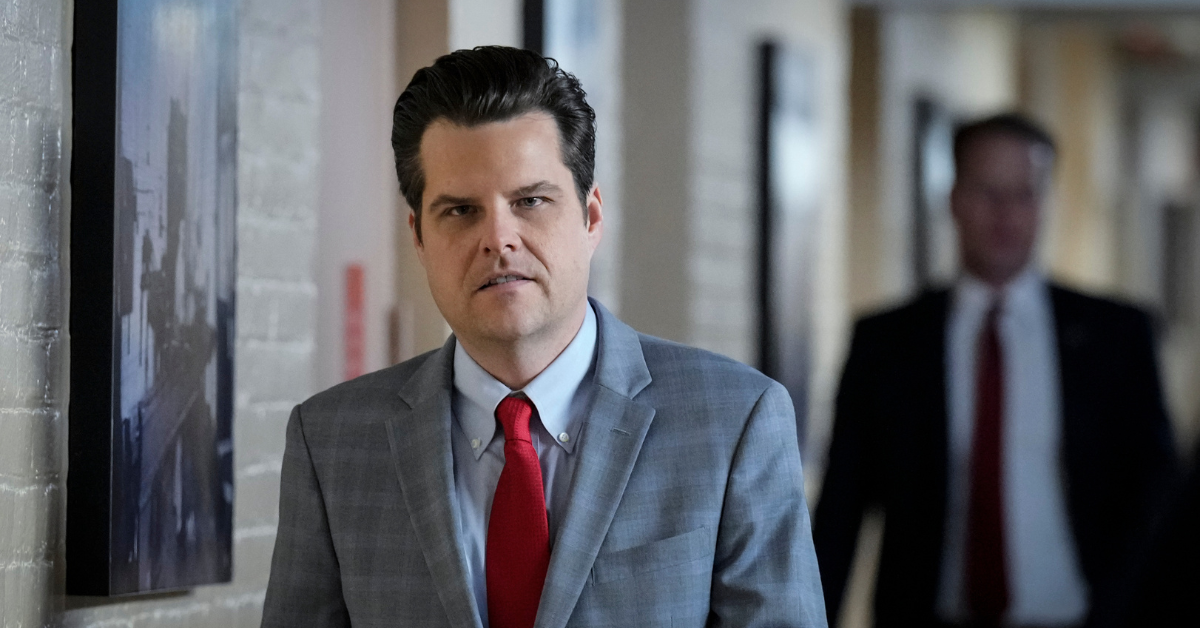 Drew Angerer/Getty Images
Florida Republican Representative Matt Gaetz is facing severe criticism yet again—this time for inviting a man accused of murder to lead the Pledge of Allegiance during a House Judiciary Committee meeting.
Corey Ryan Beekman—an Army National Guard veteran who was charged with "open murder," assault with intent to murder and two felony firearms charges in 2019 in connection with the death of William "Billy" Buchanan and the shooting of Kaitlin Buck—was invited by Gaetz to lead the Pledge.
Gaetz—who claimed to be unaware of the charges against Beekman—introduced him with the utmost flair:
"It is my pleasure and distinct honor to introduce to the committee Staff Sergeant Corey Ryan Beekman, an American hero and a constituent of mine residing in Pensacola, Florida."
Though Beekman was not tried for the death of Billy Buchanan and the charges against him were "dismissed without prejudice" because the woman who was shot—the only living witness to the crime—refused to testify, dismissing charges "without prejudice" leaves room for Beekman to be tried in the future.
He has not been acquitted or cleared of the crime.
According to the Mason County Press, Beekman was released from Mason County Jail after the case was dismissed in September 2020. He moved to Florida sometime after his release from jail.
Buchanan's mother, Denita Buchanan, told The Daily Beast how seeing Beekman leading the Pledge of Allegiance felt to her family:
"It was like getting a dagger stuck in our heart again."
Billy's niece, Hanah Buchanan said she was "disgusted" by the move.
"We were infuriated when we first saw it. I was disgusted with the whole thing.
When the Buchanans saw Beekman leading the Pledge, they reached out to Gaetz's office.
They quickly realized that nobody there had even done a cursory Google search let alone a background check on Beekman before inviting him to the Judicial Committee hearing.
The Buchanans weren't the only ones disgusted by Gaetz inviting Beekman to lead the Pledge of Allegiance.
Many spoke out against him online as well.
\u201c@VanityFair Seems like a lot of pertinent information evades Matt Gaetz (accidentally and/or on purpose?\ud83e\udd14). Gaetz is another reality-denying GOP member as reality suits their need and narrative. Does he have any credibility?\u201d

— VANITY FAIR (@VANITY FAIR) 1676223986
\u201c@mason4922 My gosh. There is no bottom with these people. He and his staff did enough research to know he was president of a local gun club, but failed to notice he\u2019s an accused murderer? \ud83d\ude21\u201d

— Chris Mason (@Chris Mason) 1676100756
\u201c@Roshan_Rinaldi It took me all of 3 minutes to do a search and find articles going back to 2019 detailing the murder charges against Corey Beekman. It is no surprise that Gaetz, who is under investigations for criminal conduct himself, would not bother to vet this man. #Deplorable\u201d

— Roshan Rinaldi (@Roshan Rinaldi) 1676118676
Gaetz made a statement to The Daily Beast apologizing to the Buchanan family and admitting he did not research Beekman's history before inviting him to lead the Pledge of Allegiance.
He also acknowledged his decision "caused some unintended consequences."
He told the outlet:
"The family of Billy Buchanan brought the situation to my attention, and I'm glad they did."
After they were contacted by the Buchanans, Gaetz's office sent the family a United States flag flown over the Capitol and an apology letter signed by Gaetz.
However, he still tried to make excuses for the huge error.
"Our first thoughts aren't, 'let's run a background check' or 'I wonder if this person had any run-ins with the law that might make someone look bad."
"We don't have access to any type of surveillance technology or databases that would rise to the level of even some of the folks you'd see in your local police department."
"We do have a team of dedicated young professionals who don't look for and assume the worst in our constituents, especially our veterans."
Those "dedicated young professionals" definitely have access to Google, though.
A simple search for Beekman's name brings up a bounty of articles about the incident and legal proceedings leading to the charges being dropped until further evidence can be obtained or the witness agrees to testify.
Mason County Sheriff Kim Cole said he was disappointed with Gaetz's decision, and apparent lack of Google searching, though he acknowledged it's not like Gaetz's office doesn't have a lot going on.
"I do understand that our federal elected officials are probably being pulled in a lot of different directions, and a lot of them don't get good intelligence info for a variety of different situations going on."
"That being said, in this particular case, I was disappointed with the decision that was made."