In a speech in Wilmington, Delaware on Monday, former Vice President and current Democratic presidential candidate Joe Biden addressed climate change. His speech came as areas of the west coast continue to fight wildfires that have been blamed on climate change.
Biden said:
"If you give a climate arsonist four more years in the White House, why would anyone be surprised if we have more of America ablaze?"
"If you give a climate denier four more years in the White House, why would anyone be surprised when more of America is underwater?"
You can see his remarks here.
Biden said, in reference to Trump's frequent references to the safety of suburbs:
"You know what is actually threatening our suburbs? Wildfires are burning the suburbs in the West, floods are wiping out suburban neighborhoods in the Midwest."
"Once again, he fails the most basic duty to a nation. He fails to protect us from the pandemic, from an economic free-fall, from racial unrest, from the ravages of climate change."
"It's clear that we're not safe and Donald Trump's America. This is Donald Trump's America. He's in charge."
Biden added:
"As [Trump] flies to California today, we know he has no interest in meeting this moment. We know he won't listen to the experts or treat this disaster with the urgency it demands as any President should do during a national emergency."
"The West is literally on fire, and he blames the people whose homes and communities are burning."
After remarking on Trump's "disdain for science and facts" Biden stated:
"We have a choice. We can invest in our infrastructure to make it stronger and more resilient, improving the health of Americans and creating millions of good paying jobs while at the same time tackling the root causes of climate change."
"Or we can continue down the path Donald Trump has us on—a path of indifference, costing tens of billions of dollars to rebuild."
People on social media concurred with Biden's assessment.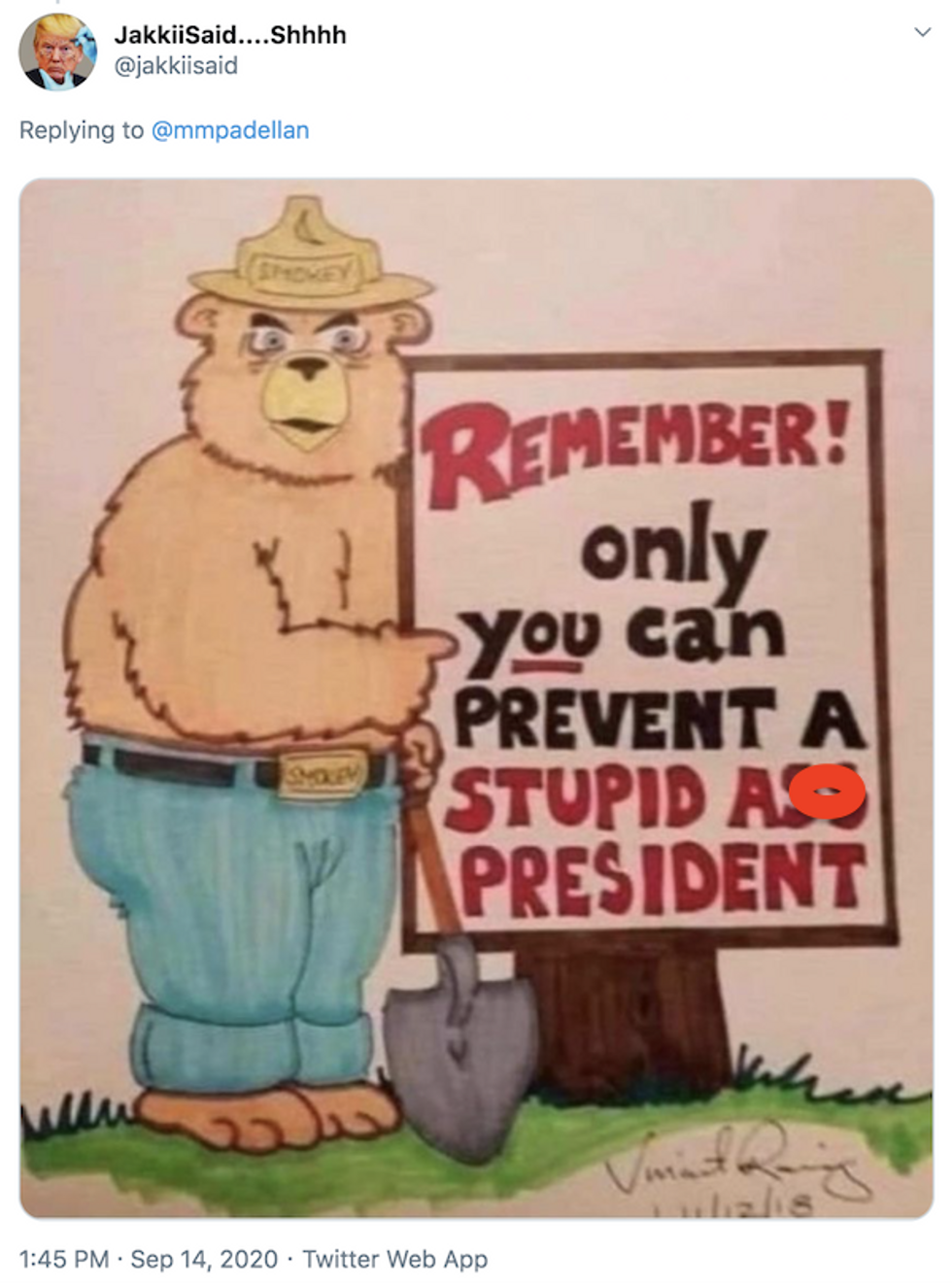 @jakkiisaid/Twitter
As of Monday, September 14, the 2020 presidential election is 49 days away. Current polls show Biden leading Trump.