As the youngest woman ever elected to the House of Representatives, Congresswoman Alexandria Ocasio-Cortez (D-NY) is more adept at social media than many of her peers in government.
The Congresswoman—colloquially known as AOC—often uses Instagram to show her millions of followers the inner workings of Congress, from how offices are assigned to the purpose of Congressional pins.
Such was the case when Ocasio-Cortez began her commute from New York's 14th Congressional District back to Washington, D.C. this weekend, where the House is holding an emergency session to strengthen the faltering U.S. Postal Service ahead of the 2020 election.
To pass time during her commute, AOC began taking questions from her Instagram followers.
While most questions were focused on actual issues—such as negotiations about additional pandemic relief and the unprecedented number of mail-in ballots expected this election—one person asked the Congresswoman if she was ready to bartend again on November 3rd.
Her response was curt.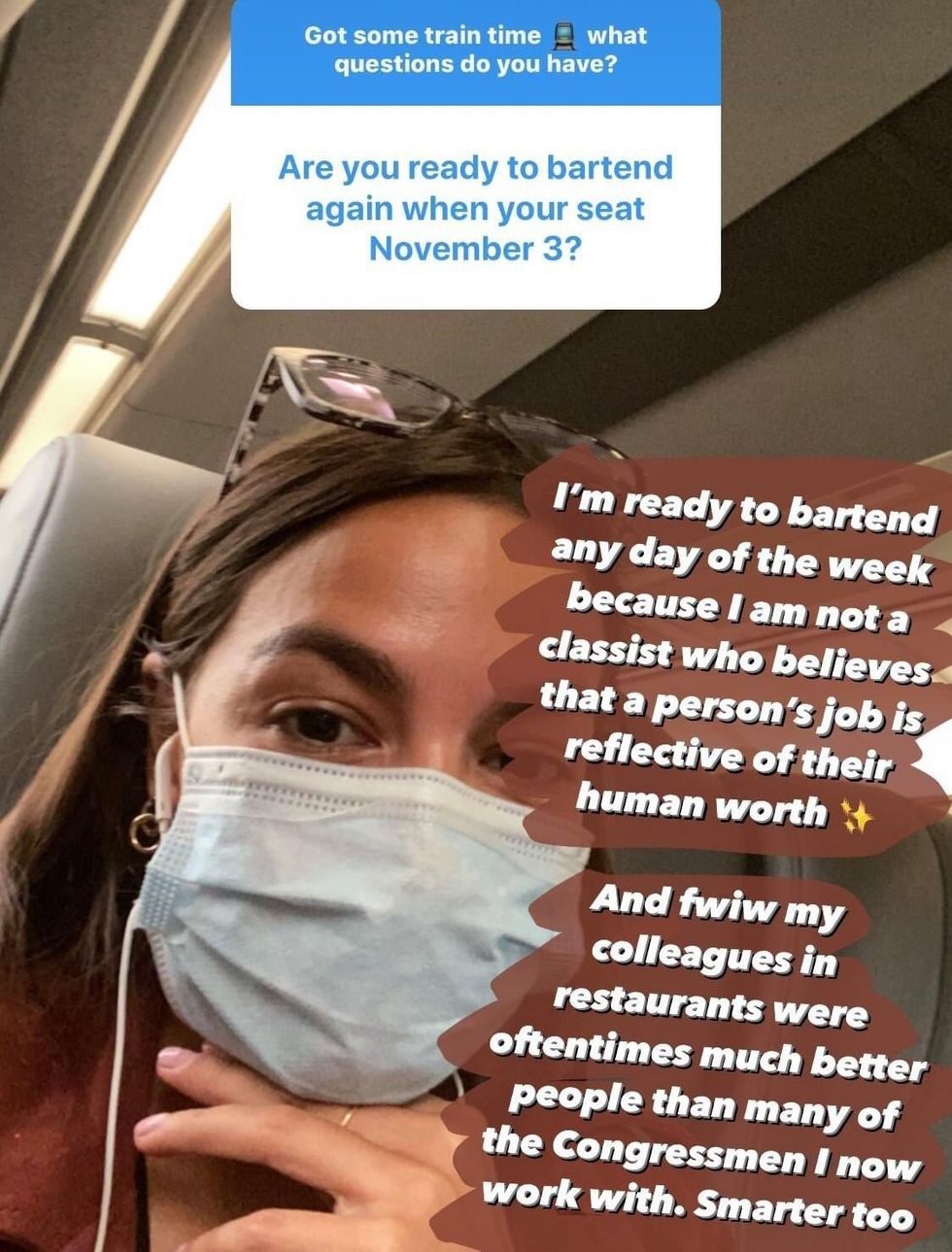 After graduating cum laude from Boston University with degrees in international relations and economics, Ocasio-Cortez worked as a bartender to help her family make end's meet after the sudden death of her father.
Some of AOC's colleagues in the Republican party—which claims to champion Americans who "pull themselves up by their bootstraps"—use her former occupation as a reason to dismiss her. As a result, some call her "bartender" instead of "Congresswoman."
AOC responded:

"I'm ready to bartend any day of the week because I am not a person who believes that a person's job is reflective of their human worth"
People applauded her response to the troll.
Those with insight into the service industry were especially appreciative.

Regardless of what some may say, it's highly unlikely that Ocasio-Cortez will be bartending again any time soon—she won her recent primary with over 70 percent of the vote.