[DIGEST: Fortune, Buzzfeed, Business Insider, New York Times]
The U.S. Consumer Financial Protection Bureau brought federal suit this month against Navient, the United States' largest student loan servicer. The CFPB accused the company of "systematically and illegally failing borrowers at every stage of repayment." The lawsuit seeks restitution for those affected, as well as money penalties.
---
In a press release, the bureau alleged that Navient "created obstacles to repayment by providing bad information, processing payments incorrectly, and failing to act when borrowers complained." The suit also alleged that the company harmed the credit of disabled borrowers, including injured veterans.
At the heart of the lawsuit, the CFPB accused the company of illegally cheating struggling bowers out of their rights to lower repayments. Navient allegedly pushed these borrowers away from income-based repayment plans into forbearance, an option that allows borrowers to take a short break from payments. However, interest continues to accrue during forbearance. The CFPB estimated that during a five-year period ending in 2015, the company added up to $4 billion in interest charges on those who were enrolled in multiple consecutive forbearances—a large portion of which could have been avoided had the loans been repaid under federally-approved repayment plans. About 1.5 million of its borrowers were in at least two consecutive forbearances lasting one year or longer.
"For years, Navient failed consumers who counted on the company to help give them a fair chance to pay back their student loans," said CFPB Director Richard Cordray. "At every stage of repayment, Navient chose to shortcut and deceive consumers to save on operating costs.  Too many borrowers paid more for their loans because Navient illegally cheated them."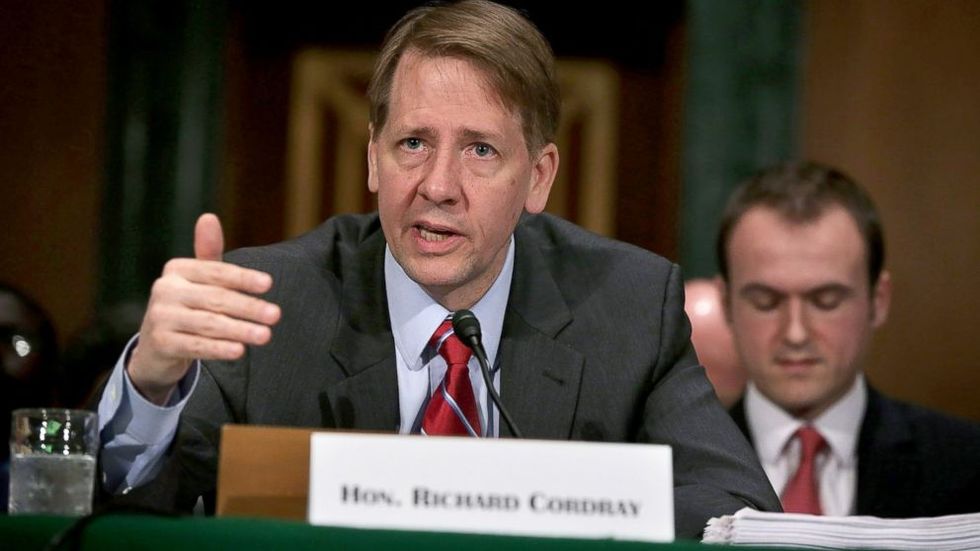 Richard Cordray. (Credit: Source.)
Navient, which was formerly part of Sallie Mae, services about 12 million Americans, or one in four who have student loans. It handles more than $300 billion in loans. Student loan debt as a whole in this country is now at $1.4 trillion, more than the totals for auto loans and credit cards.  
The company disputed the allegations, calling them a politically-motivated "midnight action." Navient claimed that the CFPB filed suit because Navient rejected an ultimatum to settle a multi-year investigation into it by the end of President Obama's administration. The suit was filed two days before Donald Trump took office. "We will vigorously defend against these false allegations," the company said in a statement.  
The CFPB has been under scrutiny since its creation in 2010. A federal appeals court ruled in October that its structure is unconstitutional in that the president cannot remove the director, thus violating the separation of powers doctrine. Many expect that the CFPB will come under further scrutiny and attack with the new administration.
Attorneys general in Illinois and Washington announced simultaneous lawsuits against Navient, accusing it of "rampant abuses." The state lawsuits will help to ensure that proceedings against the company will continue, even if the CFPB becomes crippled.
"Every single one of the borrowers who is having their loan serviced by Navient or one of Navient's companies is a borrower that's impacted," said Lisa Madigan, the Illinois attorney general who filed one of the state cases. "If you're looking to put a price tag on that, it's billions of dollars."