Former Republican President Donald Trump's indictment by a New York grand jury brought renewed scrutiny to his recent comments on the justice system.
Trump praised the grand jury on Wednesday for their diligence in investigating his case, but after being indicted on Thursday he turned on them, calling the decision "thuggish" and "radical left."
Trump's indictment is related to a $130,000 payment to adult film actress Stormy Daniels before the 2016 presidential election. While the exact charges have not been disclosed, sources close to the investigation suggest that the indictment could include more than 30 charges related to business fraud, likely related to the Daniels payment.
The former president's comments on the grand jury have been viewed by many as hypocritical, given his sudden change of heart after being indicted.
In a Truth Social post on Wednesday, Trump wrote that he had "such respect" for the grand jury and the grand jury system as a whole. He suggested that the evidence in his favor was so "overwhelming" that the grand jury needed time to review it properly.
He wrote:
"I have gained such respect for this grand jury, [and] perhaps even the grand jury systsem as a whole. The evidence is so overwehelming in my favor, [and] so ridiculously bad for the highly partisan [and] hateful district attorney, that the grand jury is saying, hold on, we are not a rubber stamp, which most grand juries are branded as being, we are not going to vote against a preponderance of evidence or against large numbers of legal scholars all saying there is no case here."
"Drop this sick witch hunt, now!"
You can see Trump's post below.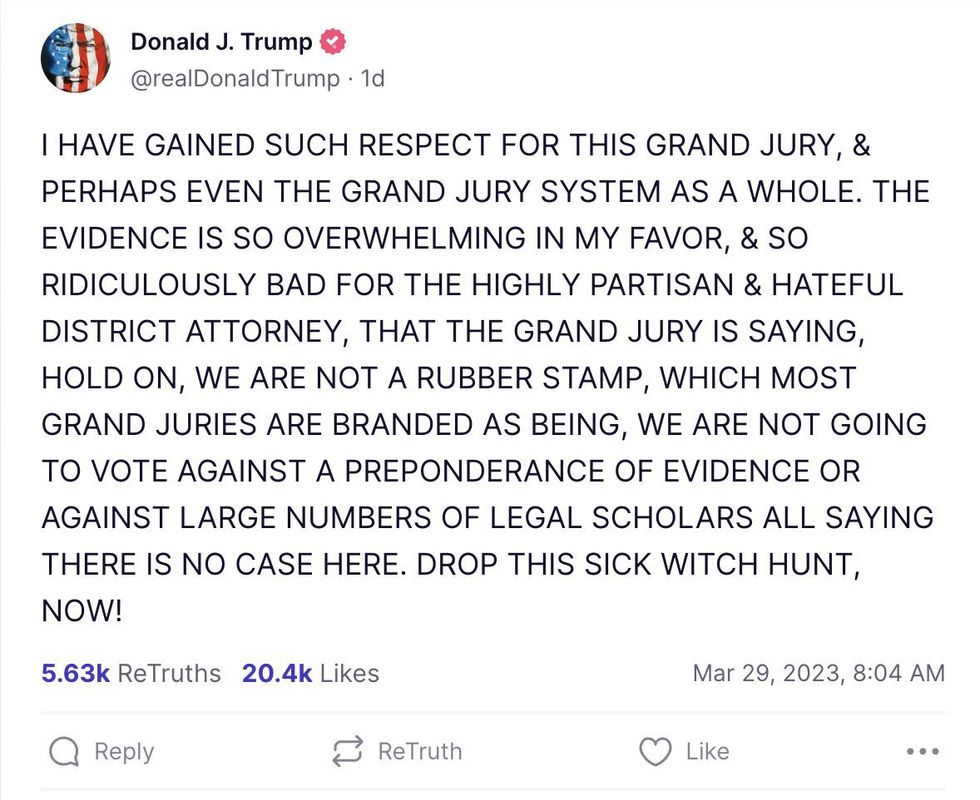 @realdonaldtrump/Truth Social
However, after being indicted the next day, Trump seemed to lose his newfound respect for the grand jury, calling them "thugs" and "radical left monsters."
He went on to criticize the United States as a "third world nation" in serious decline and said he had been "INDICATED" when he meant to say he had been "indicted."

He wrote:

"These Thugs and Radical Left Monsters have just INDICATED [sic] the 45th President of the United States of America, and the leading Republican Candidate, by far, for the 2024 Nomination for President."
"THIS IS AN ATTACK ON OUR COUNTRY THE LIKES OF WHICH HAS NEVER BEEN SEEN BEFORE. IT IS LIKEWISE A CONTINUING ATTACK ON OUR ONCE FREE AND FAIR ELECTIONS."
"THE USA IS NOW A THIRD WORLD NATION, A NATION IN SERIOUS DECLINE. SO SAD!"
You can see Trump's post below.

@realdonaldtrump/Truth Social
Trump's about-face has been heavily mocked by social media users.
The indictment of a former president is a rare occurrence, and it highlights the importance of upholding the rule of law, even for those in positions of power. The charges against Trump demonstrate the need for transparency and accountability in government.

The case also serves as a reminder that no one is above the law, regardless of their status or position. Trump's sudden shift in attitude towards the grand jury is a stark reminder of how quickly people can change their views when they are personally affected by a decision.
The indictment of Donald Trump will undoubtedly be a major news story in the coming days and weeks, and it is likely to have far-reaching implications for the US political landscape. The case will be closely watched by legal experts and political observers alike, as it could have significant ramifications for the future of the justice system and the rule of law in the United States.