Marjorie Taylor Greene was widely mocked for her tweet claiming that Democrats are jealous of Republicans because they don't 'have' Donald Trump.
05 April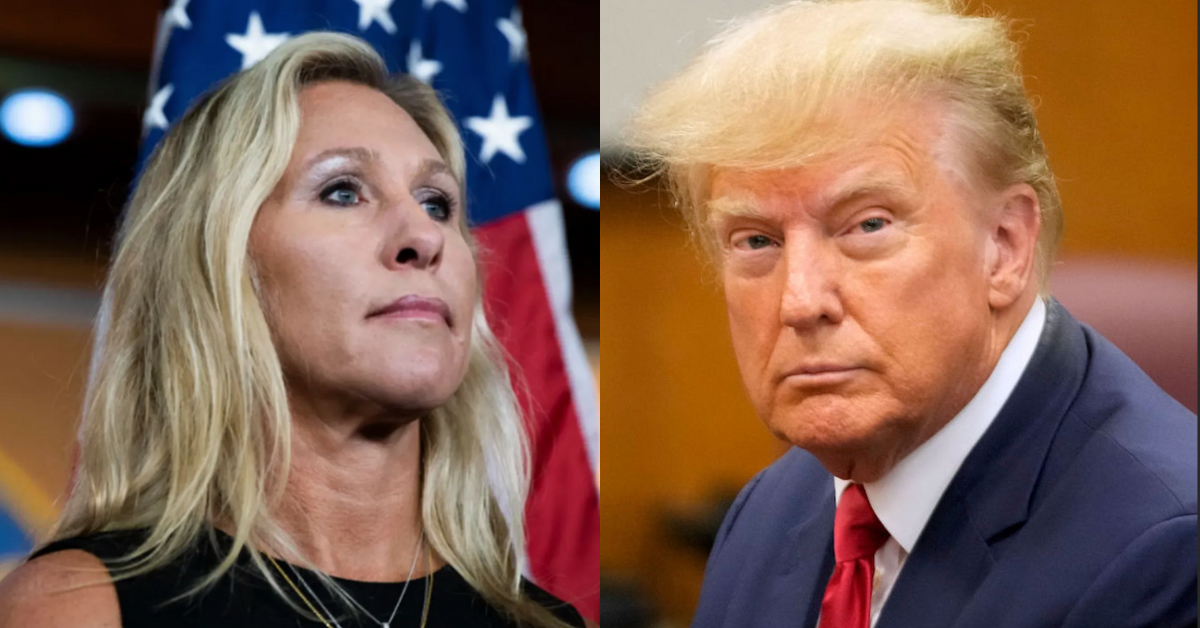 Steven Hirsch-Pool/Getty Images; Tom Williams/CQ-Roll Call, Inc./Getty Images
Georgia Republican Representative Marjorie Taylor Greene was mocked online after she claimed Democrats are "so jealous" not to "have a Donald Trump" to lead their party.
Writing on Twitter, Greene—who appeared outside the Lower Manhattan courthouse ahead of former President Trump's arraignment—claimed Democrats "would give anything to have" Trump "but they don't."
She added:
"They're like a jealous girl that got tossed to the side. They're blinded by hate [and] jealousy and will do anything to stop him because they can't have him."
"Psycho."
You can see Greene's post below.
Greene was swiftly mocked for her remarks.

A rally for Trump took place in New York City, with expectations of drawing large numbers of supporters, including headlining speaker Greene.

The rally encountered disruption from unruly groups of both supporters and opponents of Trump, resulting in Greene's message to Trump supporters being drowned out by the large crowd of people and media present outside. Greene was promptly escorted out by security a few minutes later.
In an online interview, Greene claimed that the counter-protesters were assaulting her by using whistles and shouting while she spoke. She also stated her belief that the Manhattan District Attorney, Alvin Bragg, was not prosecuting President Trump, but instead targeting him.
Trump turned himself in at the Manhattan Criminal Court and was taken into custody.

He has been accused of committing 34 felony charges, which include the fabrication of business records to conceal a payment of $130,000 made to adult film actress Stormy Daniels in the last days of his 2016 presidential campaign, allegedly to keep her from revealing their alleged affair.
After his arraignment, Trump went on an extensive rant about various conspiracies and grievances.
He complained about what he perceives as the "onslaught of fraudulent investigations" unjustly directed towards him, including "Russia, Russia, Russia," the two impeachment "hoaxes," the mishandling of classified documents at his Florida resort which he now refers to as the "boxes hoax," and his "persecution" by New York Attorney General Letitia James.