Former Republican President Donald Trump openly criticized U.S. District Court Judge Tanya Chutkan, who is presiding over his newest criminal case, just days after she issued a warning for him to avoid "inflammatory" attacks on those involved in his case.
In a post published on his social media platform, Truth Social. Trump derided Chutkan as "highly partisan" and accused her of being "very biased and unfair." He cited as evidence a statement she made during the sentencing of a woman involved in the Capitol breach on January 6, 2021.
Chutkan had made comments during the sentencing of Christine Priola of Ohio in October 2022. She admonished Priola for participating in the mob that stormed the Capitol, emphasizing the mob's loyalty to one individual rather than to the Constitution or democratic principles.
Those words were:

"I see the videotapes. I see the footage of the flags and the signs that people were carrying and the hats that they were wearing, and the garb."
"And the people who mobbed that Capitol were there in fealty, in loyalty to one man, not to the Constitution, of which most of the people who come before me seem woefully ignorant; not to the ideals of this county and not to the principles of democracy."
"It's blind loyalty to one person who, by the way, remains free to this day."
You can see Trump's post below.
j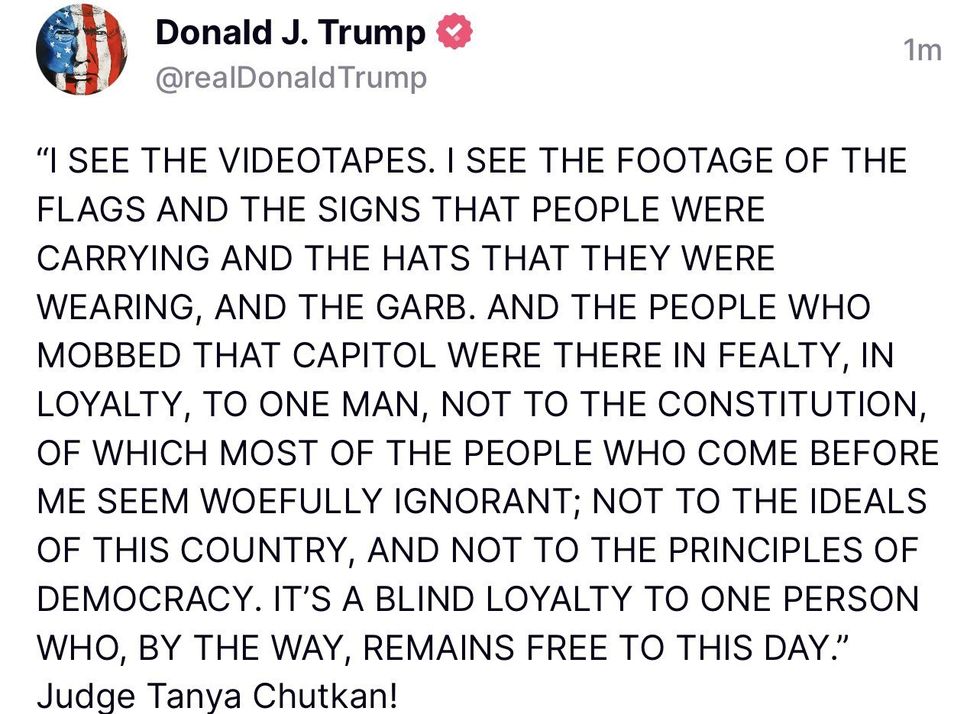 @realDonaldTrump/Truth Social
Trump's criticism of Judge Chutkan comes despite her recent warning to him and his legal team to exercise caution in their public statements about the case.
During a hearing on Friday, Chutkan had emphasized that she would not allow politics to influence the proceedings and warned that she would take necessary measures to protect the integrity of the trial.
Many have condemned Trump's actions.

Trump's remarks could potentially have consequences, as his conditions of release following his arraignment included a commitment not to intimidate witnesses or officers of the court or threaten the administration of justice. It remains to be seen how Judge Chutkan will respond if she determines that Trump's comments have violated these conditions.

Earlier this month, Special Counsel Jack Smith indicted Trump in connection with efforts to overturn his 2020 election loss.
Trump faces four felony counts, including conspiracy to defraud the United States and conspiracy to obstruct an official proceeding. The indictment further accuses him of attempting to exploit the events of January 6—the day a mob of his supporters attacked the United States Capitol on the false premise the election had been stolen—to further his quest to maintain power.