united states olympic committee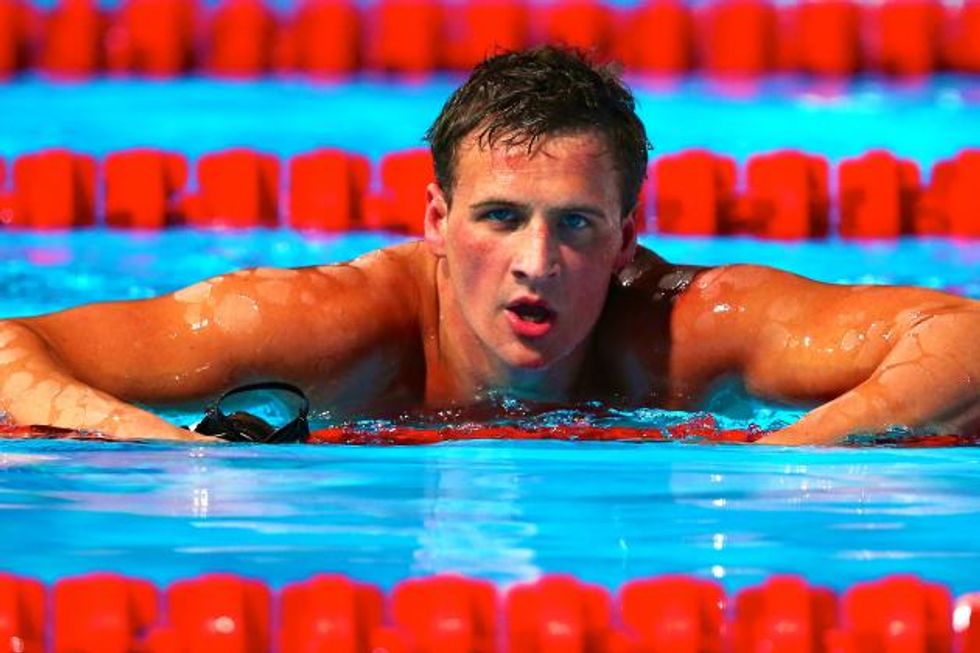 Today, the United States Olympic Committee and USA Swimming has decided to punish Olympian Ryan Lochte for the scandal which erupted after he alleged that he––and fellow Olympic swimmers Jack Conger, Gunnar Bentz and Jimmy Feigen––were the victims of a violent robbery in Rio de Janeiro after leaving a party on August 14. Authorities later deemed the claims to be false. Both organizations announced they would impose a 10-month suspension on Lochte, barring him from domestic and international national swim team competitions through June 30, 2017. Lochte will be unable to compete in the 2017 national championships and his punishment disqualifies him from competing in the 2017 FINA World Championships. Conger, Bentz and Feigen received four-month suspensions.
USOC CEO Scott Blackmun announced the punishment in a statement: "The behavior of these athletes was not acceptable," he stressed. "It unfairly maligned our hosts and diverted attention away from the historic achievements of Team USA." Blackmun noted that none of the swimmers will receive USA Swimming stipends and that they will not accompany Team USA on their visit to the White House. The suspension would require Lochte to forfeit all USOC and USA Swimming funds he received as a result of the gold medal he won at the 2016 Olympics. Reportedly, USOC pays a $25,000 bonus to gold medalists.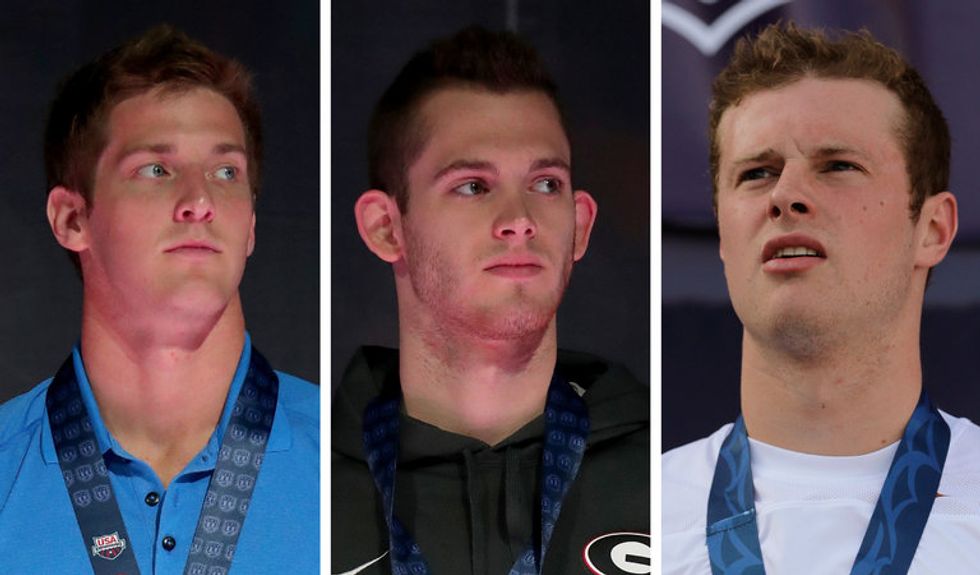 From left to right: Jimmy Feigen, Gunnar Bentz, and Jack Conger. (Credit: Source.)
The news is the latest blow to Lochte's once storied swimming career. Lochte lost all four of his major endorsements as a result of the scandal, including Speedo and Ralph Lauren (which removed his images from its website). ESPN's Darren Rovell estimated the controversy cost Lochte $1 million in endorsement deals. Many younger Olympians emerge with each four-year cycle of the Olympic Games, prompting a fierce battle for a limited amount of endorsements. David Carter, executive director of the Marshall Sports Business Institute at the University of Southern California, implied that Lochte, at 32, is unlikely to recover. "Given his age, he is less likely to be competitive going forward," he said.
After news of the alleged robbery made headlines around the world, Lochte gave an interview to NBC describing getting pulled over in a taxi by men who presented a police badge. "They pulled out their guns, they told the other swimmers to get down on the ground––they got down on the ground. I refused, I was like we didn't do anything wrong, so––I'm not getting down on the ground," he said at the time. Most dramatically, Lochte recalled being threatened at gunpoint: "And then the guy pulled out his gun, he cocked it, put it to my forehead
and he said, 'Get down,' and I put my hands up, I was like 'whatever.' He took our money, he took my wallet -- he left my cell phone, he left my credentials."
Brazilian law enforcement officials launched an investigation on the alleged crime after noticing inconsistencies between Lochte's account and those of the other swimmers. The swimmers were unable to provide key details in interviews with police, who could not locate their taxi driver or their witnesses. When asked to address these inconsistencies, Lochte ascribed them to "traumatic mischaracterization." However, security footage of the four men returning to Olympic Village indicates they not only still had their valuables in their possession, but that none of them appeared shaken by the alleged crime at all. Later that week, a Brazilian federal judge ordered the seizure of Lochte's and Feigen's passports. However, Lochte had already left the country for the United States before the edict. Later that evening, authorities pulled Bentz and Conger from their flight back to the States. Lochte's teammates cooperated with authorities and have since returned home.
A Brazilian official with direct knowledge of the investigation who spoke to the Associated Press on condition of anonymity said authorities have determined no armed assault ever took place. According to the official, security footage shows Lochte and his teammates went to a gas station around 6 AM on August 14. While there, they broke down a bathroom door when they couldn't get in. An armed security guard approached the men, but he never drew his weapon. The gas station manager told Globo that Lochte and the other swimmers urinated on the walls of the station before attempting to leave. Gas station security stopped the men as they tried to leave in a taxi cab. The video then shows them sitting on the curb as they speak with security. Reportedly, they offered the manager "100 Brazilian real and $20" to cover the cost of damages.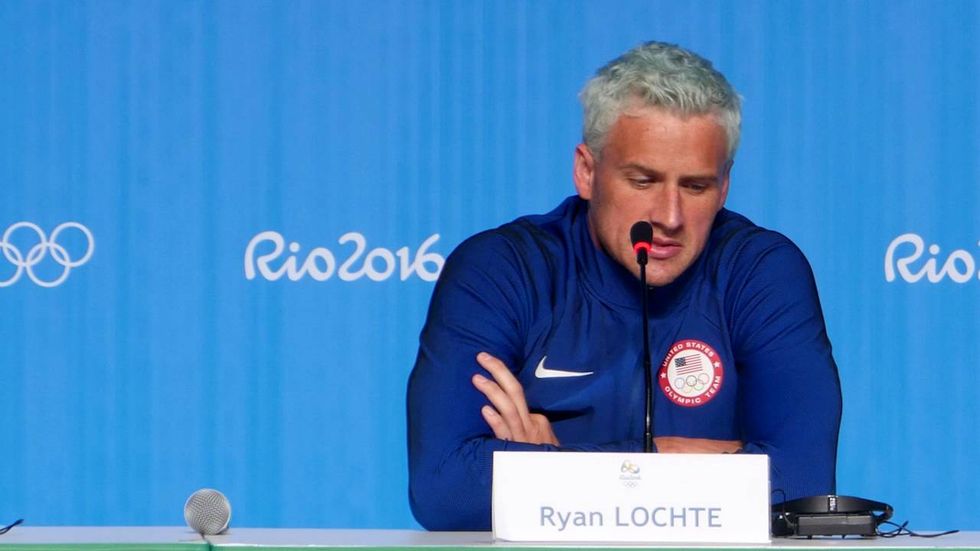 Credit: Source.
In an interview with TMZ, Lochte, who admitted he was "still intoxicated" when he made the initial robbery claim in his appearance with NBC, said that he has not yet made a decision to seek help for his drinking. "It's definitely something that I'm going to have to be more responsible about," he said."Everything that happened in Rio, I'm definitely going to learn from it. We're human, we learn from our mistakes. "Right now I need to just see my family and talk with them about what I'm going to do."
Jeff Ostrow, Lochte's attorney, said that he and Lochte "accept the decision" and stressed that "Ryan is grateful to be a member of the U.S. Olympic Team and USA Swimming." Lochte also "recognizes his lapse in judgment, and is looking forward to continuing his training, volunteer work with kids, and resuming his swimming career next year with an eye toward representing his country at the 2020 Olympic games in Japan." While Ostrow did say that he personally feels the "collective sanctions appear to be harsh when considering what actually happened that day," he conceded that "we will leave it to others to evaluate the appropriateness of the penalties."
Keep reading...Show less