Jonathan Karl took Senator Tim Scott to task for making the outrageous claim that somehow Joe Biden was 'complicity' in Hamas' attack on Israel.
23 October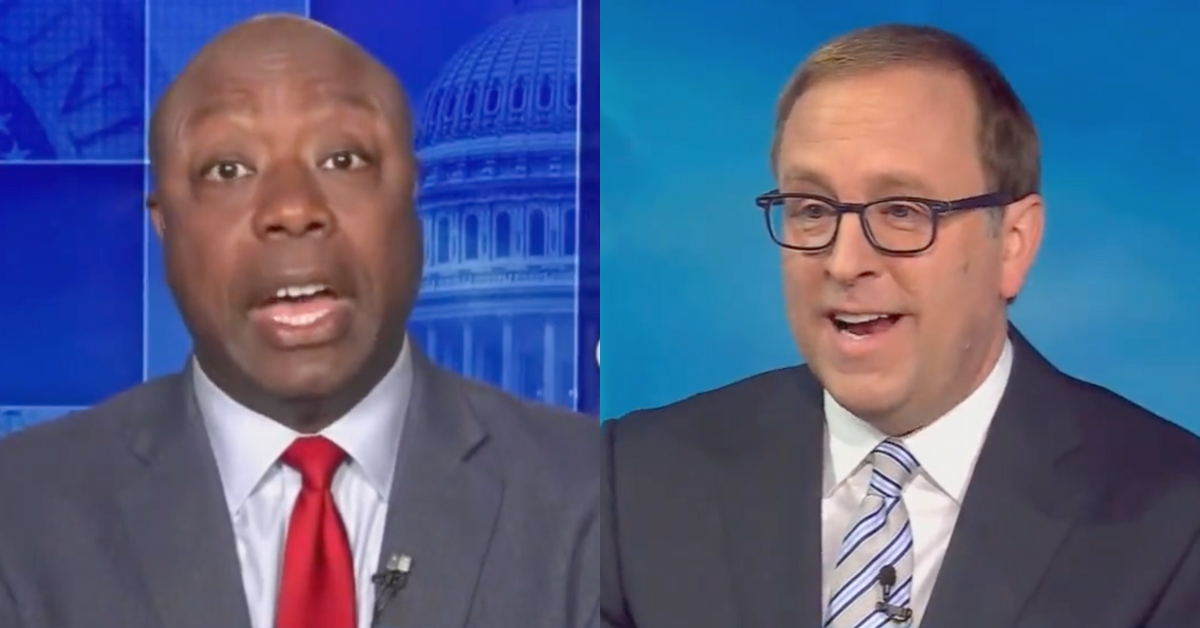 ABC
This Week co-anchor Jonathan Karl took South Carolina Republican Senator Tim Scott to task for making the outrageous claim that somehow President Joe Biden is "complicit" in Hamas' attack on Israel.
Hamas initiated a shocking attack on Israel on October 7, prompting Israel to declare war and retaliate. The attacks have created a humanitarian crisis in the Gaza Strip, where thousands have died amid hundreds of rocket strikes and are contending with severe food, water, and fuel shortages that have not been adequately addressed due to insufficient humanitarian aid.
Israeli authorities have reported dozens of captives held hostage in Gaza, although precise numbers remain unconfirmed. Hamas has since released two hostages—a mother and daughter—for humanitarian reasons in an agreement brokered by the government of Qatar.
None of this has anything to do with Biden, who has pledged to defend one of the United States' key allies, but Republicans have nonetheless tried to push the lie that he was somehow responsible for Hamas' attacks—or even funded the terrorist organization through Iran.
You can watch Karl and Scott's exchange in the video below.
During the conversation, Scott mentioned the $6 billion in Iranian funds that were frozen by the U.S. only for Karl to interject:
"You said that [Biden] has blood on his hands. With all due respect, the blood is on the hands of Hamas, and to say that Biden is complicit, which you also said in the greatest, deadliest attack, on the Jewish people since the Holocaust, I mean, that's beyond the pale."
But Scott defended his position:
"Well Jon, let's just go right back to where we find ourselves … I think it's important for your viewers to hear the actual truth as I see it."
"There's no doubt that when you have President Biden negotiating with the Iranians for the release of the hostages… I said this under President Obama as well, when we paid $400 million for hostages, you are creating a market for American lives to be lost."
"When you pay $6 billion, do not be surprised when the result of that $6 billion leads to more conflict in the Middle East."
Scott concluded that Biden is negotiating with "state-sponsored terrorism," a claim that does not hold up under scrutiny.
The U.S., of course, didn't provide any funds to Iran. In September, the U.S. unfroze $6 billion of its own money for use strictly for humanitarian aid for its citizens as part of a prisoner exchange agreement. However, Secretary of State Anthony Blinken clarified that Iran hadn't accessed any of this money at the time of the attacks, and the money has since been refrozen.
Many have condemned Scott's remarks.
Republicans have openly undermined Biden's response to the crisis in Israel and Palestine despite pledging to support Israel themselves.
Earlier this month, Texas Republican Senator Ted Cruz was called out for lying about Biden's response, claiming it took Biden "days" to say the United States "stands with Israel" after it was attacked by Hamas. His post was swiftly debunked thanks to the Community Notes feature on X, formerly Twitter.
Cruz, who claimed "Democrats are beholden to Israel-hating leftist activists," was swiftly fact-checked after X users highlighted videos of Biden's speech after Hamas' attack in which he stated clearly that the United States "stands with Israel."