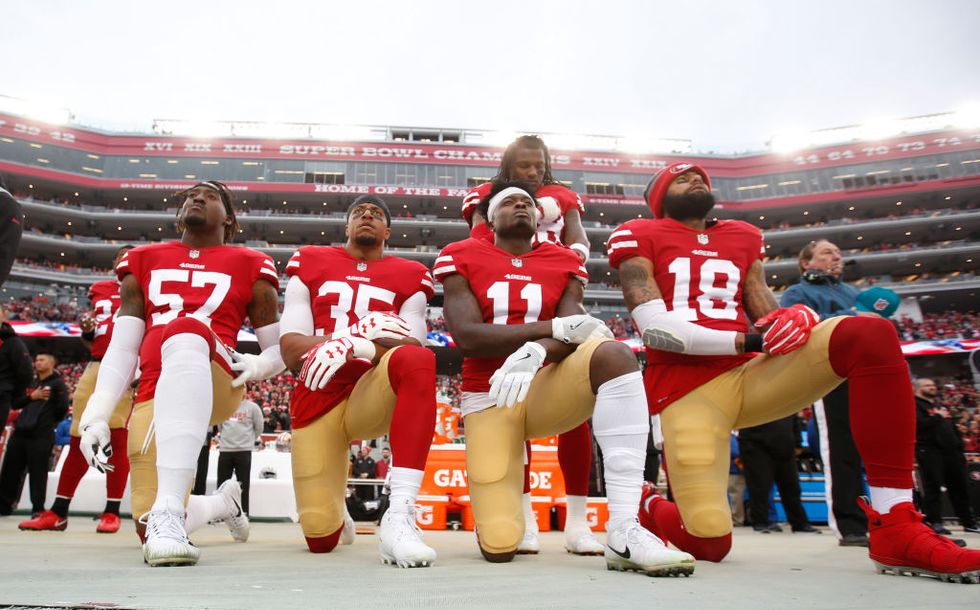 Eli Harold #57, Eric Reid #35, Marquise Goodwin #11 and Louis Murphy #18 of the San Francisco 49ers kneel on the sideline as Adrian Colbert #38 stands with them in solidarity, during the anthem, prior to the game against the Jacksonville Jaguars at Levi's Stadium on December 24, 2017 in Santa Clara, California. The 49ers defeated the Jaguars 44-33. (Photo by Michael Zagaris/San Francisco 49ers/Getty Images)
The National Football League (NFL) announced a new policy Wednesday regarding player protests during the national anthem: stay in the locker room, stand, or be fined. But now it looks like the owners never officially voted for the policy after all.
"Clearly our objective as a league and to all 32 clubs, which was unanimous, is that we want people to be respectful of the national anthem," NFL Commissioner Roger Goodell said during the NFL's announcement. Both President Donald Trump and Vice President Pence applauded the move by the NFL.
But sources reported the owners never held a formal vote, so who approved it unanimously?
According to a report by ESPN's Seth Wickersham, during two days of meetings on league matters in Atlanta, the "NFL just did a little informal polling and thought everyone would be cool with it."
Sources said league executives polled owners and knew how they would vote but didn't hold an official tally, which is atypical for a major resolution."
The new policy leaves it to teams to discipline their own players for acts deemed disrespectful during the anthem. But it also gave the league wide powers to fine teams as well.
The NFL Player's Association already made a public statement that they were never consulted on the new anthem policy, also atypical of major changes affecting players. And not all team owners are singing the new anthem policy's praises either.
Three team owners distanced themselves from this policy as well. San Francisco 49ers owner Jed York announced he abstained from any decision about the policy. Oakland Raiders owner Mark Davis also claims to have abstained. Their abstentions contradict Goodell's claim of a unanimous vote by all 32 owners.
Meanwhile, New York Jets chairman Chris Johnson vowed to pay any fines for his players who demonstrate during the national anthem.
"I do not like imposing any club-specific rules," Johnson said. "If somebody [on the Jets] takes a knee, that fine will be borne by the organization, by me, not the players. I never want to put restrictions on the speech of our players. Do I prefer that they stand? Of course."
But I understand if they felt the need to protest. There are some big, complicated issues that we're all struggling with, and our players are on the front lines. I don't want to come down on them like a ton of bricks, and I won't. There will be no club fines or suspensions or any sort of repercussions. If the team gets fined, that's just something I'll have to bear."
Statement from Chairman and CEO Christopher Johnson https://t.co/4JObk43oDT

— New York Jets (@New York Jets) 1527100352.0
Johnson's announcement drew some criticism, but his Twitter post also drew praise.
@pitp23_kim @DINORADIONYC @nyjets Exactly. By making this statement, he gains support from any Jets fan that believ… https://t.co/wbyCDitzSy

— E.K.L.Y.P.S.E. (@E.K.L.Y.P.S.E.) 1527110416.0
The new anthem policy is catching a lot of flack on social media. Many have accused the NFL in general or Roger Goodell in particular of simply pandering to the president and vice president on the issue, without regard for the players or fans. People also questioned the NFL's priorities.
*player beats his wife* The NFL: ....... *player accused of rape/sexual assault* NFL: ....... *CTE found in 99% o… https://t.co/lpfUNfPBn0

— Melissa Burgess (@Melissa Burgess) 1527100935.0
The NFL will now fine players that kneel during the National Anthem. I hope this makes even more players kneel jus… https://t.co/UkoCbOWSAa

— Mat Molina (@Mat Molina) 1527117133.0
.@NFL It's not about the flag. It's not about the anthem. It's not about our Military. It's about unarmed Black me… https://t.co/1E05KEiynQ

— BrooklynDad_Defiant! (@BrooklynDad_Defiant!) 1527171697.0
The NFL stated that hence To kneel is a major offence. This hardline reaction Brought deep satisfaction To petulant, fussy Mike Pence.

— Limericking (@Limericking) 1527109042.0
Of course #MikePence is happy about the NFL decision to limit free speech. He is an un-American fascist.… https://t.co/MybGIANUAA

— Fredon Moniteau (@Fredon Moniteau) 1527113472.0
@MichaelDiScala2 @RWeidenmaier @nyjets @rebeccaalpert1 Which ironically is what people died for not a piecec of cloth!!

— Ben Sykes (@Ben Sykes) 1527113013.0
@BenjaminSykes99 @MichaelDiScala2 @RWeidenmaier @nyjets @rebeccaalpert1 The constitution allows freedom of speech a… https://t.co/43HI8urTeL

— Rickdonkulous (@Rickdonkulous) 1527121328.0
My grandad, a puerto rican man and U.S. citizen, served in the Air Force for 20 years. He sits for the anthem, not… https://t.co/OoDLHDhkwa

— LB 🗡 (@LB 🗡) 1527193720.0
Whether the new policy stands or not remains to be seen.
Keep reading...Show less