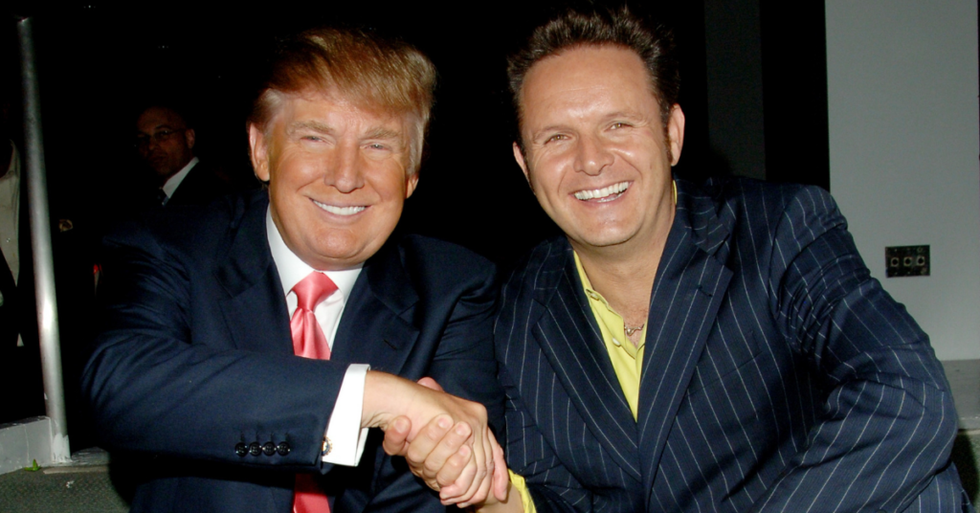 Donald Trump and Mark Burnett during "The Apprentice" Finale- Arrivals at California Mart in Los Angeles, California, June 2006. (Photo by Jon Kopaloff/FilmMagic/Getty Images)
The 2020 presidential election is 361 days away as of Thursday, November 7, and Americans across the country are hoping for Donald Trump to be a one term President.
Trump is already looking to extend the most profitable business venture of his life after he can no longer command the Secret Service, White House advisers and aides, the Washington press corps, the US military and foreign governments to spend time and at his properties.
According to The Daily Beast, Trump is in talks with his old partner and secret keeper, Mark Burnett for a post-presidency reality show.
The Daily Beast reported plans involving:
"The Apprentice: White House, and to produce it shortly after the president leaves office. This time, however, the TV program would be explicitly politics-themed and take full advantage of Trump's status as a former POTUS and a newfound Republican kingmaker."
The British TV producer and current Chairman of MGM Worldwide Television Group produces a slate of reality TV fodder, including working with Donald Trump on The Apprentice and The Celebrity Apprentice.
When Burnett was asked to release potentially damaging outtakes and behinds the scenes tapes of Trump, the producer refused. He also held former contestants to their nondisclosure agreements (NDAs).
Loyalty is paramount to the President and the man has a long lasting love for NDAs. According to White House aides, the two men speak from time to time still.
The news was met online with people offering many other titles for a post-presidency project.
Soon to join reality TV are the impeachment inquiry hearings, slated to begin next week.
The book The Apprentice: Trump, Russia and the Subversion of American Democracy is available here.
Keep reading...Show less