Helmut Corneli / Alamy
Animals' ability to recognize themselves in a mirror — long considered the ultimate test of self-awareness — has historically been limited to great apes like chimpanzees and, more recently, young dolphins. However, an international group of researchers working in Japan recently tried "the mirror test," as it's known, with fish, and the results were shocking.
The fish passed.
Keep reading... Show less
New evidence has shown that the brain activity of transgender individuals closely resembles the brain activity of their identified gender.
In a study of 160 participants, biological males who experience gender dysphoria were shown to have neurological patterns similar to those in biological females. The Belgian study, conducted by Julie Bakker of the University of Liege, used MRIs to scan the brains of children and teenagers who had been previously diagnosed with gender dysphoria. The results demonstrated that the transgender boys' brain activity resembled that of cisgender boys and transgender girls' brains resembled cisgender girls.
Keep reading... Show less
At the National Aquarium in Baltimore, Maryland, Allison Ginsburg, manager of dolphin training, feeds Spirit, one of the mothers who gave birth to a calf this spring, June 1, 2011. (Algerina Perna/Baltimore Sun/MCT via Getty Images)
The first time children can recognize themselves in a mirror is a significant developmental milestone. However, a new study has found that young bottlenose dolphins reach this stage sooner than human infants.
Human babies typically develop self-awareness, or the ability to recognize that the reflection in a mirror is themselves and not just another baby, around 12–18 months. In contrast, according to a study published this month in PLOS One, bottlenose dolphins (Tursiops truncatus) gain this awareness around seven months.
Keep reading... Show less
"Skynet for Dummies" via Flickr user Kenny Louie
Dr. Selmer Bringsjord, a researcher at Rensselaer Polytechnic Institute, has programmed Nao robots, simple programmable robots available to the general public, to pass a very simple "self-awareness" test. This is a major landmark in the ongoing quest to discover whether consciousness can reside in mechanical bodies: critical question that philosophers have pondered for centuries, and closely tied to the question of whether humans will some day be able to upload our own consciousness to computers.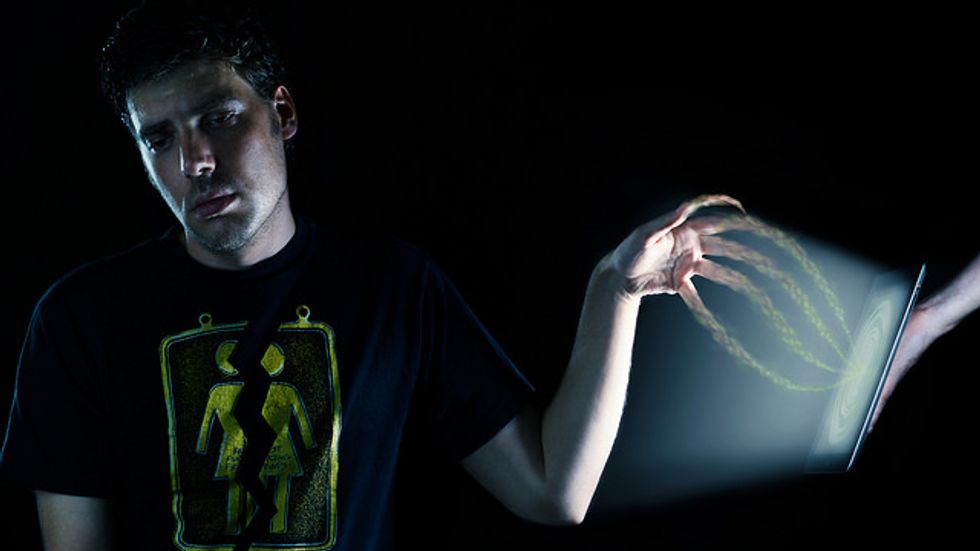 Keep reading... Show less