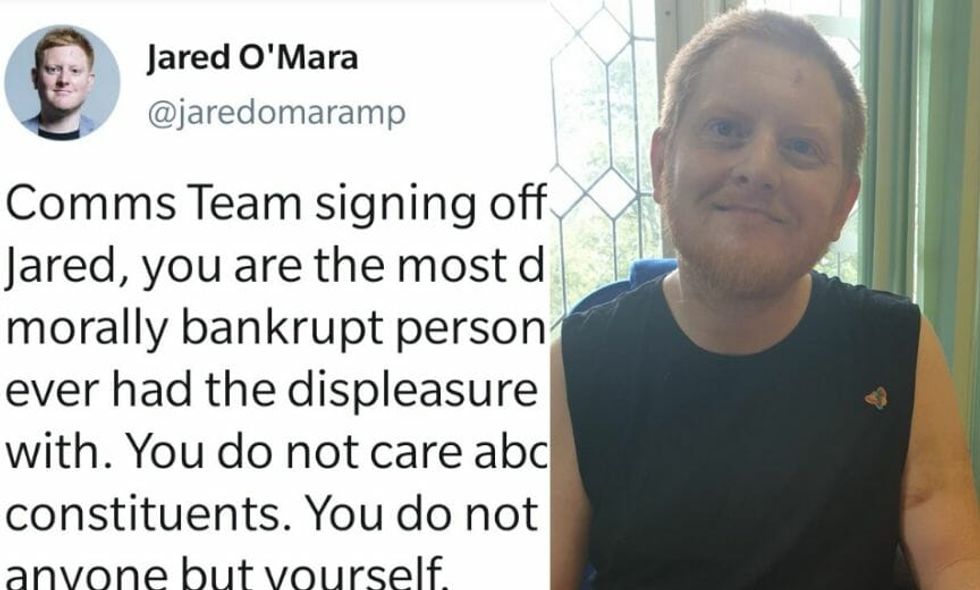 @jaredomaramp/Twitter
A communications staffer for an independent British Member of Parliament Jared O'Mara resigned from his post in a way that's sure not to get him a letter of recommendation.
The now-former O'Mara staffer, Gareth Arnold, decided to submit his resignation letter not on the MP's desk, but rather on O'Mara's Twitter account.
Read the since-deleted thread below:
How to resign 😂 #JaredOMara https://t.co/jN7FAtWvzW

— Holly McCormack 🏴󠁧󠁢󠁳󠁣󠁴󠁿🇪🇺 (@Holly McCormack 🏴󠁧󠁢󠁳󠁣󠁴󠁿🇪🇺) 1563912079.0
The message reads:
"Comms Team signing off... forever: Jared, you are the most disgustingly morally bankrupt person I have ever had the displeasure of working with. You do not care about your constituents. You do not care about anyone but yourself.

"My fear is that now (as I quit) the rest of the staff will leave and once again you will close your office and stop helping anyone but still take your wages until you have the decency to call a byelection.

"Sheffield Hallam deserves so much better than you. You have wasted opportunities which people dare not to even dream of."
Arnold concluded with a gif of a "mic drop."
The ex-staffer's own Twitter account has continued tweeting about O'Mara's habits, as well as insults against him.
But he hasn't been without a sense of humor.
The main idea?
People were praising Arnold's overt method of resignation.
@garetharnolduk Yes. Yes. & Yes and it is amazing! You exercised your morals your principles & your integrity tha… https://t.co/ZUti1V3g5b

— 🆘️Tempestuous Tea🆘️ (@🆘️Tempestuous Tea🆘️) 1563936156.0
@garetharnolduk Youre wired. Its fine. You did something big. Dont doubt yourself.

— Yankee Mafioso (@Yankee Mafioso) 1563932160.0
@garetharnolduk Never apologize for speaking truth to power I commend you, I applaud you, I respect you for doing exactly as you did

— MsB2U (@MsB2U) 1563935018.0
@garetharnolduk Those that matter don't mind and those that mind don't matter. Carry on, soldier.

— a Page in your life...⛵️🇨🇦♥️ (@a Page in your life...⛵️🇨🇦♥️) 1563938441.0
O'Mara is facing increased calls to resign.
Mic drop?
Keep reading...Show less