A decade-long legal battle demonstrates the possible consequences of oversharing.
15 February 2018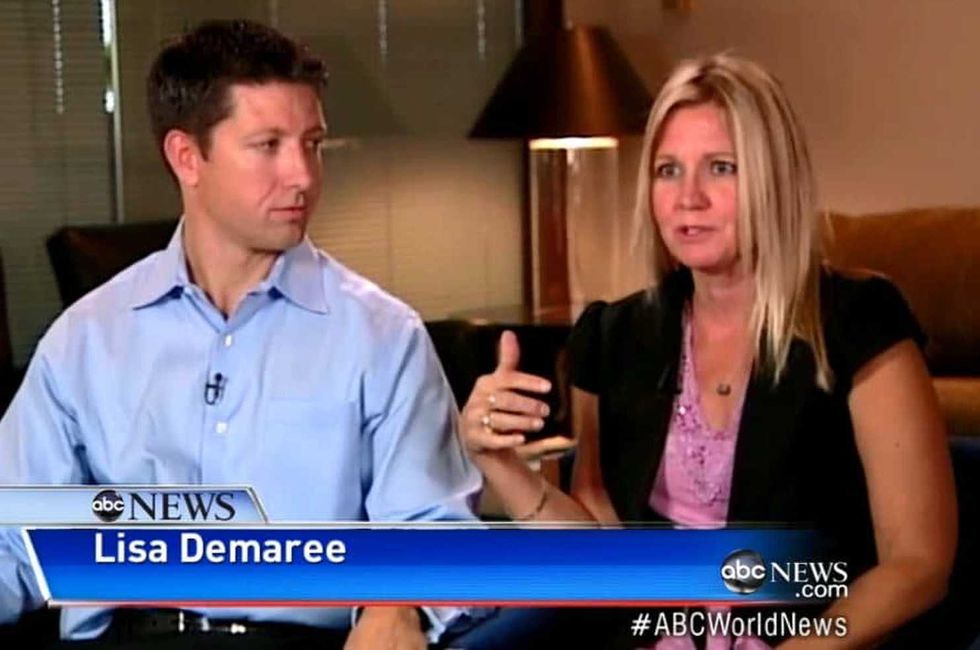 Lisa and A.J. Demaree. (Screenshot via ABC)
Are there ever times that parents shouldn't take photographs of their children? Two Arizona parents grappled with that question after a set of seemingly harmless photos of their children during bath time, that were not even shared on social media, propelled them into a decade-long child abuse saga.
In 2008, Lisa and A.J. Demaree took their three daughters, then 5, 4 and 1 ½, on vacation to San Diego. The parents took over 100 photos throughout the trip, including several of their daughters having fun in the bath. Many parents do this, and the Demarees thought nothing of bringing their film to Walmart for processing. An employee at that Walmart marked the photos as inappropriate and alerted authorities, launching the Demaree family into a 10-year legal saga.
Those ten years were nothing short of horrific for the Demaree family. Following the accusations of the Walmart employee, a full-scale investigation––for child abuse and pornograpy––was launched. Child Protective Services later removed the girls from their parents' custody for nearly a month. Although law enforcement ultimately declined to press charges, the damage was already done. The Demaree family then filed suit against CPS, alleging numerous constitutional violations.
After a drawn-out legal battle, a federal appeals court finally sided with the Demarees. "The social workers did not have reasonable cause to believe the children were at risk of serious bodily harm or molestation," the court ruled. "Therefore, viewing the record most favorably to the Demarees, the defendants acted unconstitutionally in taking the three children away from home without judicial authorization."
Although the courts ultimately ended up favoring the Demarees, the entire ordeal magnifies the conversation about what constitutes appropriate—let alone inappropriate—social media posting. Sharing (and oversharing) details of our personal lives online has become commonplace. Pictures and videos of our most intimate and private moments are being uploaded to Instagram, Facebook, Twitter, etc., more than ever before.
A report in Psychology Today found that oversharing is becoming increasingly common. "Anyone who has spent time on social media, especially Facebook and other social networking sites, is likely to have cringed at someone revealing far too much about themselves. Overly sexual pictures, comments that would get them fired, inappropriate political rants, and deeply personal details not suitable for strangers are all common online when that same person would never say or do those things in a face-to-face interaction. These sites have privacy controls that allow people to limit the audience they share with, so why do people overshare? It's not because they don't know how to keep their thoughts private; they choose not to. This results from something called the online disinhibition effect. The concept is simple: people lose inhibitions online that they would have in person."
In and of itself, oversharing isn't illegal. It's arguable that what the Demaree parents did wasn't even oversharing. The photos they took were not intended for social media distribution. Their saga, however, is a powerful reminder to be mindful of what kind of content we do choose to produce and share.
Consent, of course, is key. When it comes to minor children, however, parents must err on the side of caution given the increasing (and seemingly necessary) legal restrictions surrounding unlimited and unfettered posting. In France, for example, the law dictates that a parent cannot post intimate photos of their children without obtaining direct consent. In the United States, several public efforts have been made to curtail the proliferation of revenge porn.
According to Mashable, in November of 2017, Senator Kamala Harris, joined by several of her colleagues, proposed legislation that would establish revenge porn as a federal, punishable crime. "Revenge porn and similar cases often include forwarding or posting intimate, private photos to online groups or social media pages," she said at the time. "Some websites ask for sexual, nude, and private images and make money off those photos posted without the subject's consent or knowledge."
Following the announcement of the proposed legislation, Harris added: "Perpetrators of exploitation who seek to humiliate and shame their victims must be held accountable."
Ultimately, the concept of sharing personal moments in a public setting is a tricky process. Online posting can perpetuate an environment of bullying and harassment, which can have several mental health repercussions. Even individuals who perpetrate no foreseeable crime in the content they generate or post, such as the Demaree family, can get caught up in an epic saga that criminalizes otherwise normal, loving behaviors. The question of the safety of online sharing is forever growing and changing, as the legalities surrounding technology continue to evolve.
Keep reading...Show less