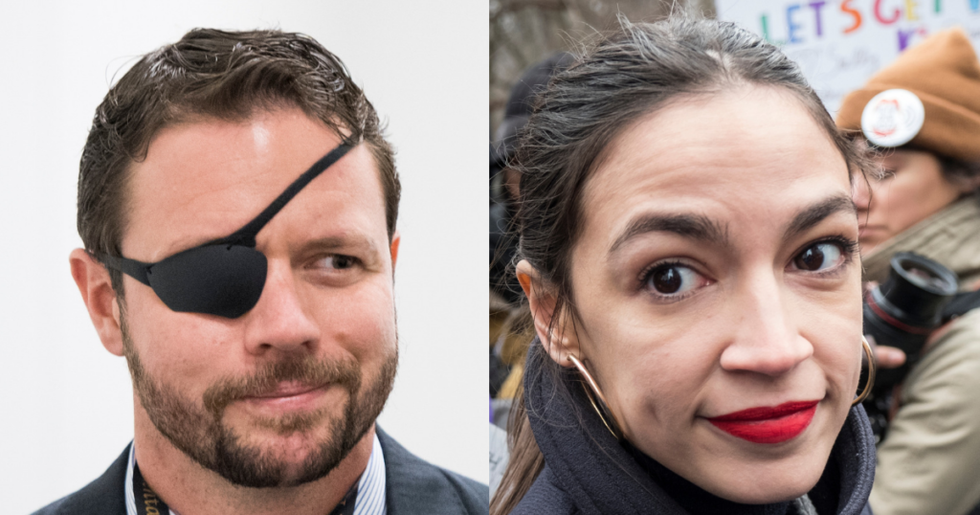 Bill Clark/CQ Roll Call/ Ira L. Black/Corbis via Getty Images
Congresswoman Alexandria Ocasio-Cortez (D-NY) shut down freshman Representative Dan Crenshaw (R-TX) after he mocked her plan to raise taxes on the wealthiest Americans.
In January, AOC proposed a 70 percent marginal tax on income above $10 million, and polls show the public supports the idea.
Shortly before the Super Bowl on Sunday, Crenshaw took to Twitter to mockingly ask "for a friend" if the New England Patriots should have to pay a 70 percent tax rate.
"Should someone propose a 70% tax on the Patriots so that NFL competition is more fair and equal?" Crenshaw tweeted shortly before Sunday's Super Bowl. "Asking for a friend."
Ocasio-Cortez shot back Monday morning with some facts, most notably that on average, NFL players earn far less than $10 million.
"The average NFL salary is $2.1 million, so most players would never experience a 70% rate," AOC replied. "The owners who refuse to hire Kaepernick would, though."
Congressman Brian Sims (D-PA) boosted AOC's smackdown.
"You know it takes even less than 140 characters to just say: 'I'm in Congress but still don't know what I'm talking about!'" wrote Sims. "See, so much more efficient that making us "guess" everytime you tweet."
It was all downhill from there for Crenshaw.
Crenshaw's joke was weak.
Does Crenshaw not get how taxation or sports work?
Crenshaw, an Afghanistan veteran, got pummeled for botching basic economics.
Brutally, as it were.
What a way to kick off his second month in office.
The Patriots won the Super Bowl, but AOC is once again the Twitter victor.
Keep reading...Show less