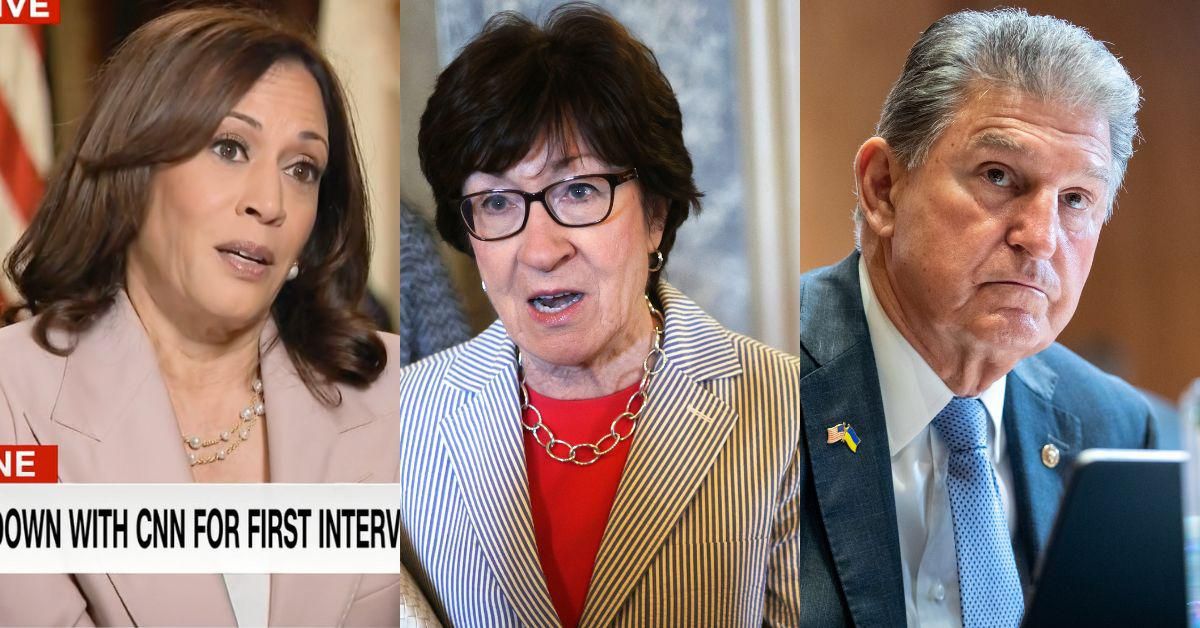 CNN; Alex Wong/Getty Images; Amanda Andrade-Rhoades/For The Washington Post via Getty Images
In an interview with CNN, Vice President Kamala Harris said she never believed the Supreme Court Justices appointed by former Republican President Donald Trump would uphold Roe v. Wade.
After hearing news of the SCOTUS decision to reverse the 1973 landmark ruling that federally protected people's reproductive rights, the VP said she was "shocked."

Her response echoed much of the nation's sentiment despite an early leaked majority opinion draft penned by Justice Samuel Alito suggested the end of Roe was near.

Harris told CNN's Dana Bash:

"You know it's one thing to know when something is gonna happen and it's another thing when it actually happens."
Harris was on Air Force Two flying from Washington to Illinois on Friday when the conservative majority court decided to uphold a Mississippi law that bans abortions after 15-weeks in its ruling in Dobbs v. Jackson Women's Health Organization.

In the CNN interview, Bash asked Harris–who was there for the confirmation hearings for Justices Neil Gorsuch and Brett Kavanaugh–if she believed them regarding their intention to preserve the 50-year precedent.

"Some Senators say that [the nominees] intentionally misled the public and the Congress," said Bash, presumably referring to Maine Republican Senator Susan Collins and West Virginia Democrat Joe Manchin–who both believed Kavanaugh's false assurances against overturning Roe.

When Bash asked the VP's thoughts on this, Harris replied:

"I never believed them. I didn't believe them."
"That's why I voted against them."
She continued:
"It was clear to me when I was sitting in that chair as a member of the Senate Judiciary Committee, that they were... very likely to do what they just did."
"That was my perspective. That was my opinion."
"And that's why I voted like I did."

The VP's comments followed Maine Republican Senator Susan Collins' claim she felt "misled" by Kavanaugh after he convinced her he would not overturn Roe v Wade as he believed the recognition of reproductive rights was "settled law."

Despite being warned by her colleagues that Kavanaugh was not to be trusted and he would use the bench to help overturn Roe, Collins wound up casting the essential vote in his favor.
Democratic Senator Joe Manchin of West Virginia also joined Collins in placing Kavanaugh on the high court.
Manchin expressed he was "deeply disappointed" in the justices after Friday's decision.
Manchin said:
"I trusted Justice Gorsuch and Justice Kavanaugh when they testified under oath that they also believed Roe v. Wade was settled legal precedent and I am alarmed they chose to reject the stability the ruling has provided for two generations of Americans."
In the wake of the SCOTUS decision, Collins issued the following statement:
"This decision is inconsistent with what Justices Gorsuch and Kavanaugh said in their testimony and their meetings with me, where they both were insistent on the importance of supporting long-standing precedents that the country has relied upon."

Harris declared "This is not over," as the high court is considering overturning other cases of precedent that ensure human rights.

Conservative Justice Clarence Thomas suggested in a concurring opinion for the ruling the court should look to dismantle same-sex marriage, legal homosexual intimacy and access to contraception.
In response to Thomas' suggestion, Harris told Bash:
"I think he just said the quiet part out loud. And I think that is why we all must really understand the significance of what just happened. This is profound."
"And the way that this decision has come down, has been so driven, I think, by the politics of the issue versus what should be the values that we place on freedom and liberty in our country."