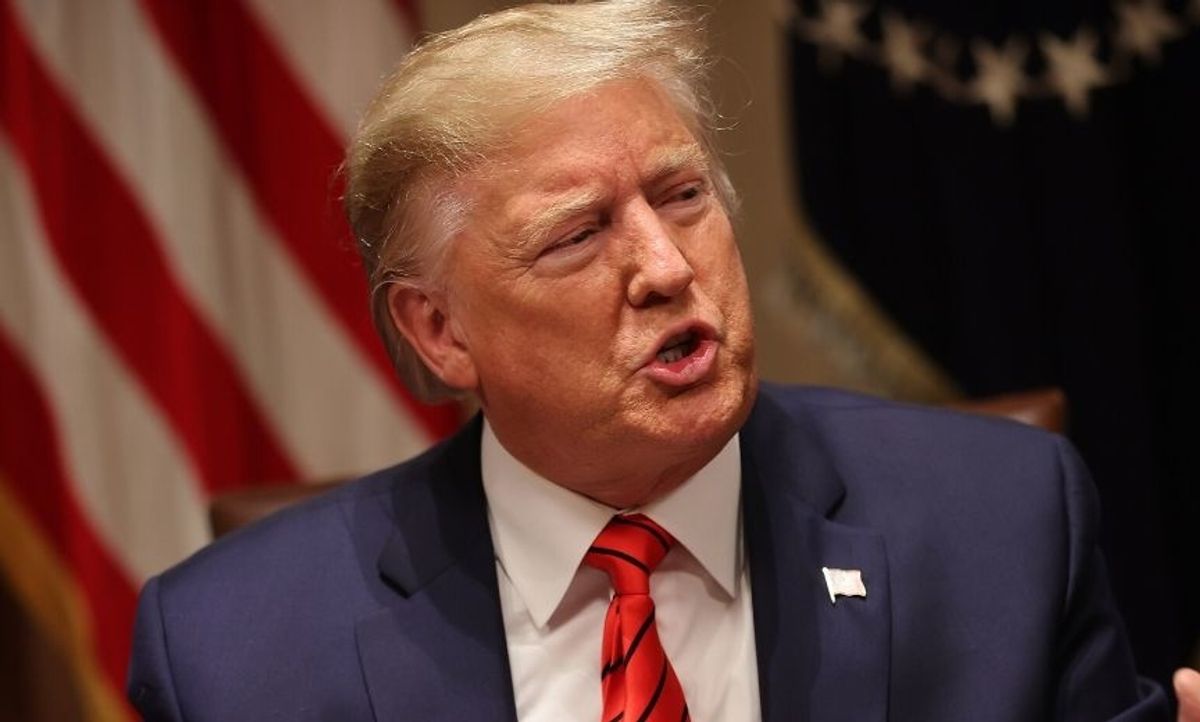 Chip Somodevilla/Getty Images
President Donald Trump is facing scrutiny after reports that the Russian government offered bounties to Taliban militants for the murders of U.S. service members in Afghanistan.
Facing questions regarding Trump's inaction, the White House insists that the President wasn't briefed on the matter, but multiple outlets confirmed with officials that the intel was included in the President's daily briefings. One official gave the New York Times a specific date: February 27, 2020.
Now, people have begun piecing together what Trump did that day after the intelligence was included in the briefing.
It doesn't paint a pretty picture.
The President welcomed Trump-supporting actors Dean Cain and Kristy Swanson into the Oval Office before the two performed at the Conservative Political Action Conference (CPAC).

The two were set to read a play based on the text messages of FBI employees Peter Strzok and Lisa Page, whom Trump deems "the lovers." Personal texts between Strzok and Page mocking then-candidate Trump are often invoked by Republicans to falsely claim that U.S. government officials drummed up connections between the Trump campaign and Russia in an effort to remove Trump from office.
The President then hung out with two of his most devout supporters, Diamond and Silk, who were also guests at CPAC. With them by his side, Trump assured that the virus—of which there were only 15 cases on U.S. soil at the time—would disappear "like a miracle."
There are now nearly 130 thousand Americans dead from the virus, which has seen over two million cases in the United States.
Trump's commitments the day of that crucial briefing told many people all they needed to know of his priorities.
Some thought that the tweet retweeted by Media Matters senior fellow Matthew Gertz deserved to be displayed in Trump's inevitable presidential library.

For his part, Trump insists that he wasn't briefed on the intelligence, with excuses ranging from the entire story being "made up" to the intelligence reports not being reliable enough to be relayed to the President.
The reports are corroborated by financial transactions between Russian military accounts and Taliban linked accounts.
Additional reporting cited officials who said Trump was briefed on Russia's efforts as early as 2019.