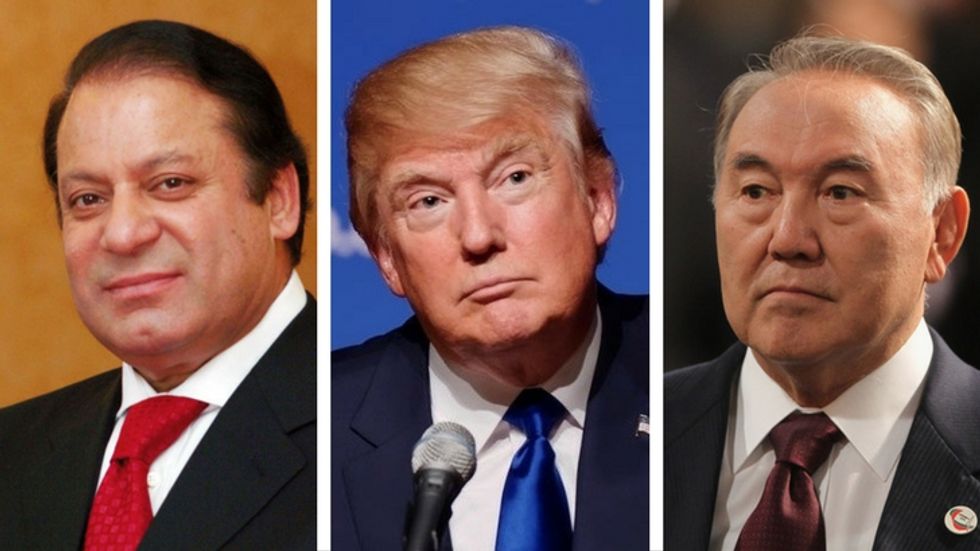 A week after winning one of the most volatile elections in decades, President-elect Donald Trump spoke via phone with British Prime Minister Theresa May and told her, "If you travel to the U.S., you should let me know," an impromptu invite that only came after he had spoken with nine other world leaders. According to one report, the phone call "left civil servants amused and befuddled," and, as political blogger Steve Benen notes, in Trump's mind "the British prime minister might have plans to swing by America for a visit, in which case, the president-elect hoped May would give him a heads-up. What Trump doesn't realize is that May would only come if invited."
These same civil servants were less amused, however, when Trump, in a break with diplomatic protocol, suggested that Britain should name Nigel Farage, a key figure in the successful "Brexit" referendum who ran an anti-immigrant platform, its ambassador to Washington.
Many people would like to see @Nigel_Farage represent Great Britain as their Ambassador to the United States. He would do a great job!

— Donald J. Trump (@Donald J. Trump) 1479781336.0
The president-elect's off-the-cuff style and decision to eschew the usual practice of using State Department-approved talking points also drew international attention when he met Japanese Prime Minister Shinzo Abe while accompanied by only one other American, his daughter, Ivanka Trump.
On Monday, Trump had another conversation with a foreign leader––and raised fears of emboldened aggression.
On Wednesday, Pakistan's Press Information Bureau released a readout of a phone call between Trump and Pakistan's prime minister, Muhammad Nawaz Sharif. The readout is unusual, notes journalist Max Bearak, "in that it focuses almost entirely on Trump's contributions to the conversation, and reproduces them in a voice that is unmistakably his," and reads as follows:
Prime Minister Muhammad Nawaz Sharif called President-elect USA Donald Trump and felicitated him on his victory. President Trump said Prime Minister Nawaz Sharif you have a very good reputation. You are a terrific guy. You are doing amazing work which is visible in every way. I am looking forward to see you soon. As I am talking to you Prime Minister, I feel I am talking to a person I have known for long. Your country is amazing with tremendous opportunities. Pakistanis are one of the most intelligent people. I am ready and willing to play any role that you want me to play to address and find solutions to the outstanding problems. It will be an honor and I will personally do it. Feel free to call me any time even before 20th January that is before I assume my office.

On being invited to visit Pakistan by the prime minister, Mr. Trump said that he would love to come to a fantastic country, fantastic place of fantastic people. Please convey to the Pakistani people that they are amazing and all Pakistanis I have known are exceptional people, said Mr. Donald Trump.
Trump's transition team did not confirm or deny the Pakistani account of the president-elect's remarks, only saying that Trump and Sharif "had a productive conversation about how the United States and Pakistan will have a strong working relationship in the future."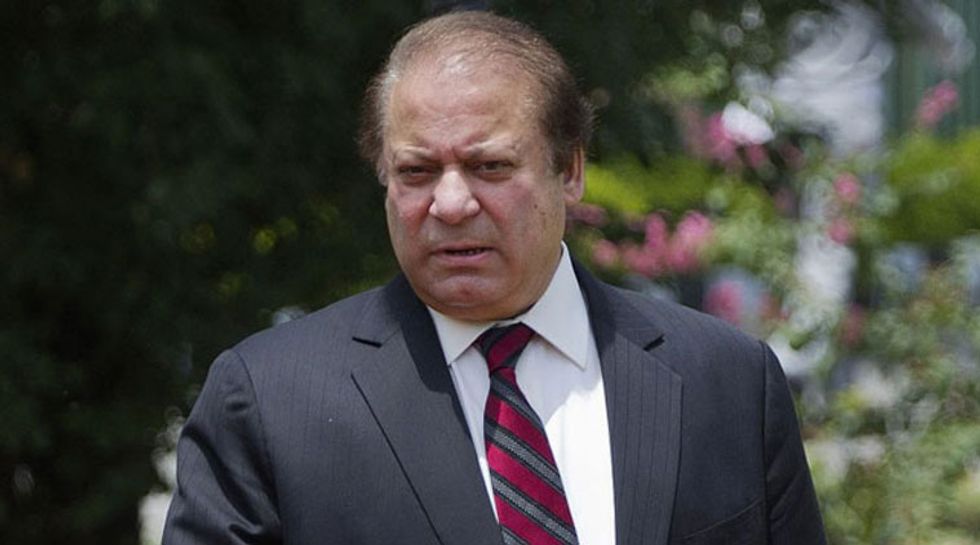 Pakistani Prime Minister Muhammad Nawaz Sharif. (Credit: Source.)
But Trump's apparently unscripted and overly broad statement of support left diplomats agape. Many expressed concern with Trump's offer to Sharif "to play any role you want me to play to address and find solutions to the country's problems." They say Trump's statement may have been interpreted as support for Pakistan in its border dispute with India over Kashmir, inciting fears that two nuclear-armed adversaries might become unbalanced by Trump's signals.
"By taking such a cavalier attitude to these calls, he's encouraging people not to take him seriously," said Daniel F. Feldman, a former special representative to Afghanistan and Pakistan. "He's made himself not only a bull in a china shop, but a bull in a nuclear china shop."
According to Husain Haqqani, a former Pakistani ambassador to Washington, his government's decision to release the readout breached protocol that demonstrated how easily Pakistani leaders misinterpret signals from their American counterparts. "Pakistan is one country where knowing history and details matters most," Haqqani said, "and where the U.S. cannot afford to give wrong signals, given the history of misunderstandings."
On Thursday, the White House weighed in. Press Secretary Josh Earnest urged the president-elect to seek assistance and guidance from State Department experts. "President Obama benefited enormously from the advice and expertise that's been shared by those who serve at the State Department," Earnest said. "I'm confident that as President-elect Trump takes office, those same State Department employees will stand ready to offer him advice as he conducts the business of the United States overseas. Hopefully he'll take it." (Trump has ignored this and has not attended intelligence briefings.)
White House Press Secretary Josh Earnest. (Credit: Source.)
In an op-ed, TIME South Asia bureau chief Nikhil Kumar also weighed in. "There are few foreign policy topics quite as complicated as the relationship between India and Pakistan, South Asia's nuclear-armed nemeses," he wrote. "Any world leader approaching the issue even obliquely must surely see the "Handle With Care" label from miles away, given the possibility of nuclear conflict."
India and Pakistan have fought four wars since the Indian Independence Act of 1947 partitioned British India into the two independent states of what are now present-day India and Pakistan. Three of these four wars have been over the Kashmir border dispute. The Kashmir region is heavily militarized and divided between the two nations by the Line of Control, a de facto border. "With tensions in the region climbing again in recent months, writes Kumar," another war, many fear, could potentially go nuclear. Against this backdrop, Washington has a particularly tricky balancing act
to negotiate if it is to help maintain stability." He notes that ties between Islamabad and New Dehli have become increasingly strained as India has launched a firestorm of criticism over Pakistan's role in abetting terror groups on Indian soil.
Tensions "spiralled in recent months," notes Kumar, after an attack on an Indian military base near the Line of Control that killed several Indian soldiers. India's Prime Minister Narendra Modi claimed the attackers were Pakistani, and ordered a "surgical strike" to take out terror groups in Pakistani-controlled Kashmir who might enter Indian territory. Pakistan has denied that the strike ever took place. Two days after Trump's conversation with Sharif, at least seven Indian soldiers were killed following an attack on an Indian army unit. Writes Kumar, "As India reels from the attack, with analysts around the world watching closely for any retaliatory steps that could trigger a full-scale war, the readout of Trump's call throws up a host of problematic questions. Will Trump's America openly side with Pakistan on the country's dispute with India? And where does that leave India, an increasingly important U.S. ally under recent American Presidents? How will India now react to any US attempt to cool tensions between New Delhi and Islamabad?"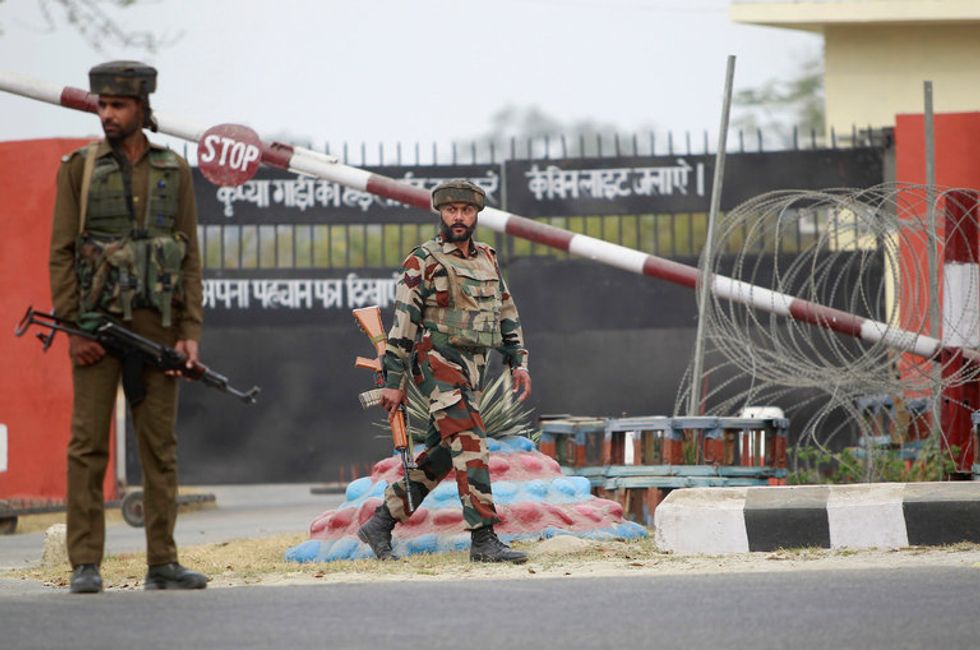 Indian soldiers outside a camp in Nagrota, where armed militants killed seven soldiers.(Credit: Source.)
President Barack Obama never visited Pakistan as president, even though he had a circle of Pakistani friends in college and has spoken admirably of the country. The White House weighed a visit on several occassions, ultimately deciding against it each time. Officials cited security concerns and worries that an American visit would be perceived as rewarding Pakistani leaders for what many American officials believe to be their lack of help in combating terrorism. Despite criticisms from the United States over Islamabad's support for anti-American groups such as the Taliban, Pakistan remains a major beneficiary of American assistance. Pakistan is slated to receive nearly $1 billion in economic and security assistance in 2017, according to the U.S. foreign assistance budget.
"It sends a powerful message to the people of a country when the president of the United States goes to visit," says White House Press Secretary Josh Earnest. "That's true whether it's some of our closest allies, or that's also true if it's a country like Pakistan, with whom our relationship is somewhat more complicated."
Further agitating diplomats and analysts: The news of the phone call between Trump and Sharif also came a day after a car ramming attack and mass stabbing at Ohio State University perpetrated by Abdul Razak Ali Artan, a Somali-born student. According to law enforcement, Artan, whom the Islamic State claimed as a "soldier," had lived in Pakistan for seven years before immigrating to the United States in 2014.
Abdul Razak Ali Artan. (Credit: Source.)
Sharif is less admired by his countrymen than Trump's praise would suggest. In fact, Sharif has faced repeated accusations of corruption––the release of the Panama Papers earlier this year only amplified Pakistanis' anxieties, appearing to confirm many of their suspicions about their leader's conflicts of interest. Sharif is currently under investigation for conflicts of interest stemming from four lavish apartments occupied by his family members in London. He has promised to step down if found guilty of siphoning national funds.
Trump's conversation with President Nursultan A. Nazarbayev of Kazakhstan raised similar concerns after he said the nation has accomplished a "miracle" under Nazarbayev's leadership. Nazarbayev has been president of the country since it won independence from the Soviet Union in 1991 and served as the first secretary of its Communist party for two years before that. He won a fifth term in April 2015, winning more than 90 percent of the vote in an election that was marred by allegations of fraud, ballot stuffing and voter intimidation.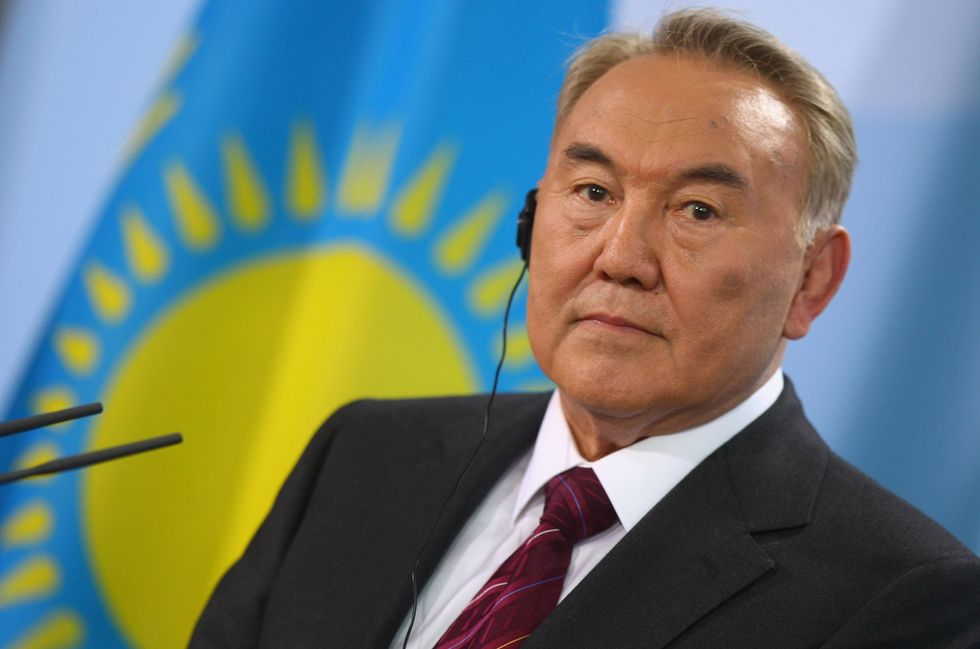 Nursultan A. Nazarbayev, of Kazakhstan. (Credit: Source.)
The Kazakh government released a readout of the phone call between the president-elect and Nazarbayev which reads, in part:
President of Kazakhstan congratulated Donald Trump upon victory in the election of the President and wished him success in the actualization of his electoral program.

In turn, the US President-elect brought congratulations to the Head of State on the 25th anniversary of Kazakhstan's Independence. D.Trump stressed that under the leadership of Nursultan Nazarbayev our country over the years of Independence had achieved fantastic success that can be called a "miracle".

Conversationally, they also shared their points on the issues of stability and security promotion in the world and the region of Central Asia.

The Head of State noted that Kazakhstan voluntarily renouncing its nuclear arsenal is ready to continue the struggle for a nuclear-free world together with the international community.

D.Trump extended complete solidarity with that stand.

- There is no more important issue than the nuclear disarmament and non-proliferation to be addressed in a global context, the US president-elect said.

In addition, Nursultan Nazarbayev brought to notice the three key areas in which it would be possible to deepen US-Russian cooperation: the fight against terrorism, the Ukrainian crisis settlement and the global nuclear security strengthening.
The readout concluded that both Trump and Nazarbayev "declared determination of taking friendly Kazakhstan-American relations to a new level, including trade and economic partnership" and that Trump expressed an interest in arranging a meeting between the two leaders "in the closest future."
Keep reading...Show less