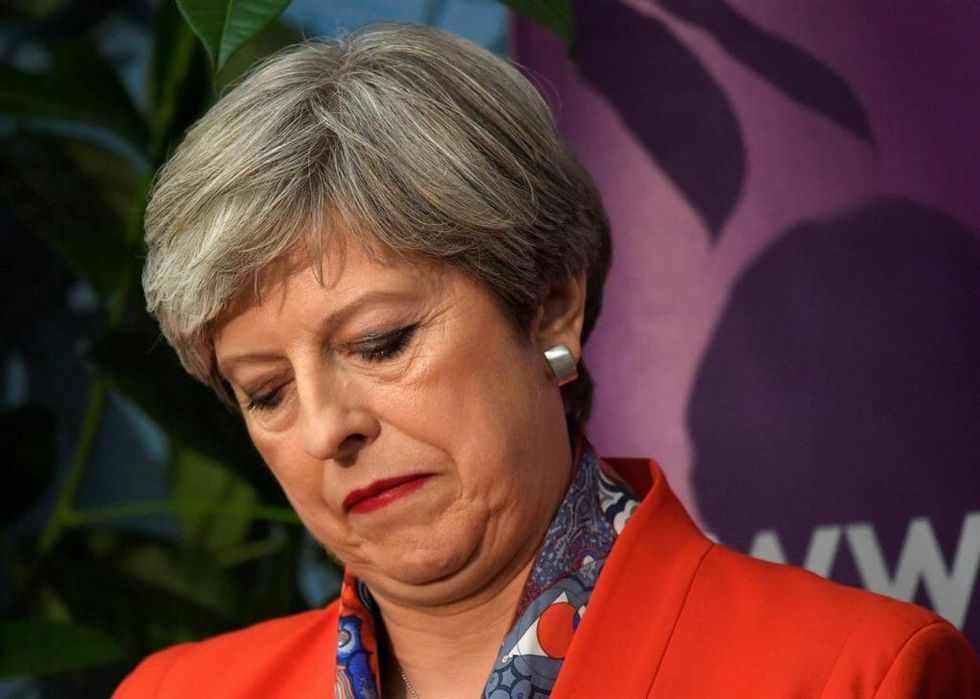 Prime Minister Theresa May has confirmed that she will seek to form a government in coalition with Northern Ireland's Democratic Unionist Party (DUP) after the Conservatives failed to secure a parliamentary majority in yesterday's snap general election. Conservatives won 318 seats, short of the 326 needed for a majority, leaving the UK with a hung Parliament. Political analysts credited high turnout among young voters and a passionate campaign by Jeremy Corbyn, the Labour Party leader.
Speaking in Downing Street after receiving the Queen's permission to form a government, May said, "What the country needs more than ever is certainty, and having secured the largest number of votes and the greatest number of seats in the general election, it is clear that only the Conservative and Unionist party has the legitimacy and ability to provide that certainty by commanding a majority in the House of Commons. Our two parties have enjoyed a strong relationship over many years, and this gives me the confidence to believe that we will be able to work together, in the interests of the whole United Kingdom."
May insisted she would press ahead with Brexit negotiations, which begin on June 19, in accordance with the two-year process for departure from the bloc. May had called the election to strengthen her party's hand in the upcoming negotiations. "That's what people voted for last June; that's what we will deliver. Now let's get to work!" she said.
The decision to form a minority government makes a "hard Brexit" significantly less likely, however. Arlene Foster, the DUP leader, supports a closer relationship with the European Union. She has also said she would like to avoid a hard border with Ireland.
"No-one wants to see a 'hard' Brexit, what we want to see is a workable plan to leave the European Union, and that's what the national vote was about – therefore we need to get on with that," she has said. "However, we need to do it in a way that respects the specific circumstances of Northern Ireland, and, of course, our shared history and geography with the Republic of Ireland."
May's minority administration will mean she will struggle to pursue her policy proposals, and that the Tories, who won 318 seats, will need to rely on the DUP's 10 MPs if they hope to pass meaningful legislation. While May has the right to remain in office, she has already begun to bat away calls to step down, which would cost President Donald Trump his most significant ally.
"Our Conservative prime minister rolled the dice and put the future of our country at risk, out of sheer arrogance and vanity," said Tim Farron, leader of the Liberal Democrats. "If she has an ounce of self-respect, she will resign."
Ryan Shorthouse, the director of the liberal Conservative thinktank Bright Blue, which is backed by 140 Tory MPs, released the following statement:
Theresa May's failure in this election was down to her personality and her policies. Her poor communication and leadership skills were exposed. She tried to appeal to those on modest incomes with an insultingly hardline approach on Brexit and immigration, and offered nothing substantial to improve their finances or public services in the manifesto. Well, people are not daft.

As the successes of David Cameron and Ruth Davidson show, the Conservative party wins when they are led by a liberal Tory, offering compassionate and concrete policies. Theresa May needs to resign as soon as possible and a liberal Tory needs to become the new leader,
Ed Miliband, a former Labour Party leader, said the stunning loss would make it impossible for May to lead Brexit negotiations.
We know Theresa May can't now negotiate Brexit for Britain because she told us losing majority would destroy her authority---and it has.

— Ed Miliband (@Ed Miliband) 1496982547.0
Nigel Farage, the former leader of the Independence Party who spearheaded the successful "Leave" campaign, was also critical of May.
Article 50 had been triggered and we were on our way. May has put all this in jeopardy. Even David Davis is now making Brexit concessions.

— Nigel Farage (@Nigel Farage) 1496976551.0
Keep reading...Show less