Donald Trump's former Chief of Staff John Kelly got candid about how he feels about the support Trump continues to command among the electorate.
21 November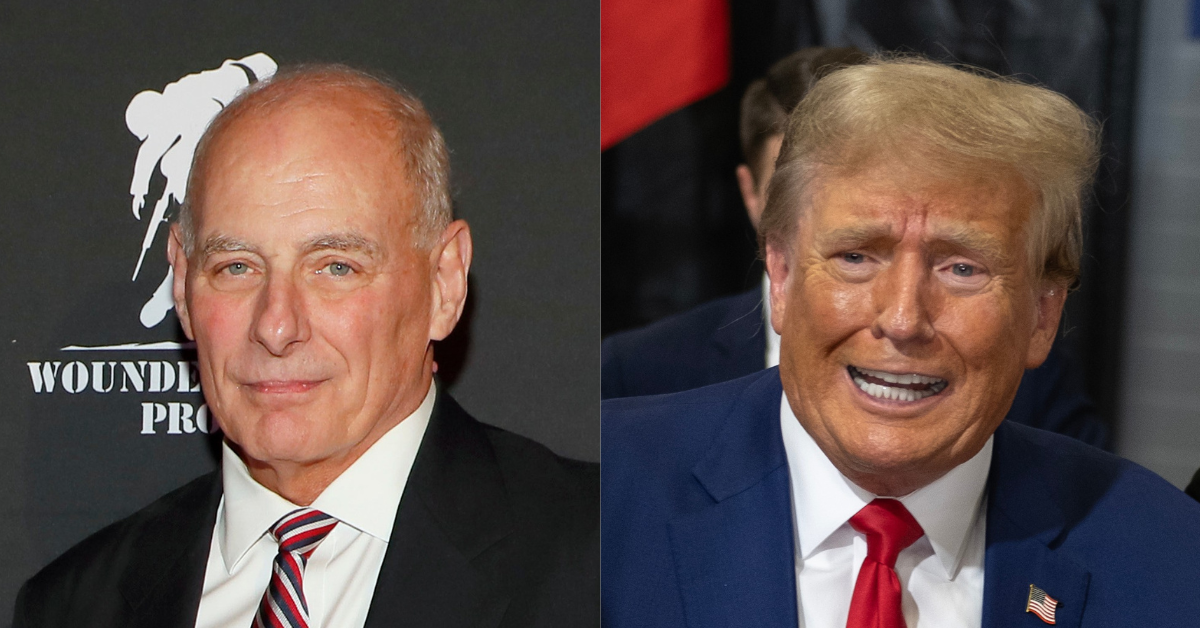 Paul Morigi/Getty Images for Headstrong; Jim Vondruska/Getty Images
Retired United States Marine Corps General John F. Kelly was a member of the presidential administration of former Republican President Donald Trump from January 20, 2017—the date of Trump's inauguration—to January 2, 2019.
Kelly was Trump's first Secretary of Homeland Security before becoming his second and longest-serving White House Chief of Staff.
Since ending his association with Trump, Kelly has been critical of his former boss. Now he's joining the chorus of voices of former Trump staffers calling out the MAGA minions still supporting Trump.
In an interview with The Washington Post, Kelly said:
"What's going on in the country that a single person thinks this guy would still be a good President when he's said the things he's said and done the things he's done?"
"It's beyond my comprehension he has the support he has."
He added:
"I came out and told people the awful things he said about wounded soldiers, and it didn't have half a day's bounce. You had his attorney general Bill Barr come out, and not a half a day's bounce."
"If anything, his numbers go up. It might even move the needle in the wrong direction."
"I think we're in a dangerous zone in our country."
Kelly served six months as Secretary of Homeland Security before becoming Chief of Staff.

People online overwhelmingly concurred with Kelly's assessment of Trump's fitness to be President.
Some noted the loudest voices opposing Trump's reelection lately are former staffers and close advisors.

But like many other Trump administration or campaign insiders who had a change of heart, people felt Kelly was doing too little, too late.
On January 7, 2021, Kelly supported Trump's removal from office by use of the 25th Amendment, saying:

"What happened on Capitol Hill yesterday is a direct result of his poisoning the minds of people with the lies and the frauds."
"[Donald Trump is] a person that has nothing but contempt for our democratic institutions, our Constitution, and the rule of law."
In October, Kelly confirmed Trump disparaged veterans and servicemembers killed in action.
In a statement to CNN, Kelly wrote:
"What can I add that has not already been said?"
"A person that thinks those who defend their country in uniform, or are shot down or seriously wounded in combat, or spend years being tortured as POWs are all 'suckers' because 'there is nothing in it for them'. A person that did not want to be seen in the presence of military amputees because 'it doesn't look good for me'."
"A person who demonstrated open contempt for a Gold Star family—for all Gold Star families—on TV during the 2016 campaign, and rants that our most precious heroes who gave their lives in America's defense are 'losers' and wouldn't visit their graves in France."
Trump's former advisor added:
"A person who is not truthful regarding his position on the protection of unborn life, on women, on minorities, on Evangelical Christians, on Jews, on working men and women."
"A person that has no idea what America stands for and has no idea what America is all about. A person who cavalierly suggests that a selfless warrior who has served his country for 40 years in peacetime and war should lose his life for treason—in expectation that someone will take action."
"A person who admires autocrats and murderous dictators. A person that has nothing but contempt for our democratic institutions, our Constitution, and the rule of law."
Kelly concluded:
"There is nothing more that can be said. God help us."