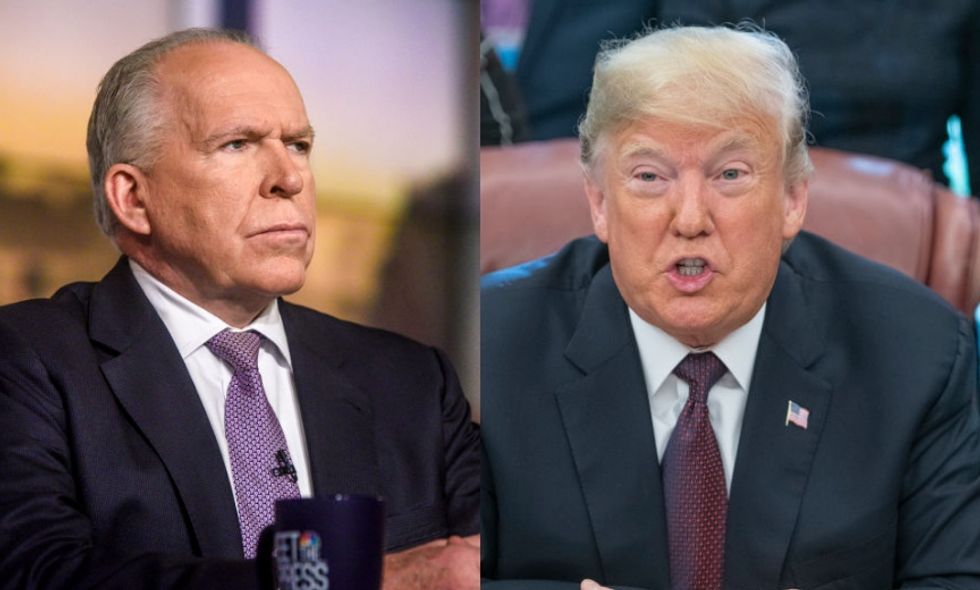 William B. Plowman/NBC/NBC NewsWire via Getty Images // Ron Sachs - Pool; Getty Images
Former Central Intelligence Agency Director John O. Brennan has never shied away from criticizing President Donald Trump. Brennan's criticisms - like calling Trump's Helsinki press conference with Vladimir Putin treasonous and decrying The president's "moral turpitude" for firing CIA Deputy Director Andrew McCabe - led to the controversial decision of the White House to revoke his security clearance. It was a move many thought vindictive on the Trump administration's part, as former security officials usually keep their clearances to offer input on developing issues of national security.
Clearance or no clearance, Brennan hasn't shied away from holding the president accountable, and today is no different. With the new development that former Trump campaign chairman Paul Manafort lied to the FBI even after reaching a plea deal in exchange for his cooperation, Trump took to Twitter to decry the investigation for the umpteenth time.
To which Brennan replied with a scathing tweet of his own explaining just who Trump reminds him of:
Special Counsel Robert Mueller disclosed that the investigation has so far cost $17 million - a little over half of what Trump claimed. When factoring in the fines paid by those found to be guilty through the investigation, it's likely that it will break even or turn a profit.
But Brennan didn't focus on that. Instead, he zeroed in on Trump's character - or lack thereof - and how it reminded him of corrupt leaders abroad. While Trump is often compared to dictators and authoritarians by regular Americans, the assertion holds infinitely more weight coming from a former CIA director.
And Twitter agreed wholeheartedly, thankful that Brennan had the courage to call this out.
Donald Trump has frequently called the entire Mueller investigation "the biggest witch hunt" in American history (possibly forgetting the time we had an actual witch hunt).
The President has gone to great lengths to assure the public that there was no coordination between him or his campaign and Russian officials to influence the 2016 presidential election, but with over 35 indictments or plea deals in less than two years, the public is starting to realize that there might be a "there" there.
Yet Trump has still often decried the entire operation with the ease of someone muttering in his sleep.
Trump's calls to discredit and end the investigation that has exposed numerous crimes - some of which didn't even directly relate to his 2016 campaign - aren't typically characteristic of a person with nothing to fear.
The deaf ears on which Trump's cries of "witch hunt!" and "no collusion!" fall continue to multiply, leading some - including Brennan - to believe he's circling the drain.
Keep reading...Show less