Jacob Wohl and Jack Burkman must spend 500 hours registering voters after guilty plea.
04 December 2022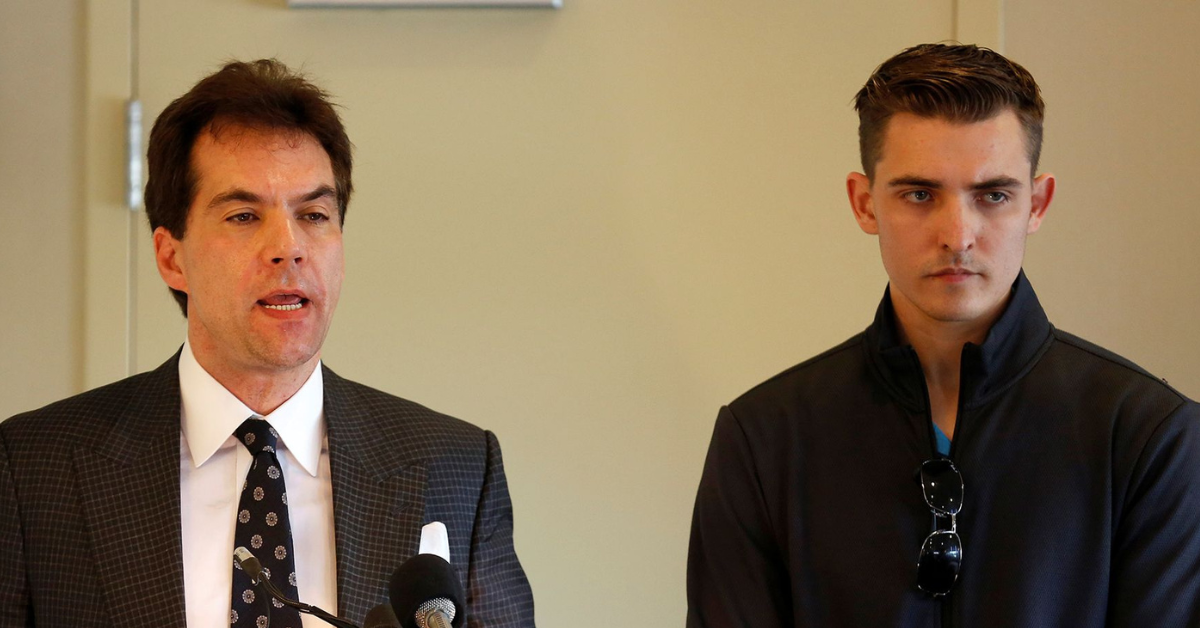 NBC News/YouTube
Conservative conspiracy theorists and right-wing provocateurs Jack Burkman and Jacob Wohl pleaded guilty to one felony count of telecommunications fraud. The two ran a series of robocalls with false messages targeting Black voters.
The pair hoped to suppress the Black vote in the 2020 general election.

Charges were brought against the pair by the Ohio Cuyahoga County Prosecutor's Office in October 2020. Wohl and Burkman's Project 1599 placed phone calls to select area codes across the United States targeting areas with large populations of BIPOC and Democrats.
The robocalls shared misinformation about mail-in voting.

Wohl and Burkman robocalled roughly 85,000 voters in Michigan, New York, Pennsylvania, Illinois and Ohio in the summer of 2020.
The recording of one call featured a woman saying:
"Mail-in voting sounds great, but did you know that if you vote by mail, your personal information will be part of a public database that will be used by police departments to track down old warrants, and be used by credit card companies to collect outstanding debt?"
"The CDC is even pushing to give preference for mail in voting to track people for mandatory vaccines."
Calls also warned voters should not be:
"BS'd into giving [their] private information to the man."
You can hear a recording of one of the calls here:
Example of false information being used to suppress voting in Detroityoutu.be
All claims made in the calls were all false.
Burkman and Wohl were initially charged with eight counts of telecommunications fraud and seven counts of bribery. Both defendants pleaded not guilty.

Wohl told CNN in August 2020:
"We've never done any robocalls."
"We are categorically uninvolved."

The pair then reached a plea agreement.
According to Cleveland.com, Assistant Cuyahoga County Prosecutor James Gutierrez stated the defendants will pay the maximum fine of $2,500 each. The prosecution dismissed the 14 additional counts against the Wohl and Burkman.
On Tuesday, November 29, 2022, Ohio's Cuyahoga County Common Pleas court sentenced the pair to two years of probation, six months of monitoring with a GPS ankle bracelet, $2,500 each in fines and 500 hours of registering voters in Washington, D.C.
Ohio Attorney General Dave Yost issued the following statement:
"Voter intimidation won't be tolerated in Ohio."
"My Robocall Enforcement Unit, along with BCI, assisted in the investigation and was able to partner with Prosecutor O'Malley to shut down these two people who were trying to commit voter intimidation."
Not everyone agreed the punishment fit the crime.
A lawsuit was also filed against the pair by the National Coalition on Black Civic Participation in October 2020.

In addition to Ohio, prosecutors in Michigan, Illinois and Pennsylvania investigated the calls.
The New York Attorney General's Office sought a fine of $2.75 million. The Federal Communications Commission suggested a fine of over $5.1 million.