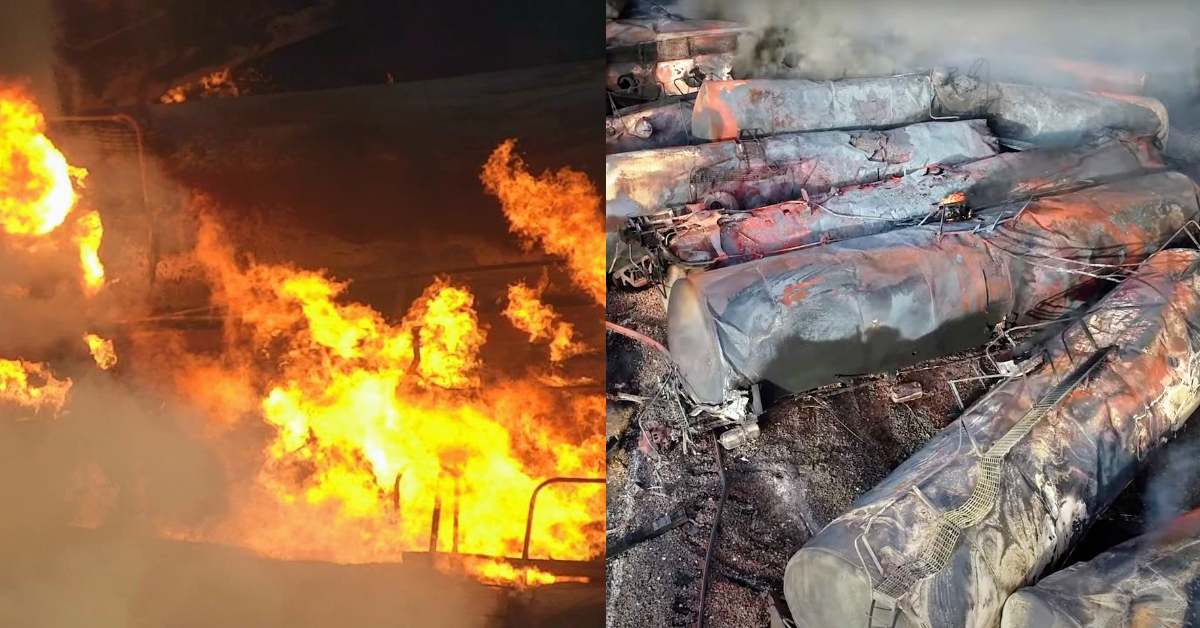 US Environmental Protection Agency/Handout/Anadolu Agency via Getty Images; NTSB/Handout via Xinhua/Getty Images
It's been nearly two weeks since a massive derailment of freight cars on the outskirts of East Palestine, Ohio, unleashed an environmental nightmare on the region, with toxic chemicals spewing into the air from a massive fire and leaching into the water and ground.
Thousands of residents of the town and neighboring areas are understandably fearful to return to their homes and businesses, with strong odors still lingering in the air and widespread anecdotal evidence of harm to animals, fish, and in some cases people, though the EPA insists that testing now shows the air is free from contaminants and the public drinking water is safe to ingest.
The ultimate cost to lives and health may not be known for years.

The scale of the disaster raises important questions about what caused the accident, who is responsible for it, and what should be done to prevent similar or even worse incidents in the future.
Republicans are seeking to lay the blame on the new infrastructure bill and the Biden administration, but that's all a smokescreen for what likely led to the accident.
The real answers have big implications for how government ought to respond and act to prevent future tragedies.
The political blame game.

It didn't take long for critics of the current administration to politicize the tragedy, seizing upon it as evidence that Biden's big infrastructure bill, which passed with bipartisan support, is actually doing nothing to improve things like rail safety. "More than a dozen trains have derailed throughout the United States this year. So much for Joe Biden's 'infrastructure plan,'" scoffed Rep. Jim Jordan (R-OH).
As an initial matter, train derailments are more common than Jordan implies: They have averaged 1,704 per year since 1990, according to the Bureau of Transportation Statistics. A dozen or so this year would be a historically low figure. And blaming the recent infrastructure bill—which passed just last year and under which money is only now being allocated—for failing to immediately solve the nation's rail safety issues is a big stretch.
That didn't stop Sen. J.D. Vance (R-OH) from echoing Jordan's misleading rhetoric. "We've had hundreds of train derailments after we spent over a trillion dollars on infrastructure in this country, so the fact that this isn't getting obviously better is a major indictment of the people spending the money," he said to Fox News's Tucker Carlson, falsely suggesting that over a trillion dollars allocated under the infrastructure bill somehow has already been spent.
The bill in fact will improve rail safety—but only over time. As announced last June, the funds include $120 million in grants to the federal Consolidated Rail Infrastructure and Safety Improvements Program (CRISI); $3 billion over five years on a new program to eliminate at-grade rail crossings to reduce crashes and save lives; and $32.4 million in grants to support local hazmat response efforts where toxic spills and fires occur, to name a few points.
Still, these new programs and early efforts didn't deter other GOP leaders from targeting Secretary of Transportation Pete Buttigieg for blame. "The train derailment in Ohio is exactly what happens when you hire unqualified people like Pete Buttigieg," tweeted Rep. Marjorie Taylor Greene, with no trace of irony.
Fox News's Tucker Carlson also surprisingly has discovered he is now an environmentalist and has taken a decidedly partisan view. Carlson claimed, without basis, that the EPA is "not too concerned" about Ohio because a disaster unrelated to climate change can't be used "to sell solar panels." The White House is disinterested, Carlson further asserted without any evidence, because "Donald Trump got over 71 percent of the vote in the county in the last presidential election."
In fact, Biden offered the full support of the federal government to Ohio Gov. Mike DeWine during a call, but the governor declined the help and has not called him back asking for any. "I will not hesitate to call him if we see a problem, but I'm not seeing it," DeWine said to reporters, noting that the Ohio EPA and the federal EPA were working together and would issue their joint report.
So what's really going on?
The fingerpointing by Republicans provides political cover for the harder questions that investigators, regulators and policymakers need to ask. In this case, there is little doubt that Norfolk Southern, which operates the rail line and the freight cars involved, bears ultimate responsibility for the accident. But what failures within the system led to such a massive incident?
According to an NTSB board member, who appeared at a briefing in East Palestine on February 5, it appears that a mechanical problem on one of the rail cars caused the accident. Specifically, a wheel bearing on that car appears to have overheated. Surveillance videos showed the train was on fire as it passed through Leetonia, Ohio, which is around 13 miles away from East Palestine, before derailing.
Crew members received an alarm signaling a mechanical issue before emergency brakes kicked in. But the vinyl chloride that several cars were transporting was highly combustible and caught fire. Fearing an even more catastrophic explosion, the crew set up a controlled burn of that substance which led to further contaminants being released into the air.
So far, then, the agency has identified a faulty wheel bearing and a crew that appeared slow to respond; the transportation of highly combustible and hazardous materials by rail; and an emergency braking system that failed to prevent a derailment.
A review of Norfolk Southern's history by journalists at The Lever showed in the past 10 years or so, the company took active steps that reduced safety in these very areas, all in pursuit of greater profits. Here is a quick summary of that report.
The first issue identified by the NTSB around the wheel bearing implies inadequate safety inspections and response time from the crew. Before the workers themselves get the blame, however, it's important to recognize that the nation's major rail operators slashed their workforces by some 30 percent over the past decade in favor of "precision schedule railroading."
These cuts led to greater profitability and big stock buybacks by the companies. But cuts in staffing levels have also led to overstretched workers attempting to conduct safety inspections in far less time, all while under increased stress from lack of sick days and paid leave.
Meanwhile, train lengths have increased dramatically, with the average length now 1.3 miles. The derailed train in Ohio was a whopping 1.8 miles long. With so little time to inspect the trains and fewer crew members on much longer trains, the chances for a catastrophic failure like we saw in Ohio rise considerably.
There was also once a world where the transport of highly dangerous, combustible chemicals would have been far more regulated.
An uptick in derailments a decade ago, including a crash in New Jersey that leaked the same hazardous chemicals as the recent derailment, led the Obama administration to propose improved safety regulations for trains transporting petroleum and other dangerous chemicals.
But the industry pressured regulators to narrow the rule, and it wound up focusing only on crude oil while exempting the carriage of many other combustibles, including the chemicals that ignited in Ohio.
To make matters worse, in 2017, the Trump administration, supported by rail lobbyists and the Senate GOP, rescinded the part of the rule intended to implement better braking systems on the nation's railways. Rail cars carrying hazardous chemicals would no longer have to be equipped with electronic braking systems to stop trains more quickly.
In favor of eliminating the rule, Norfolk Southern cited "tremendous costs without offsetting safety benefits"—even though the company itself had touted how ECP (electronically controlled pneumatic) brakes would reduce stopping distances by as much as 60 percent.
Steven Ditmeyer, a former senior official at the Federal Railroad Administration, told The Lever, "Would ECP brakes have reduced the severity of this accident? Yes."
Revisiting the regulations.
The mitigation of the risks posed by the transport of high quantities of extremely toxic and inflammable materials by rail cannot be entrusted solely to private companies, as the Ohio disaster shows.
Nor can we expect that the market will somehow correct itself, because the costs of such disasters continue to be passed on to the public while the profits gained by squeezing the workforce and cutting safety corners inure primarily to the company's major shareholders.
It is disingenuous for Republicans to blame the "infrastructure bill" and the current Transportation Secretary for problems that are so deeply entrenched and will require bipartisan support to solve. These solutions include revising the regulations to be more protective of the public rather than of industry without fear that the next GOP administration to come along will simply gut them.
To get there, however, voters will have to wise up. Electing officials who are more beholden to corporate interests than to public safety will inevitably lead to more disasters like we witnessed in East Palestine. And weakening the power of labor unions to protect the health and well being of workers will inevitably contribute to higher risks of such catastrophes.
All this takes a great deal of connecting the dots to appreciate and understand, along with significant patience to reinforce and actually implement.
But it begins first with education and advocacy, of which I hope this piece is a small part, along with a clear sense of where the problems began and where they still lie.