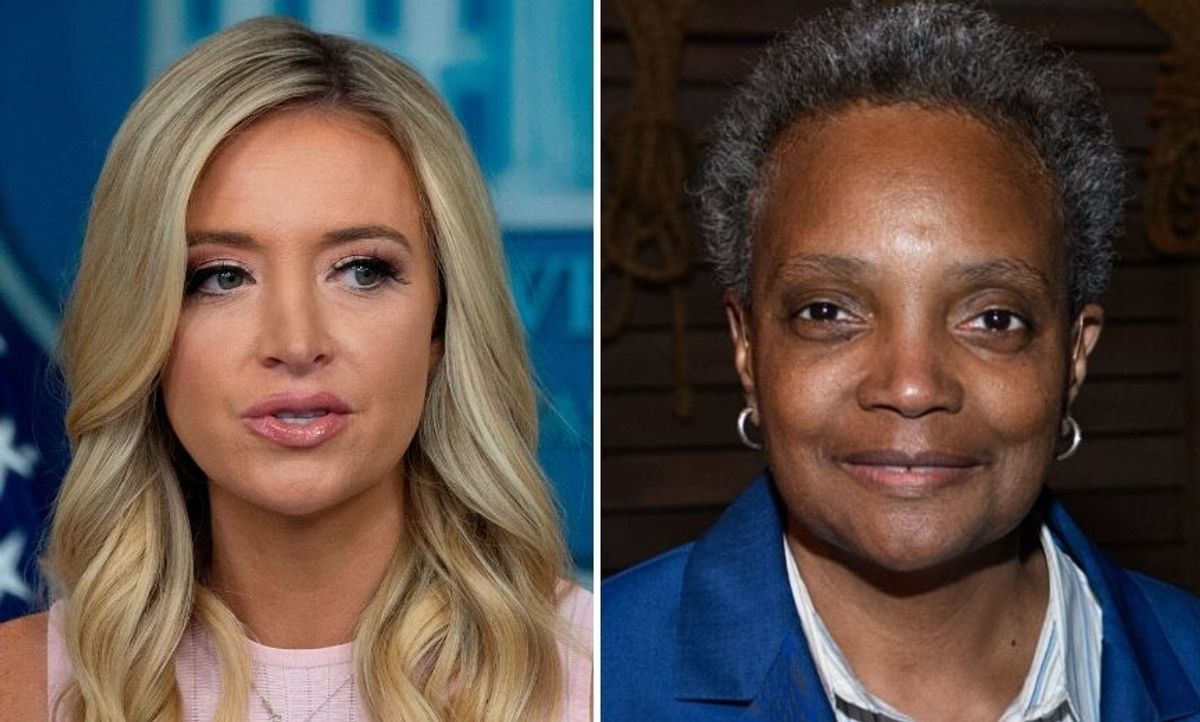 JIM WATSON/AFP via Getty Images // Timothy Hiatt/Getty Images
White House Press Secretary Kayleigh McEnany took to the podium yesterday where she assured that science wouldn't get in the way of reopening schools in the face of a pandemic and baselessly warned that expanded vote by mail measures would lead to a fraudulent election.

She also targeted the Mayor of Chicago, Lori Lightfoot, accusing her of being too relaxed regarding crime in her city and denigrating her for not accepting federal intervention.
Watch below.
Live: White House Holds Press Briefing | NBC Newsyoutu.be
Mentioning gun violence in minority communities as an effort to avoid a question on Black Americans killed by police officers, McEnany said:
"I've listed for you the names of these kids who have died across the country. It is unacceptable, and under this President, he'll take action, and the derelict mayor of Chicago should step up and ask for federal help, because she's doing a poor job at securing her streets."
Like many major cities across the country, including New York, Chicago has seen a rise in shootings and murders compared to June in the face of the pandemic. Overall crime, however, has decreased.
Mayor Lightfoot didn't mince words when responding to McEnany's jab, referring to the press secretary as "Karen."
McEnany only doubled down.
While you're focused on words, America is outraged by the violence perpetuated in your city. One person is taking… https://t.co/xDJ6f3K9bL

— Kayleigh McEnany (@Kayleigh McEnany) 1594993266.0
McEnany included a link to a memo from President Donald Trump to Mayor Lightfoot, in which Trump urged Lightfoot to "put partisanship aside" and accept the federal government's help in establishing "law and order."
But federal intervention in establishing so-called law and order is painting a grim picture in places like Portland, Oregon, where armed federal officers who won't disclose their agency are arresting protesters before taking them away in unmarked, non-government rental vehicles.
Watch below.
Portland, Oregon Unmarked & Unidentified federal enforcement officers are bypassing local police, arresting people… https://t.co/fRMEfxBiPl

— Qasim Rashid for Congress (@Qasim Rashid for Congress) 1594992352.0
People commended the Mayor's response.
@chicagosmayor Chicago loves you, Mayor. Keep on being a badass! https://t.co/nnel6Yo9d8

— Elizabeth Marie (@Elizabeth Marie) 1594994319.0
@chicagosmayor @EcoGal1 Support you 💯 @chicagosmayor. You inherited this city from literally DECADES of political… https://t.co/MCP10DkofR

— Ummm..no (@Ummm..no) 1594995036.0
@chicagosmayor Full support for @chicagosmayor, the bigotry in this thread is so foul and doesn't represnet a fract… https://t.co/oNAuv3z4Dy

— Bryan (@Bryan) 1594934525.0
@chicagosmayor Mayor, they can ALL kick goddamn rock. You've been Mayor for 1yr and 3mths. This problem waaaaay pr… https://t.co/SFMh7fGQlK

— Friendly Introvert (@Friendly Introvert) 1594934685.0
They didn't take kindly to McEnany's response either.
@PressSec @realDonaldTrump Dereliction of Duty. No response on: Russian Bounties on American GI's. Russian electora… https://t.co/PC7wwrSy83

— Bruno Amato (@Bruno Amato) 1594995938.0
@PressSec @realDonaldTrump Trump has done nothing to stem violence.

— Jill (@Jill) 1594993605.0
@PressSec @realDonaldTrump I think we should change the title of Press Secretary to Designated Liar (DL)! I think it's more appropriate!

— Mike Nolan (@Mike Nolan) 1594993527.0
As McEnany criticizes Lightfoot for not taking action to slow crime in her city, nearly 140 thousand Americans have died of the virus.