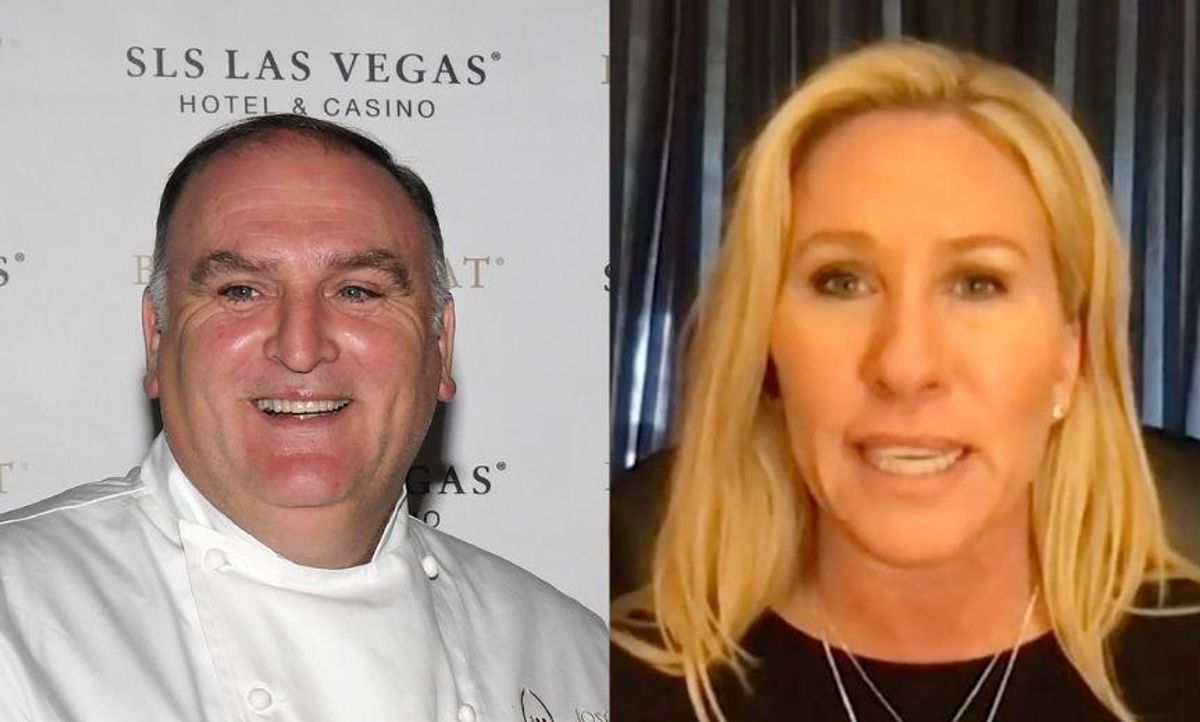 Ethan Miller/Getty Images // OAN
Far-right Congresswoman and prominent conspiracy theorist Marjorie Taylor Greene of Georgia has repeatedly generated controversy with her promotion of deranged fantasies regarding everything from school shootings to devastating wildfires in California.
Greene has been relentless in her smear campaign against lifesaving COVID-19 vaccines, which have proven safe and effective at minimizing the spread and severity of a virus that's killed more than 900 thousand Americans.
Multiple times, Greene has likened efforts to increase vaccinations to atrocities committed by the Nazi party. She's compared door-to-door vaccine information liaisons to Nazi secret police. She also likened mask mandates imposed on House members to the Holocaust.
In comments to right-wing disinformation outlet One America News, Greene responded to claims that Capitol Police are surveilling members of Congress, once again attempted to invoke Nazi imagery.
Watch below.

Greene said:

"Not only do we have the D.C. jail, which is the D.C. gulag, but now we have Nancy Pelosi's gazpacho police spying on members of Congress, spying on the legislative work that we do, spying on our staff, and spying on American citizens that want to come talk to their representatives."
Greene meant to say "gestapo"—the Nazi secret police—but instead railed against Pelosi's "gazpacho," a cold vegetable soup.
Chef and humanitarian José Andrés, whose home country of Spain is where gazpacho originated, soon began mocking the congresswoman's slip of the tongue.
Social media users applauded the response.
But Chef Andrés was far from the only one to skewer Greene's diatribe.
"Soup Nazi" soon began trending on Twitter after Greene's embarrassing comments.