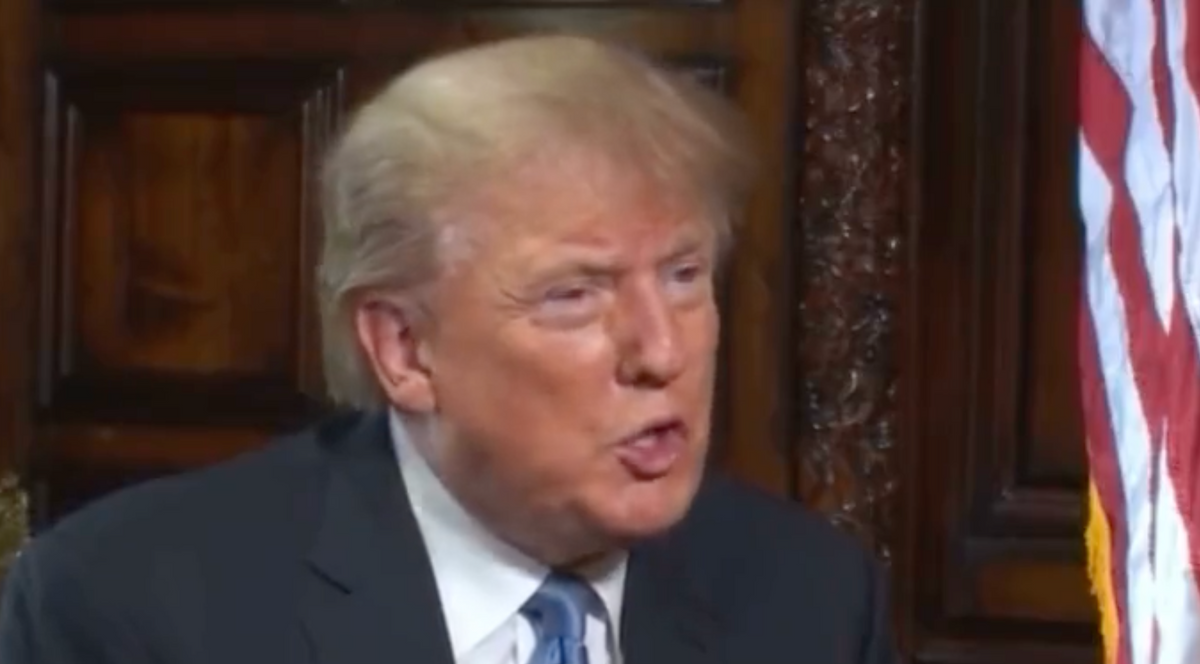 OAN
Former President Donald Trump told more than 30 thousand lies over the course of his presidency, especially surrounding the COVID-19 pandemic and junk science he claimed would counteract it.
But a rare area that the former President has been largely truthful is surrounding the lifesaving COVID-19 vaccines. In saner times, it wouldn't be newsworthy that a former President encouraged his supporters to potentially save their own lives and others by taking safe vaccines proven effective at minimizing the spread and severity of a virus that's killed more than 800 thousand Americans.
But with the Republican party largely embracing disinformation surrounding these vaccines and incentives to take them, Trump's repeated endorsement of their safety is a rare instance of discord between him and his most loyal supporters. Though Trump remains against the decades-long American tradition of vaccine mandates—as does the rest of the Republican party—he's encouraged Americans to get their shots multiple times.
In a recent interview, Trump decried elected officials who haven't disclosed whether or not they've gotten the booster shot.
Watch below.

Trump told far-right disinformation outlet One America News:

"I've watched a couple of politicians be interviewed, and one of the questions was 'Did you get the vaccine?' And they're answering it, like, in other words the answer is yes, but they don't want to say it because they're gutless. You gotta say it. Whether you had it or not, say it."
It seems likely that one of the politicians Trump was referring to is Florida's Republican governor, Ron DeSantis.
DeSantis—a vocal opponent of vaccine mandates who's also trafficked in vaccine skepticism—has demurred about whether or not he's received the booster.
When asked the question by Fox News, DeSantis responded:

"So, I've done, whatever I did. The normal shot. And that at the end of the day is peoples' individual decisions about what they want to do."
DeSantis spokeswoman Christina Pushaw told Politico in a statement:
"I am not privy to the governor's private medical decisions and am unable to share information about his booster status. Governor DeSantis has consistently said that vaccination (and by extension, boosters) should be a personal choice, and anyone who has questions or concerns should consult with a healthcare provider."
If Trump was referring to DeSantis, it's an interesting dynamic shift ahead of the 2024 presidential elections, in which both Trump and DeSantis are considered potential candidates and frontrunners. DeSantis has long been considered one of the natural successors to a Republican party transformed by Trump. In 2017, then-President Trump endorsed DeSantis' gubernatorial bid, propelling him from a little-known congressman to one of the country's most recognizable Republican governors. Trump himself takes credit for DeSantis' meteoric rise within the GOP.
But the former President has long-established that loyalty from his sycophants is imperative. While a number of potential GOP candidates for the presidency in 2024 have ruled out running if Trump decides to throw his hat in the ring, DeSantis has yet to publicly take that pledge. That hesitation, according to a November Politico report, has enraged the former President.
Nevertheless, people were surprised to see Trump's thinly-veiled dig at his ally.
And though Trump is still widely considered the "kingmaker" of the Republican party, some conservatives are siding with DeSantis.
Neither of the men are without their share of vaccine hypocrisy, however. While Trump received his doses of the vaccines, he declined to do so in public to relieve skepticism, as other elected officials did. Meanwhile, as recently as 2019, DeSantis signed off on legislation mandating healthcare workers to report children's vaccination records.