Renowned horror novelist Stephen King has once again made waves on social media, this time for a tweet that sheds light on the motivations behind the Republican Party's recent efforts to curtail transgender rights.
King's tweet, which went viral, serves as a succinct explanation for the GOP's focus on this issue, linking it to the conservative-leaning Supreme Court's decision to overturn Roe v. Wade.
King's tweet suggests that the Republican Party may be leveraging the controversy surrounding transgender rights to divert attention from the Supreme Court's decision on abortion rights, a move that sparked considerable debate and activism.
Responding to a fellow Twitter user who criticized GOP propaganda surrounding "transgender related" surgeries on minors and infringement on parental rights, King offered a concise explanation for the Republican Party's emphasis on transgender issues.
He stated:
"This whole transgender and sex change thing is classic bait-and-switch. An effort to get the Republican base spun up so they'll forget the conservative-leaning Supreme Court took away a woman's right to choose."
You can see King's tweet below.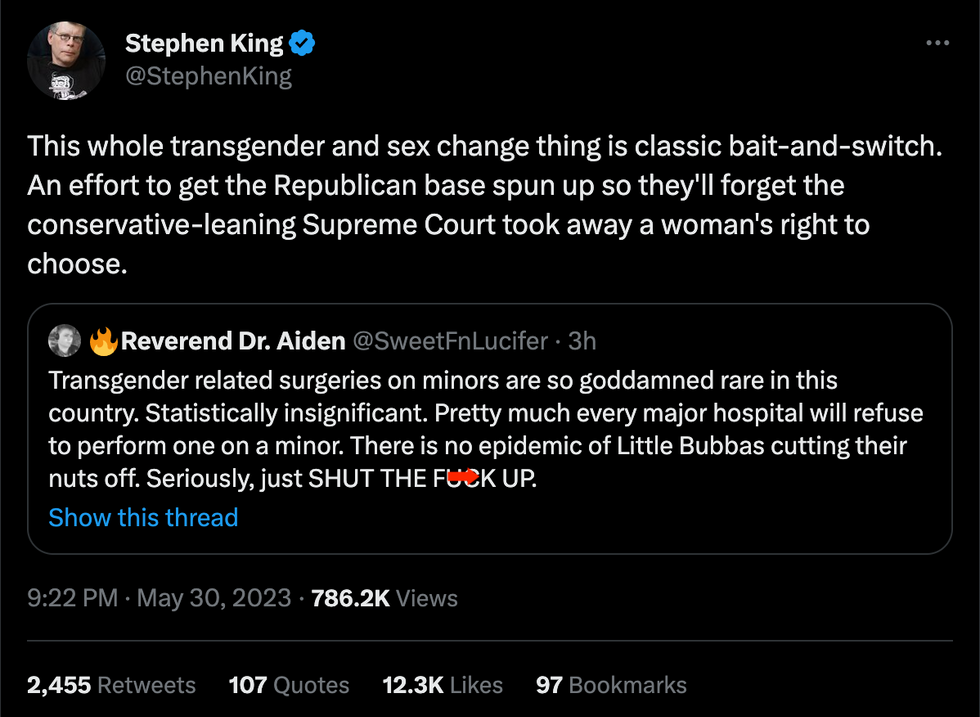 @StephenKing/Twitter; @SweetFnLucifer/Twitter
Even while expressing their frustrations, many praised King for succinctly summing up the current iteration of the culture wars.
King's support for transgender rights is not an isolated stance within the literary world.

In 2020, alongside other celebrated authors such as Neil Gaiman, Margaret Atwood, and Angie Thomas, King signed an open letter affirming the rights of transgender and non-binary individuals.
The letter, which has garnered support from over 1,200 members of the American literary community, emphasizes the importance of inclusive language, recognizing non-binary people, and affirming transgender identities.
The signatories, comprising writers, editors, journalists, agents, and publishing professionals, pledged to use their platform and words to shape a more just and fair society.
They wrote that they "believe in the power of words" and "want to do our part to help shape the curve of history toward justice and fairness," stressing that "trans rights are human rights."