Long before former Vice-President Al Gore's 2006 documentaryAn Inconvenient Truth impressed upon the world the urgency of tackling our human impact on global warming—now sanitized and called "climate change"—climate scientists have been warning us about this ticking doomsday clock since at least the 1970s. It was no small act, then, to bring 197 countries together to sign theParis Agreement, a significant stride to reduce carbon emissions and keep global temperature well below an increase of two degrees Celsius. Those two mere degrees are considereda tipping point after which reversal of climate change will be all but impossible. A significant factor in 2015 agreement's success, after failed negotiations in 2009, was that the Paris Agreement allows countries to decideindependently how to lower their emissions, rather than adopt a single unifying strategy. New York Magazine hailed the agreement as Obama's "major accomplishment" during his time in office.
It comes as no surprise, then, to those who have followed President Donald Trump's policy on the environment that he announced he would pull the U.S. out of the Paris Agreement. After all, he appointed lawyer and Republican politician Scott Pruitt to the EPA, a man known to prioritize the oil and gas industries' interests ahead of the environment, scrubbed climate data from the EPA's website, and plans to significantly cut its budget. He has also made clear his determination to undo many of Obama's strides toward clean power to protect nearly-obsolete coal jobs, and, some argue, to continue to give his associates in the extractive industries tax breaks. World leaders were none too pleased,expressing their displeasure and reaffirming their commitment to the agreement. And the governors of California, New York, and Washington states quickly formed the United States Climate Alliance, a coalition of states intending to uphold the Paris Agreement with or without the White House.
---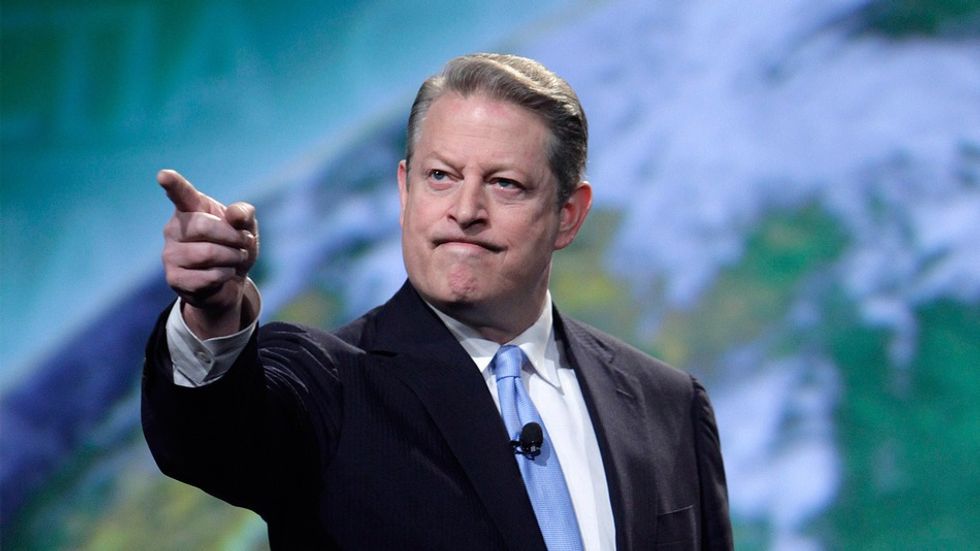 Al Gore. (Credit: Source.)
"With input from all participants, the U.S. Climate Alliance will also act as a forum to sustain and strengthen existing climate programs, promote the sharing of information and best practices, and implement new programs to reduce carbon emissions from all sectors of the economy," states the website of Washington Governor Jay Inslee.
World leaders weighed in positively on the move. In fact, the European Union and China put fortha joint statement saying that not only would they move on with or without the United States, they were happy to work with U.S. states and cities who are committed to reducing their carbon emissions, IflSciencereports.
"Strong transatlantic ties are far more important and far more durable than the latest unfortunate decisions of the new administration,"EU President Donald Tusk said after his EU-China summit in Brussels.
So far 12 states have signed on to the Climate Alliance, which as of June 5, includes California, Connecticut, Delaware, Massachusetts, Minnesota, New York Oregon, Puerto
Rico, Rhode Island, Vermont, Virginia, and Washington. According toBusiness Insider, the US Climate Alliance's member states comprise nearly36% of the US population and 30.6% of the US GDP, and together produced nearly a fifth of the US' carbon dioxide emissions in 2014.
On June 7, Hawaii signedofficial legislation taking action on climate change in the wake of Trump's pullout. Hawaii's governor David Y. Ige signed two bills—one to reduce greenhouse gas emissions in accordance with the goals set by the Paris Agreement, and a second to create a task force that aims to improve soil health and reduce atmospheric carbon.
David Y. Ige. (Credit: Source.)
In fact, Trump's pullout may be having an unintended galvanizing effect for clean energy and the environment. The move can even be seen as symbolic since it can take up to four years for the pullout to go into effect, in time for another presidential election Trump has no guarantee of winning.
An additional bipartisan coalition of states, cities, universities and businesses, led by former New York Mayor Michael Bloomberg, have allied themselves and jointly written an open letter titled "We Are Still In," in which they state, "In the absence of leadership from Washington, states, cities, colleges and universities, businesses and investors, representing a sizeable percentage of the U.S. economy will pursue ambitious climate goals, working together to take forceful action and to ensure that the U.S. remains a global leader in reducing emissions."
These early commitments are likely just the beginning of a groundswell of activity as states realize it is incumbent upon them to pick up where the Trump White House is slacking off.
Governors from each of the U.S. Climate Alliance states have doubled down on their commitment to working to combat climate change and have put forthstatements explaining their motivation. Here is a look at each of the states' commitments:
California
California has long been an environmental leader. It was one of the first states to passglobal warming solutions acts to reduce emissions. Home to companies like the electric-car company, Tesla, it has anambitious plan to reduce greenhouse gas emissions by 40% of 1990 levels by 2030. "The President has already said climate change is a hoax, which is the
exact opposite of virtually all scientific and worldwide opinion," California Governor Jerry Brown,said. "I don't believe fighting reality is a good strategy – not for America, not for anybody. If the President is going to be AWOL in this profoundly important human endeavor, then California and other states will step up."
Connecticut
Connecticut's economy is already deeply ingrained in renewable energy—home to a thriving fuel cell industry as well as many manufacturers of components for the wind and solar industries. Its governor, Dannel P. Malloy sees his state as a national leader in climate change and has no plans to slow down its efforts. In fact, Malloyboldly proclaimed to reporters on a conference call arranged by the Democratic Governors Association, "Our president effectively signed the death warrants of individuals who will die because we will not make progress on climate change." Malloy iscommitted to joining forces with the United States Climate Alliance to uphold the goals of the Paris Agreement.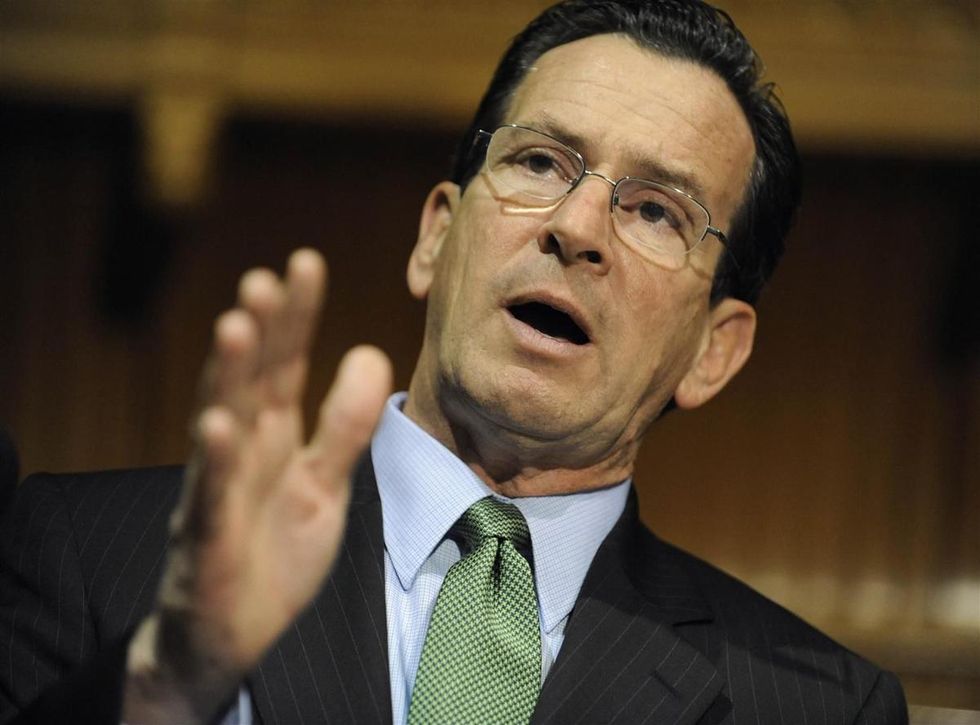 Governor Dannel P. Malloy. (Credit: Source.)
Delaware
Delaware is the country's lowest-lying state, home to 381 miles of coastline that will be immediately threatened by climate change. Delaware Governor John Carneyexpressed his commitment to the U.S. Climate Alliance, saying, "As sea levels rise, more than 17,000 Delaware homes, nearly 500 miles of roadway and thousands of acres of wildlife habitat including our critical wetlands are at risk of permanent inundation. Rising average temperatures and an increase in extreme weather events also pose health risks to Delawareans, and threaten our economy. The U.S. should lead in the global fight against climate change. Delaware is proud to join this coalition of states providing that necessary leadership."
The state has already incentivized the transportation sector to transition to cleaner fuels and electric vehicles, and now has a statewide network of charging stations, according to the state's website.
Massachusetts
Massachusetts, which already laid out aClean Energy and Climate Plan in 2016 to reduce emissions by 25% for 2020, was a no-brainer for joining the U.S. Climate Alliance. Their Plan Update concluded that they were "well-positioned to meet, or exceed, a greenhouse gas reduction goal of 25% by 2020 through the full implementation of the policies contained in
the Plan Update, and also includes policies beneficial to achieving greater reductions for 2030 and beyond."  
Massachusetts Governor Charlie Baker, the first Republican governor to join the U.S. Climate Alliance said, "After speaking with Governors Cuomo and Scott, our administration looks forward to continued, bipartisan collaboration with other states to protect the environment, grow the economy and deliver a brighter future to the next generation."
New York
Under the leadership of Governor Andrew Cuomo, New York is addressing climate change and creating new jobs with a new plan calledthe Clean Climate Careers initiative, which the governor's office calls "a multi-pronged strategy to grow New York's emerging clean energy economy and prepare the workforce for the long-term careers associated with this industry." The initiative will move ahead with the partnership of the Worker Institute at Cornell University and Climate Jobs NY.
In its first phase, New York State will invest upwards of $1.5 billion in green energy such as wind and solar, and make significant expansions in energy efficiency and solar installations in public buildings.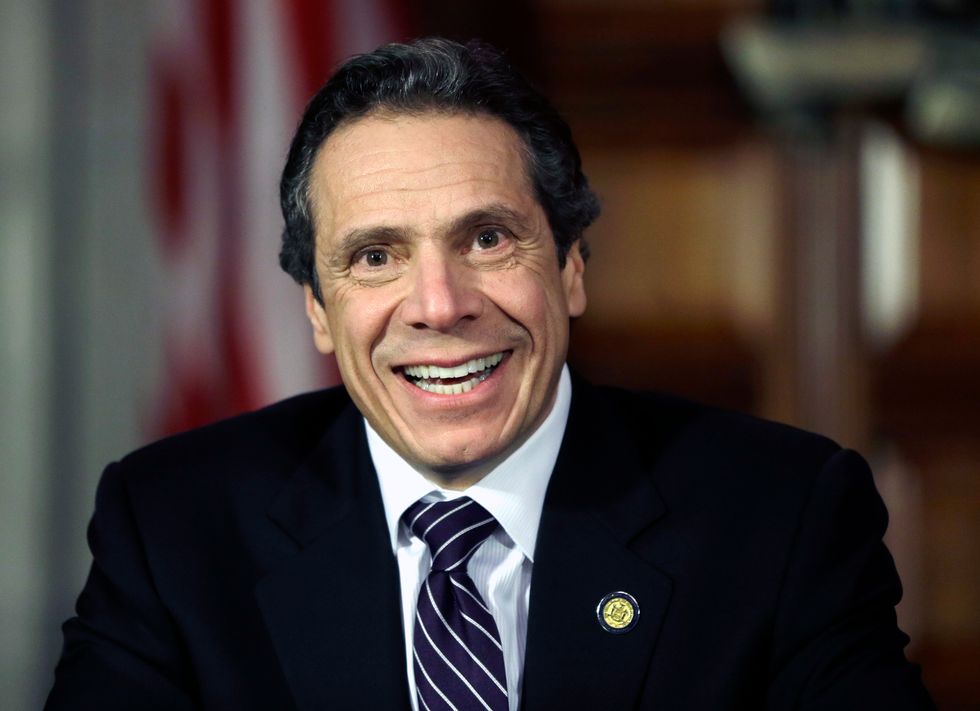 Governor Andrew Cuomo. (Credit: Source.)
Of the state's decision to join the U.S. Climate Alliance, Cuomo offered Trumpharsh criticism, "This administration is abdicating its leadership and taking a backseat to other countries in the global fight against climate change," Cuomo said in a statement to the press. "We will not ignore the science and reality of climate change."
Minnesota
Given that Minnesota's ecology is likely to undergoradical changes by 2050, according to ecologist Lee Frelich, it's no surprise that Minnesota governor Mark Dayton was swift to exact judgment on Trump's pullout. In Minnesota, Dayton quicklycalled the president's decision "terrible for our state, nation and world," adding that it will cause "irreparable damage to our environment and our economy."
Frelich predicts that warmer water temperatures will lead to algae overgrowth in popular tourist lakes, making swimming unlikely and killing summer tourism. Shallow water bodies
might also dry up. They'll see less snow and more rain, which will lead to an overgrowth of invasive insects that will kill native plants, for starters.
Dayton added, "President Trump's withdrawal will cause serious damage to our environment and our economy. Nevertheless, Minnesota and other states will show the world what we can achieve by working together to conserve energy, to use cleaner and renewable energy, and to leave a livable planet to our children and grandchildren."
Oregon
Oregon is home to some stellar natural beauty that includes miles of coastal ecosystems. Governor Kate Brown announced her commitment to the U.S. Climate alliance, saying in a statement on her website, "The 'America First' doctrine should put our children first too. Future generations deserve to inherit a world they can thrive in, not one that plays politics and ignores the fact our climate is changing." Not a week after announcing that commitment, Brownalso announced Oregon that it would join founding members of the Pacific Coast Collaborative (PCC) and Ocean Acidification Alliance (OA Alliance) in committing to fighting climate change as is specifically impacts ocean species and habitats.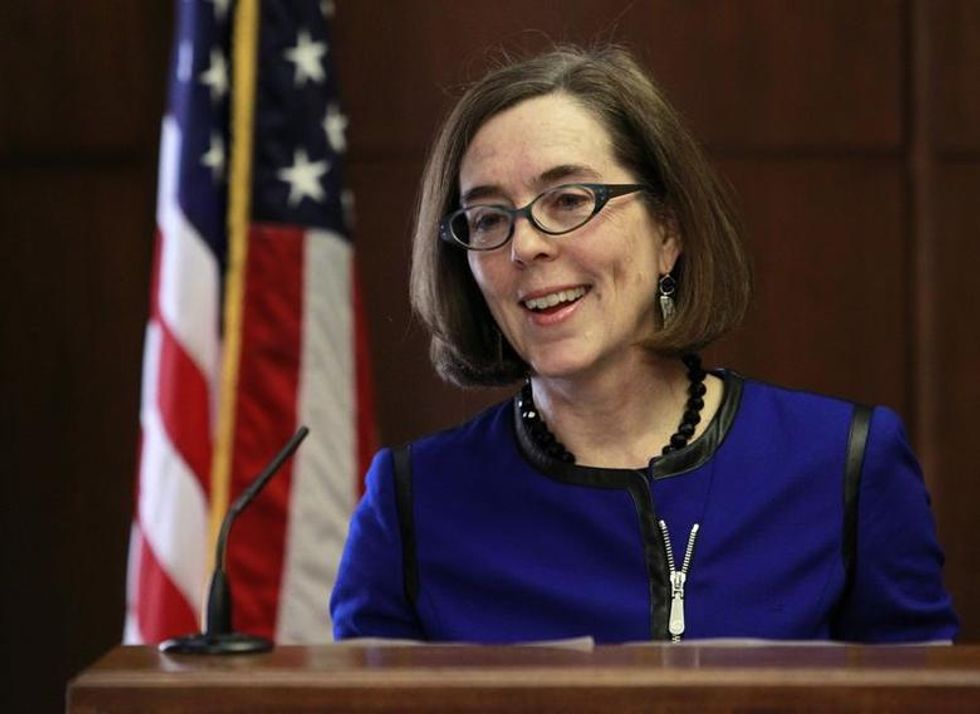 Governor Kate Brown. (Credit: Source.)
Puerto Rico
In Puerto Rico, approximately 419,000 peoplelive within the coastal zone, and 2.3 million live within the 44 coastal municipalities of the Commonwealth. These populations are vulnerable to obvious hazards of climate change such as coastal and riverine flooding, but also tsunamis, hurricanes, landslides, earthquakes and droughts.
Puerto Rico governor Ricardo Rosselló, a scientist, committed to the U.S. Climate Alliance with plenty of knowledge of just how vulnerable Puerto Rico is to coming changes in climate. "I strongly oppose the withdrawal from the Paris Agreement. Our administration understands that all policy decisions, even those perceived to being small, can have big, lasting effects on our planet. …We call upon all public officials across our nation to continue to support rules and regulations that protect our environment. As most of the world moves forward, our nation cannot sit idle and lag behind."
Rhode Island
Rhode Island is already on the fast track to clean energy. It's the only state in the country with an existing working offshore wind farm, and was ranked fourth in the nation on its energy efficiency policies by theAmerican Council for an Energy-Efficient Economy in 2016. Rhode Island's governor Gina M. Raimondo joined the U.S. Climate Alliance.She said,
"President Trump's decision to withdraw from the Paris Agreement was a tremendous mistake. Rhode Island may be a small state, but climate change can have a big impact on our communities. "We are determined to fight climate change from the front lines so that we can preserve our environment - including our Narragansett Bay - for future generations and create good-paying, future-proof jobs in the process.
Vermont
The bucolic New England state has seen markedevidence of climate change. Annual rainfall has significantly increased in quantity and intensity in the last 50 years, causing major flood damage in communities, according to the state's climate change website. Winters are getting warmer and shorter, which threatens the state's winter tourism and sports, as well as promoting an environment favorable to the ticks that carry Lyme disease.
Governor Phil Scottcommented, "If our national government isn't willing to lead in this area, the states are prepared to step up and lead. I look forward to supporting continued bipartisan cooperation on these matters and thank Governor Baker, Governor Inslee, Governor Cuomo and Governor Brown for working collaboratively on this important issue."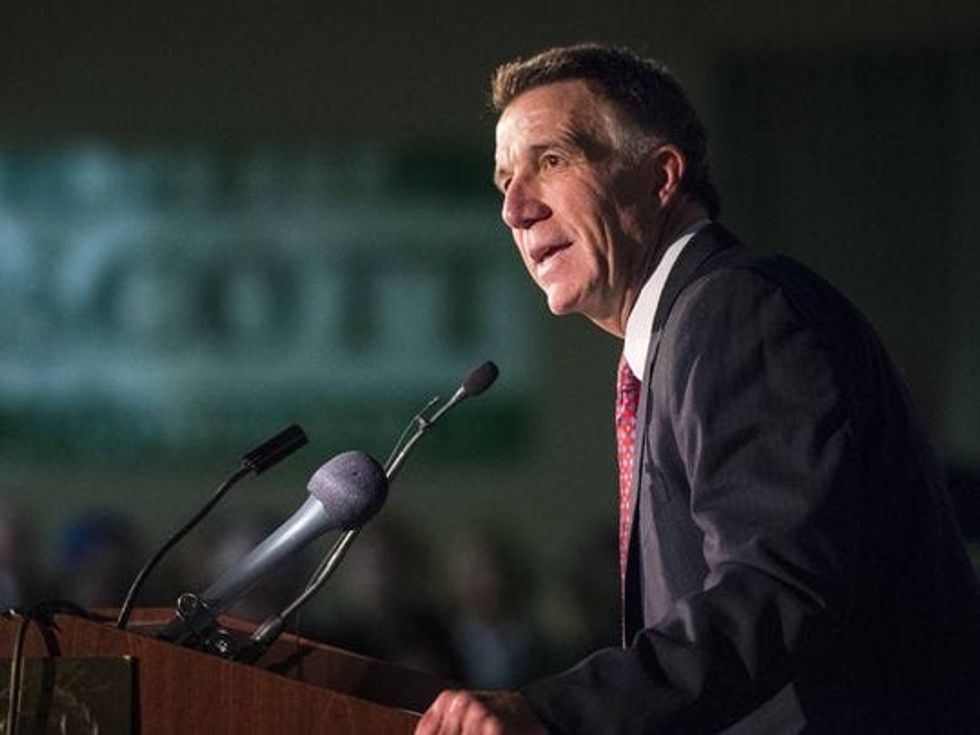 Governor Phill Scott. (Credit: Source.)
Virginia
Virginia is already experiencing theeffects of climate change in its coastal regions due to rising sea levels. Frequent storm surges and flooding could cost the Commonwealth nearly $100 billion dollars in the residential sector alone. However, beyond the coast, half of Virginia's counties face greater risk of climate-related water shortages by 2050. Governor Terry McAuliffe is the first governor to sign an executive action to limit carbon emissions and create clean energy jobs in the state.Executive Directive 11 begins the process of establishing regulations in Virginia that will reduce carbon emissions from power plants.
McAuliffe'sresponded to his state's commitment to the U.S. Climate Alliance, saying, "President Trump's announcement to withdraw the United States from the Paris Climate Agreement does not speak for the states and cities that are committed to fighting climate change and paving the way for a new energy economy. If the federal government insists on abdicating leadership on this issue, it will be up to the American people to step forward — and in Virginia we are doing just that."