On February 28, actor Sanjay Kapoor confirmed the tragic death of his sister-in-law, Sridevi Kapoor. He sadly told the Indian Express, "Yes, it is true that Sridevi passed away. I just landed here, I was in Dubai and now I am flying back to Dubai. It happened roughly around 11.00-11.30. I don't know more details yet."
---
Like his late sister-in-law, Sanjay is an actor and producer. He is the founder and director of Sanjay Kapoor Entertainment Private Limited Company with his wife, Maheep Sandhu. Sanjay has an estimated net worth of approximately $20 million, according to Highlights India.
He Is the Younger Brother of Boney Kapur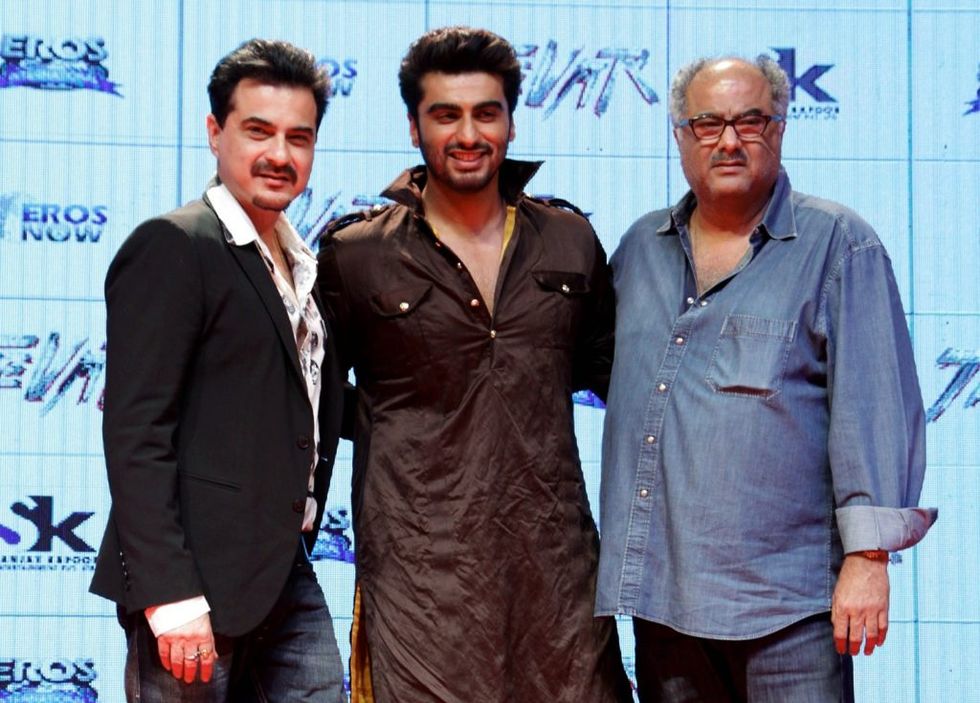 Indian Bollywood film actor Arjun Kapoor (C) poses during the trailer launch of the upcoming Hindi film 'Tevar' directed by Amit Sharma and produced by Boney Kapoor (R) and Sanjay Kapoor (L) in Mumbai on November 10, 2014.
Kapoor was born on October 17, 1964, in Maharashtra, India. He is the son of Surinder Kapoor, and the younger brother of Boney and Anil Kapoor. Kapoor was married to designer Nandita Mahtani, but the two divorced in 2002. That same year, he married Maheep Sandhu. Together, the couple has one son and one daughter.
He Stars on Dil Sambhal Jaa Zara
A good portion of Kapoor's income comes from his work as an actor. Kapoor stars as Anant Mathur on Dil Sambhal Jaa Zara, on Star Plus. The show follows Ahana Raichand (Smriti Kalra), who becomes involved with widower and father of two, Anant Mathur, played by Kapoor.
The actor made his acting debut in the 1995 movie Prem, opposite Tabu. Next, he appeared in Raja, which did well at the box office. In 1997, Kapoor booked leading roles in films like Auzaar, Mohabbat and Sirf Tum.
He Is the Founder & Director of Sanjay Kapoor Entertainment
Kapoor is the founder and director of Sanjay Kapoor Entertainment Private Limited company. The first film produced by the company was Tevar in 2015. The movie stars Arjun Kapoor and Sonakshi Sinha and grossed approximately $8.6 million at the box office.
Asked by Film Fare in 2014 how he enjoyed being a producer, Kapoor said, "I'm loving it. I've wanted to do it for a long time. I've been brought up in a film family. My father and my brothers have been making films. Anil (Kapoor) and I have acted in movies produced by Boney (Kapoor). Boney would never be on the sets so we (Anil and I), the so-called producers, would keep an eye on everyone... The stress is there, you will have that bad day. But that's part of filmmaking. It's never a beautiful and smooth ride but the journey is awesome."