With the ongoing healthcare war between Republicans and Democrats, as well as discretionary standards among pharmaceutical companies, healthcare providers, pharmacies and others within the medical community, many Americans are facing an unfortunate — and little understood — predicament.
They may actually pay more for prescriptions while using their, often long-defended and hard-earned, insurance.
---
Clawbacks, as they are colloquially called among pharmacists, are a major reason Americans may actually pay more for prescription medications than the shelf price of those medications. It is because these patients are insured and paying through their health insurance providers that they actually spend much more for their prescriptions.
In one case from February, 46-year-old Phoenix firefighter Dave Jensen paid for the antibiotic Doxycycline through his Cigna health insurance. After he paid $71 for a 15-day supply, his wife questioned the price, thinking it sounded high. As it turns out, Mr. Jensen's copay was twice as high as the non-insured price, meaning he paid about double the price he would have paid without any insurance.
"I realized I'd been taken advantage of," Jensen told NBC in an interview.
The reason for Mr. Jensen's high prescription price under his Cigna insurance was clawbacks.
Essentially, the prescription drug aspect of every health insurance plan is managed by a pharmacy benefit manager. This benefit manager may charge patients with particular insurance plans who purchase particular generic medications a copay higher than that medication's cash price. At that point, if the benefits manager charges the higher price and keeps some of the copays, it is considered a clawback.
For this exact reason, many Americans pay more money for some of the country's most regularly prescribed prescriptions, like drugs to treat diabetes, abnormal blood pressure, cholesterol, anxiety, and depression, according to pharmacists and various authorities on the subject interviewed by NBC News.
Naturally, many consumers are unaware of this — and pharmacists across the nation are often prevented from speaking of both this practice and potentially lower costs of drugs due to "gag clauses" in their contracts with the pharmacy benefit managers.
However, if a customer specifically asks for a lower price option, most of these NBC-interviewed pharmacists say they can acquiesce without issue.
One such pharmacist, Steve Hoffart of Magnolia, Texas, who was willing to discuss clawbacks, expressed his displeasure with this aspect of the industry: "As a pharmacist, I'm here to take care of patients. It's extremely hard to see the patients paying more than what they really should be."
Unfortunately, the other pharmacists interviewed by NBC (all independent pharmacists, none corporate) who have dealt with clawbacks and gag clauses refused to identify themselves because they feared blacklisting from insurance networks.
According to Doug Hoey, CEO of the National Community Pharmacists Association, representing 22,000 independently-owned and -operated pharmacies, "copay clawbacks" are a young custom in the industry.
"It can be tracked to the growth of high-deductible health plans where more of the cost burden is shifted to the consumer. Pharmacists have been put in a position to collect these inflated copays against their will," Hoey explained to NBC News.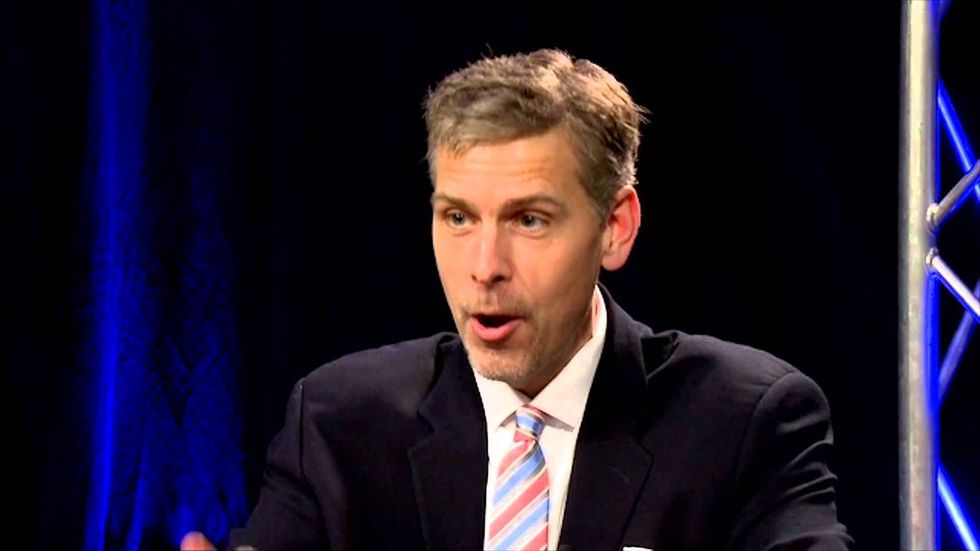 Doug Hoey (screenshot via Youtube)
An example of these inflated costs is the common anti-nausea medication, Ondansetron. An unnamed patient claims to have paid $129 for the medication. The cash price for that drug, according to an anonymous pharmacist, is $18.
Clawbacks are most financially catastrophic to customers with high-deductible insurance policies since they pay a high cost for each service before insurance covers any costs.
Furthermore, there are instances in which the clawbacks exceed the difference between the copay and the cash price, which costs pharmacists money. For this reason, many pharmacists oppose these policies on both moral and financial grounds.
Hoey's group administered a survey last year, which found that 83 percent of 640 pharmacists had experienced instances of over ten clawbacks in the prior month. Of the 83 percent, 59 percent had experienced ten or more gag clause restrictions simultaneously.
According to Hoey, OptumRx, America's third-largest pharmacy benefits manager, serving more than 20 percent of the market, is the most common offender.
On the other hand, the two largest pharmacy benefit managers, Express Scripts and CVS Caremark — which is, as of 2014, called CVS Health Corp. — said they do not participate in clawbacks or gag clauses. However, CVS Health Corp. and Walgreens Boots Alliance Inc. were recently sued over clawback tactics.
Back in September, Texas outlawed these practices, joining 11 other states in their fight against prescription price gouging. A similar prohibitory bill in Connecticut passed into law on October 1. No such success has yet occurred on the federal level, though efforts are present in the Senate.
To remain vigilant when purchasing medications from a pharmacy, Dr. Hoffart suggests asking the following questions: Is this the best price for the drug? Is this the least costly medication I can purchase? Are there alternatives — beside my insurance — that may reduce the cost?