[DIGEST: New York Times, NBC, Consumer Affairs, Washington Post]
For those with severe allergies, the EpiPen is literally a matter of life or death. A bee sting, inadvertent peanut ingestion—these can lead to anaphylactic shock, which shuts down the airways and can ultimately lead to death. With a quick stab to the thigh, though, the EpiPen can avoid tragedy by dispensing epinephrine. Epinephrine reverses the closing of the airways and other symptoms of a severe allergic reaction.
---
There's just one problem: The EpiPen is becoming unaffordable.
In 2007, the cost of a two-pen set of the EpiPen, which contains about $1 worth of epinephrine, cost about $57. Then pharmaceutical company Mylan acquired it. The price has since increased by 400 percent, with the biggest changes in price coming in the past few years. In 2013, the price was $264.50. In May of 2015, it was $461. This May, the company again raised the cost to $608.61.
This is a yearly cost for most consumers, as the pens have a stated expiration date of one year. And costs mount quickly, as consumers often have multiple sets of the pens.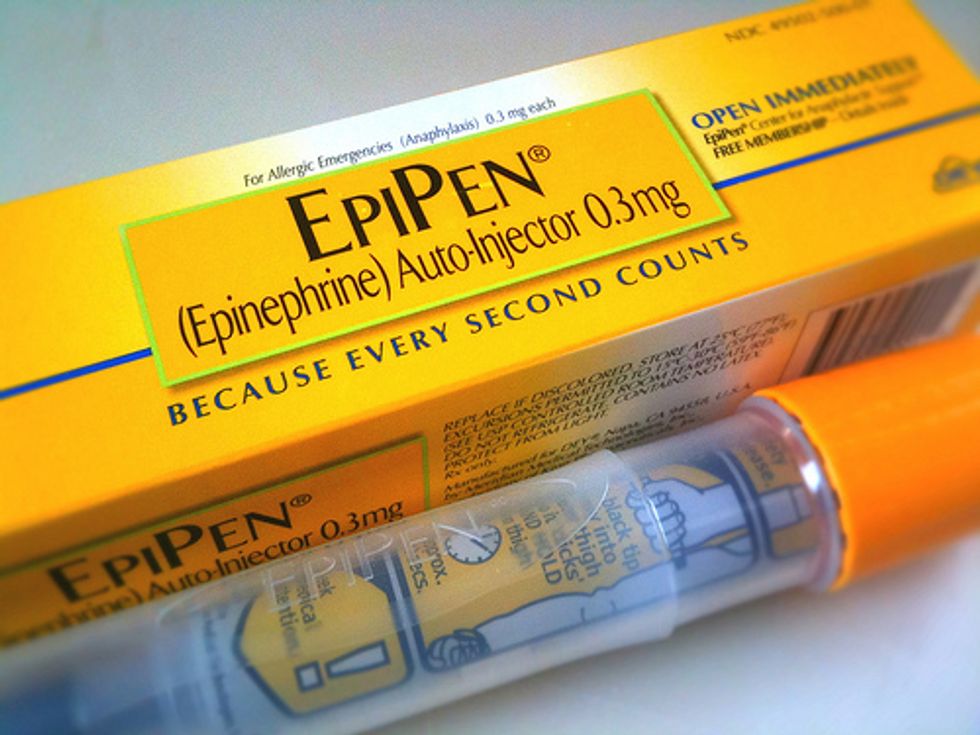 Credit: Source.
The staggering price increase is leading to calls for investigation. Senator Amy Klobuchar (D-MN) called for the Senate Judiciary Committee and the Federal Trade Commission to investigate Mylan's price-setting practices.
Other politicians are in agreement. Connecticut Senator Richard Blumenthal said that he would investigate the "shocking increase." "Sadly, this case is just the latest in a greedy trend of skyrocketing prescription drug prices that are hurting consumers, limiting health options, and strangling our economy," said Senator Blumenthal in a statement.
However, there is not currently an open investigation into the price of EpiPens.
Outrage is not just limited to politicians. Parents of children with severe allergies expressed their sadness and fear. "It's very wrong," said Naomi Shulman of Northampton, Massachusetts, whose daughter has a cashew allergy. "It's gouging parents about their children's lives. It's not like letting them sniffle. It's life or death."
Lauren Barr, of Clark New Jersey, spent $735 this year on EpiPens
for her daughter. "The price of EpiPens has been getting progressively worse over the years, but now it is just obscene," she said.
For some, it's too much. Sarah Brown, of Boulder, Colorado, opted to hold onto her expired EpiPens rather than pay $585 for her pens (even after a $100 coupon for Mylan). "It was a gamble," she said.
Even former pharmaceutical executive Martin Shkreli, who faced his own fallback over drug price increases, weighed in. Calling Mylan "vultures," he questioned: "What drives this company's moral compass?" (Shkreli later backtracked in an interview with CBS.)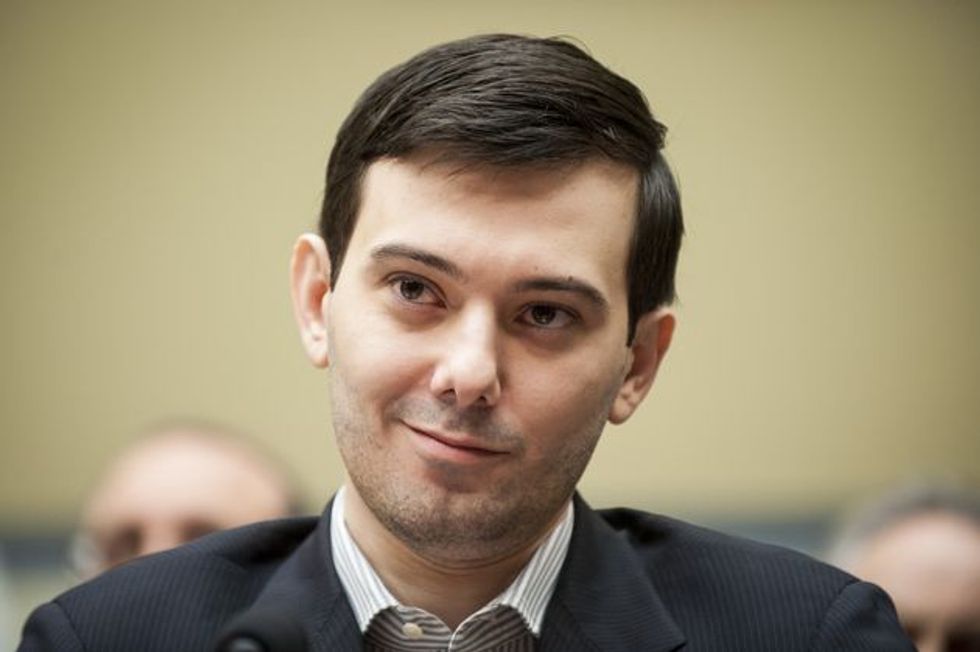 Martin Shkreli. (Credit: Source.)
Mylan's profits from the sale of EpiPens was $1.2 billion in 2015. What could be viewed as even more egregious is the fact that many of Mylan's executives saw huge increases during that period. Including Heather Bresch, the CEO, whose pay went from just under $2.5 million to nearly $19 million.
Heather Bresch. (Credit: Source.)
The price increase is parallel to Mylan's growing monopoly over the product. Manufacturers suspended production of Auvi-Q, the chief rival to the EpiPen, after a recall last year. The Federal Drug Administration rejected a generic competitor from Teva due to "certain major deficiencies," which could cause "significant" delays before another competitor is able to come forward.
The near-complete lack of competition has given Mylan brand domination, say doctors. "They did a pretty good job marketing themselves where it's just like Kleenex," said Dr. John Vann, a pediatrician in Omaha, Nebraska. "People don't say 'epinephrine auto injector,' they say 'EpiPen.'"
"This is a mainstream product that people carry, and it's getting harder and harder for people to afford it," said Senator Klobuchar. "It's just another example of what we keep seeing, outrageous price increases when a monopoly situation ends up in a company's lap."
In a statement, Mylan said that the cost to most commercially-insured consumers is near zero. However, that leaves many who are not covered by insurance or who have a high deductible "between a rock and a hard place," said Dr. Douglas McMahon, an allergy specialist in Maplewood, Minnesota. He continued, "When epinephrine only costs a few cents, but they're going up to $500, personally I don't think that's ethically responsible."
Mylan justifies the price increase by saying that the cost has "changed over time to better reflect the multiple, important product features and the value the product provides." But when it comes down to it, perhaps the observation made by Forbes magazine is more astute. "Why did Mylan raise EpiPen prices 400%? Because they could."