An Australian government official lashed out at Donald Trump Jr. after he postponed his speaking tour in the country, implying that Trump Jr. was unpopular and referred to him as a "big baby."
The tour, which was scheduled to take place in Brisbane, Melbourne, and Sydney starting on Sunday, had generated significant opposition on social media, with protests and a petition signed by over 20,000 people calling for the government to ban Trump Jr. from entering the country.
In response to the postponement, Trump Jr.'s promoter suggested the government was trying to keep him out, hinting at a conspiracy.
However, the Home Affairs Minister, Clare O'Neil, stated in a now-deleted tweet Trump Jr. was simply "a big baby who isn't very popular."She further noted Trump Jr.'s claims of cancellation by the Australian government were unfounded, as he had been granted a visa to enter the country.
She wrote:

"Geez, Donald Trump Jr is a bit of a sore loser. His dad lost an election fair and square — but he says it was stolen. Now he's trying to blame the Australian Government for his poor ticket sales and cancelled tour."
"Donald Trump Jr has been given a visa to come to Australia. He didn't get cancelled. He's just a big baby, who isn't very popular."
You can see what she said below.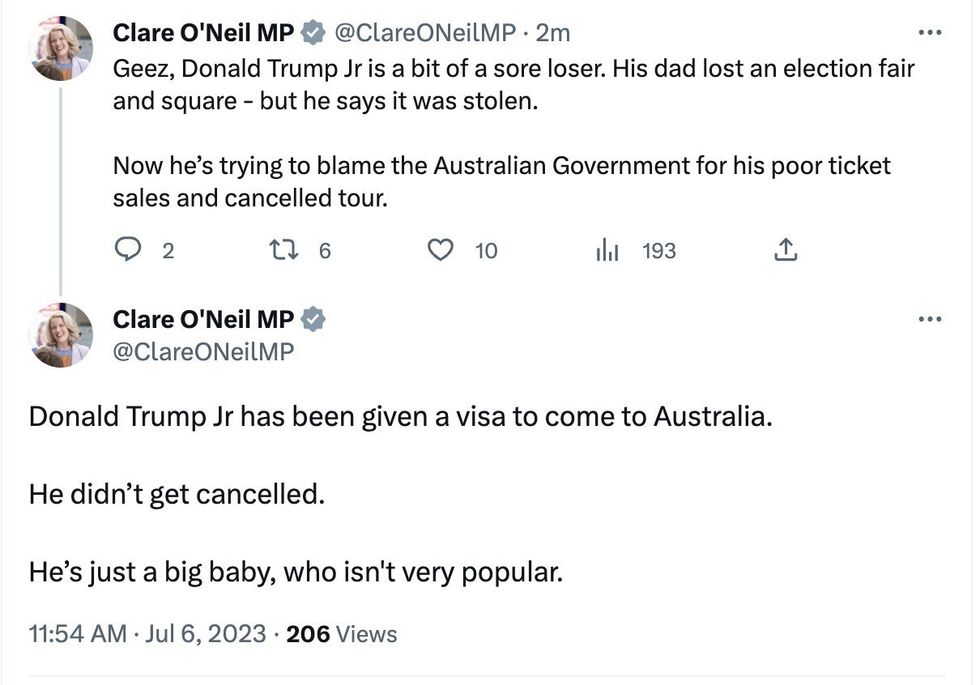 @ClareONeilMP/Twitter
O'Neil's remarks went viral and Trump Jr. was mocked profusely.

Prime Minister Anthony Albanese stated that Trump Jr.'s visa had been processed in the standard manner, while Immigration Minister Andrew Giles emphasized that all visa applicants are treated equally, regardless of their views.

Giles also pointed out the possibility that the postponement was due to lackluster ticket sales rather than any other factors raised by Trump Jr. and his team.
Trump Jr.'s visit to Australia has been postponed for now, and it remains to be seen when the speaking tour will be rescheduled.