[DIGEST: New Civil Rights Movement, Washington Post, Charlotte Observer]
Wednesday evening, the North Carolina legislature passed a bill that overturns local gay and transgender protections. The bill was a direct response to a prior nondiscrimination ordinance in the city of Charlotte, which had offered a wide range of protections. Most notably, the Charlotte ordinance allowed citizens to use the restroom that best matches their gender identity. State lawmakers acted ostensibly out of concern that women and children could be victimized by sexual predators posing as transgender to enter women's restrooms. Lawmakers agreed to pass the legislation in a one-day special session, which will cost taxpayers approximately $42,000. The North Carolina House passed the bill 83-25. Republican Governor Pat McCrory signed the bill into law mere hours after its introduction.
---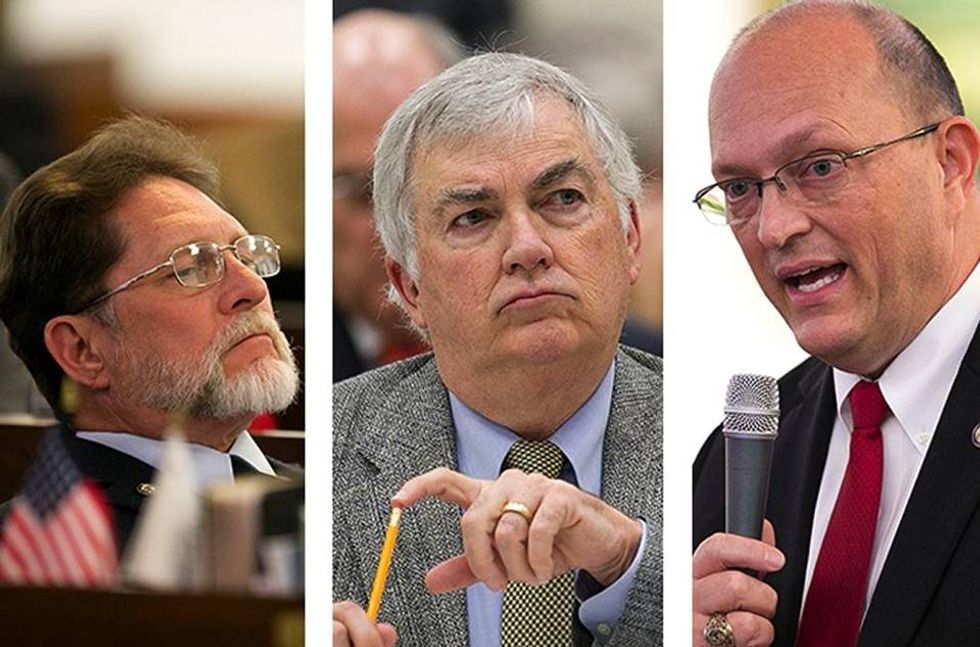 From left, Rep. Larry G. Pittman, Rep. Jay Adams and Rep Dean Arp voted in favor of a bill that would invalidate all of Charlotte's legal protections for their LGBT community. Credit: Source.
Civil rights groups immediately condemned the bill. Sarah Preston, acting executive director of the American Civil Liberties Union of South Carolina denounced the discriminatory legislation in a statement. "Legislators have gone out of their way to stigmatize and marginalize transgender North Carolinians by pushing ugly and fundamentally untrue stereotypes that are based on fear and ignorance and not supported by the experiences of more than 200 cities with these protections," she said.
The legislation in the Tar Heel State numbers among several recent attempts by state legislatures to overturn or halt the advance of LGBT rights. Legislatures are under pressure by religious groups, who have voiced concerns for restroom privacy or religious liberty. The Georgia legislature passed a measure to expand religious freedoms earlier this month, earning similar condemnation from LGBT rights groups. South Dakota Governor Dennis Daugaard vetoed a bill earlier this month that would have restricted transgender students' access to restrooms and locker rooms. In a statement, Daugaard cited the bill's ability to "invite conflict and litigation," accusing it of "diverting energy and resources from the education of the children of this state." Another bill failed in Tennessee on Tuesday.
Critics of the North Carolina legislation, known as H2, immediately accused the legislature of overreach because it voids nondiscrimination ordinances intended to protect LGBT people across the state. It revokes the right of transgender citizens to use the bathroom that corresponds with their gender identity. The state senate took up the bill two hours after the house passed it. Democratic senators walked out
within 45 minutes, their attempts to contest and reshape the bill struck down. The lack of interference from Democrats allowed the bill to pass unanimously, 32-0.
"We witnessed an affront to democracy," said Democratic Sen. Dan Blue of Raleigh, the minority leader. "We will not be silent."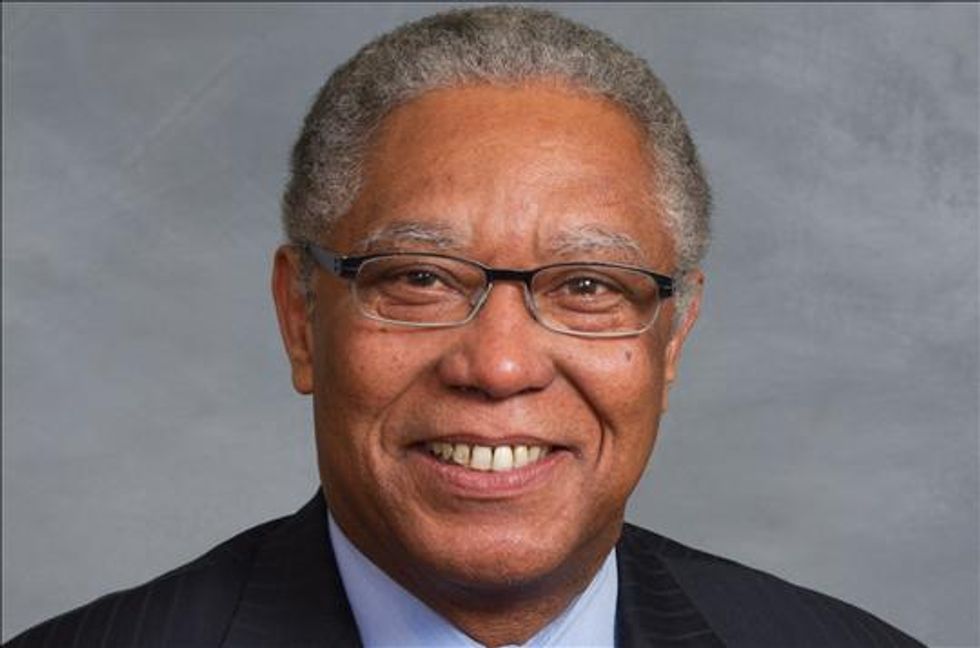 Sen. Dan Blue. Credit: Source.
Opponents of the bill asked senators to consider the real life consequences. One speaker asked them, for example, to consider the case of someone born as a female who then chooses to identify as a male. Should this person, for example, grow a beard through hormonal therapy, the law ironically would require him to use the women's restroom.
But voiced concerns over the safety of women's restrooms, like concerns over "religious freedom," have proven a powerful rhetorical tool. Voters in Houston repealed an anti-discrimination measure last fall as its detractors roused fear and suspicion of imaginary predators in women's restroom facilities.
Opponents of the measure including GLAAD (The Gay and Lesbian Alliance Against Defamation) have called for a boycott of North Carolina and are now seeking the cooperation of corporate allies to pressure North Carolina into repealing the bill. The law may also face legal challenges, as the U.S. Supreme Court previously has struck down a Constitutional Amendment in Colorado which similarly sought to target LGBT citizens and deprive them of the right to enact local nondiscrimination laws.