[DIGEST: CNN, NY Daily News]
Utah Gov. Gary Herbert (R) plans to sign two pieces of legislation to combat "a sexually toxic environment" caused by pornography; the signing will take place at the Utah State Capitol at 10 AM Tuesday.
---
H.B. 155 Reporting of Child Pornography is a measure requiring any computer technicians who find any such material while at work to report it to law enforcement. The bill provides immunity to technicians who act "in good faith" or who "in good faith do not make a report." The bill states that failure to report child pornography on any server is a Class B Misdemeanor. Internet service providers are not liable if the provider "reports child pornography in compliance with specified federal law." While the bill addresses some legitimate concerns about the exploitation of children (which federal law already largely addresses), it is the accompanying resolution that is generating interest in the measure from both backers and critics.
S.C.R 9 Concurrent Resolution on the Public Health Crisis asserts that pornography is "a public health hazard leading to a broad spectrum of individual and public health impacts and societal harms." The resolution cites numerous adverse effects of pornography, such as the treatment of "women as objects and commodities for the viewer's use," biological addiction, changes in brain development and difficulty maintaining relationships. Pornography also "equates violence toward women and children with sex and pain with pleasure, which increases the demand for sex trafficking, prostitution, child sexual abuse images, and child pornography."
Gov. Gary Herbert. (CREDIT: Source)
Though the resolution does not ban pornography outright, the state maintains that education and prevention against porn is a vital concern. "We want Utah youths to understand the addictive habits of porn that are harmful to our society," said Jon Cox, the spokesman for Gov. Herbert.
The Utah Coalition Against Pornography declared Monday a day of celebration, referring to the move as "historic" on its Facebook page. Dawn Hawkins, the executive director of National Center on Sexual Exploitation, supports both measures and is scheduled to appear at the signing. "Pornography encourages viewers to view their sexual partners in a
dehumanized way, and it increases the acceptance and enjoyment of sexual violence and harmful beliefs about women, sex and rape," she claimed in an interview she gave last year.
Sen. Todd Weiler (R), the chief sponsor of both pieces of legislation ignited controversy in a video interview with The Salt Lake Tribune in February. "We're not trying to ban masturbation," he said. "Pornography today is like tobacco was 70 years ago," citing their addictive effects. Anti-porn campaigner Gail Dines hailed the legislation and drew similar comparisons, arguing that consumption of pornography is a detriment to an individual's social, mental and physical well-being. "[But] just as the tobacco industry argued for decades that there was no proof of a connection between smoking and lung cancer, so, too, has the porn industry, with the help of a well-oiledpublic relations machine, denied the existence of empirical research on the impact of its products."
Gail Dines. (CREDIT: Source.)
Critics of both measures say there is not enough scientific evidence for the anti-porn push to have merit. "I think the conclusions we can draw from the science are very limited," said Dr. David Hill, who chairs the Council on Communications and Media for the American Academy of Pediatrics. While anti-porn campaigners cite a correlation between pornography and ill health, studies rely on subjects recalling taboo behavior and thoughts, a very unreliable approach.
Sex advice columnist Dan Savage sees porn as a useful tool. New fathers, he says, access porn for variety and stimulation. "We have a hard-wired desire for variety. Porn allows you to scratch that itch without physically cheating on your partner," he said last year.
Sen. Weiler believes Internet service providers should allow users to opt-in if they want to view pornography. He cited David Cameron's bid for such a feature in the U.K. in 2013. "If we can get 15 states to take this stand," he said, "I think we can start putting pressure on Congress to do what England has done." But England has not done this; in 2015, the European Union (EU) declared "porn filters" were illegal, citing protection of net neutrality, which suggests that all states and Internet providers must "treat all traffic equally, without discrimination, restriction, or interference." Weiler, however, is defiant. "You might have a first amendment right to view pornography, but what about my first amendment right not to see it? Sometimes, as you know, with popup ads and everything, it's just there. I go on twitter and see pornography, even though I use it for politics."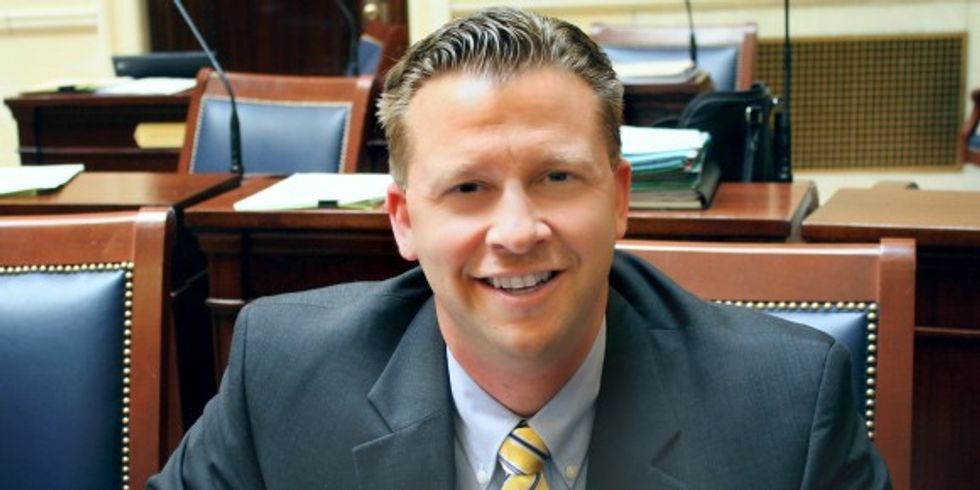 Sen. Todd Weiler. (CREDIT: Source.)
But Utah's reputation for wholesomeness and frugality may be belied by reality. In 2009, Harvard Business Study found Utahns to be "the highest per capita purchasers of online adult entertainment in the United States." Journalists gleefully commemorated this ironic twist, referring to the state as the "Porn Capital of America."