The standoff between First Americans and authorities at Standing Rock took on international dimensions as UN human rights investigation teams and foreign press representatives arrived to examine charges of mistreatment of protesters by local police. A representative of the UN's permanent forum on indigenous issues, an advisory group, has been collecting testimony from protesters who have raised concerns about excessive force, and report unlawful arrests and mistreatment in jail where some activists have been held in cages.
Local Native Americans and activists from across the nation have traveled to the Standing Rock site to try and block a planned $3.7 billion oil pipeline which would transport fracked crude from North Dakota's Bakken oil field to a refinery near Chicago. The tribal leadership has alleged that the project could destroy sacred lands, but their attempts to block construction in court have been unsuccessful. Energy Transfer Partners, the Texas-baed pipeline operator, has moved forward, building on lands indigenous leaders say contain sacred burial grounds.
---
The teams arrived as President Obama strongly signaled that he would favor a rerouting of the Dakota Access Pipeline to the north to avoid disturbing sacred burial grounds and possible water contamination. "We're monitoring this closely," Obama said in an interview with
NowThis
. "My view is that there is a way for us to accommodate sacred lands of Native Americans. And I think that right now the Army Corps is examining whether there are ways to reroute this pipeline. We're going to let it play out for several more weeks and determine whether or not this can be resolved in a way that I think is properly attentive to the traditions of First Americans."
The last week has seen continued clashes between demonstrators and law enforcement. Authorities confirmed that they would maintain a presence after arresting and forcibly removing 141 protesters from the camp using trucks, military Humvees, and buses; there were reports officials used pepper spray and fired bean bags on activists. Officials said protesters were on private property in the path of the pipeline. The incident comes on the heels of the arrests of more than 80 people on October 22 after a five-hour confrontation with police. The local sheriff department said authorities used pepper spray on demonstrators attempted to breach a line law enforcement had created between the demonstration and construction equipment.
"When you look at what the international standards are for the treatment of people, and you are in a place like the United States, it's really astounding to hear some of this testimony," said Roberto Borrero, a representative of the International Indian Treaty Council who is assisting the UN forum in its interviews.
Protesters say officials have been indiscriminately arresting activists, journalists, and filmmakers, accusing them of a range of charges, including criminal trespassing and rioting. "I've covered conflicts overseas, and I never imagined I would see this kind of show of force against peaceful people," said Jihan Hafiz, a freelance journalist who was arrested hours after she arrived last Saturday. "This is the kind of thing you see in the Middle East."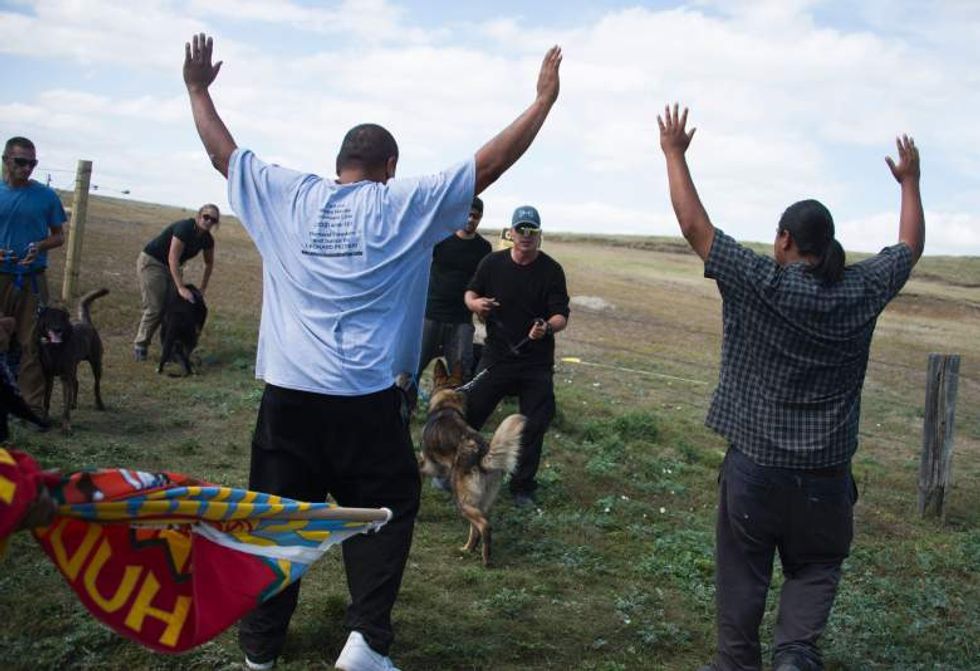 Credit: Source.
Native Americans, including elderly women and young activists since released from jail, have alleged "cruel treatment" and posit that law enforcement is not equipped to handle the influx of hundreds of people at local correctional facilities. Many still had charges and arrest numbers written on their arms in marker a day after their release––activists called this "unusual" and "dehumanizing"––and others say they were detained and kept in cages that they described as "dog kennels." Caro Gonzales, a member of the Chemehuevi tribe who also goes by the name Guarding Red Tarantula Woman, says law enforcement detained her in one of these cages with three other women. "We were all crying in pain, saying we needed medical attention," she said.
On Monday, Roberto Borrero and Grand Chief Edward John, a Native American member of the UN permanent forum, met with law enforcement in the local town of Mandan and visited the cages. A police spokesman initially told a reporter from The Guardian, "We have nothing to hide." However, Sheriff Kyle Kirchmeier, who has led the controversial response to the protests, later rescinded his invitation and barred the media from entering. A Guardian videographer that a police official appeared to be "hostile" when Borrero and John arrived,
telling them that it seemed they had "already made up their minds" that police had mistreated demonstrators.
A spokeswoman later sent photographs of the "temporary fenced cubicles" which were "at least" 10 by 14 feet. The photos showa number of parallel cages with ceilings of fencing in a windowless room.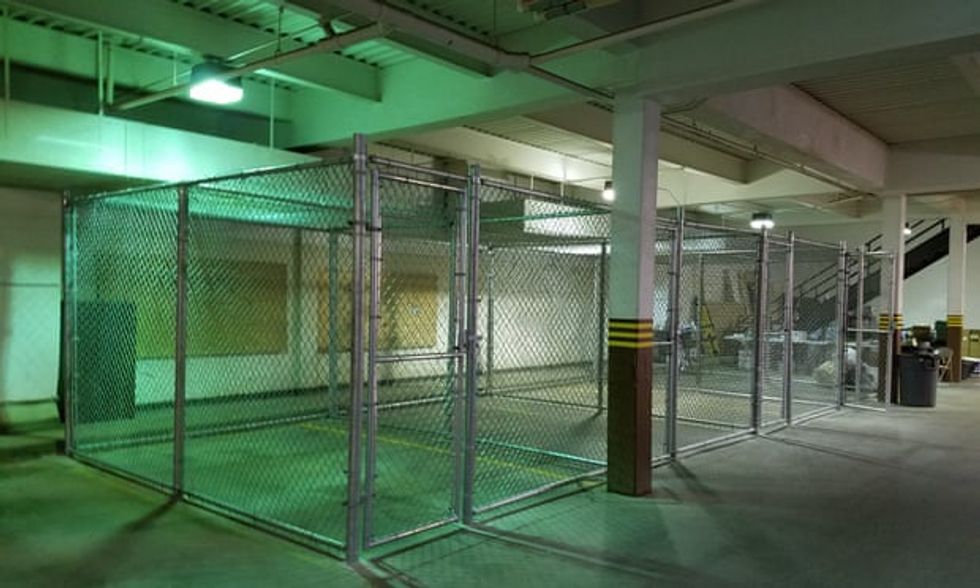 Credit: Source.
The spokeswman claimed that inmates had access to food, water, the bathroom, and medical attention while detained. Additionally, Rob Keller, a sheriff spokesman, told reporters in an email that "temporary holding cells made of chain link fences" are only used during mass arrests, and said that medical and nurse staff are available to meet inmates' needs.
However, several demonstrators said they had to wait for basic necessities. Johanna Holy Elk Face, a 63-year-old woman arrested last week, is a diabetic who said she had very high blood sugar while detained. She worried she would have a seizure and says police were slow to respond.
Caro Gonzales recalls spending 36 hours behind bars, and says she now faces multiple charges, including criminal trespassing and conspiracy with fire. Police impounded her motor home, along with her belongings. She currently lives in a hotel room in a local casino where she and others are recovering from a "traumatic jail experience." She says she was arrested while praying, and frisked by officers. ""They slammed us on to the ground," she said. "He searched me everywhere, touched everywhere. I was just crying. I couldn't physically stop myself."
Phyllis Young, a member of Standing Rock Sioux tribe, also provided testimony to the UN representatives, telling them that she intends to help the tribe file a lawsuit against North Dakota law enforcement. "We embarked upon a peaceful and prayerful campaign," she said. "They were placed in cages. They had numbers written on their arms very much like concentration camps." She called the actions of law enforcement against the native population "not only conditions of colonialism, but conditions of war."
Kandi Mossett, a 37-year-old protester and member of the Mandan, Hidatsa and Arikara nation, recalled the mass arrests of last week and called for reforms in the police department to stop the violent response to demonstrators who have been largely peaceful. "The government is allowing the police force to be used as a military force to protect an oil company," she said. "This started out as defending water, but now it's so much more. When they tell us we should protect property, they need to eat their words. Who is the thief here?"