Nikki Haley, who served as Donald Trump's U.N. Ambassador, gets dragged for claiming 'I don't put up with bullies' in her presidential announcement video.
14 February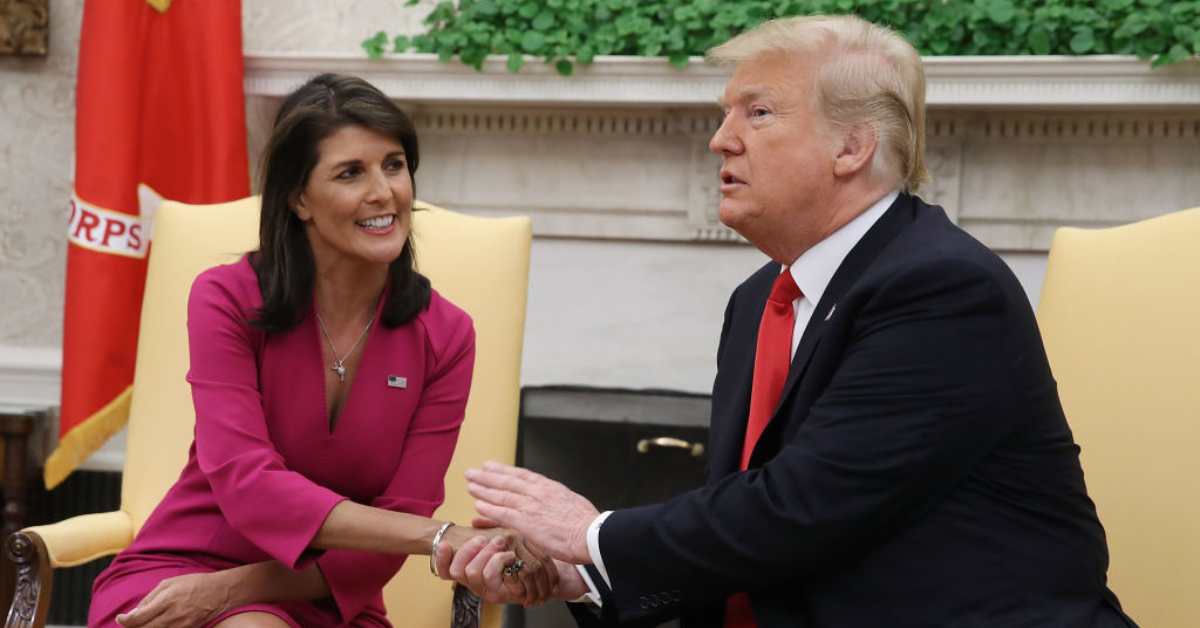 Mark Wilson/Getty Images
Former South Carolina Republican Governor Nikki Haley officially entered the 2024 presidential race but she's being criticized right out of the gate for claiming "I don't put up with bullies" in her presidential campaign announcement video.
The major issue people had with Haley's announcement was she had "put up with bullies"—and even enabled one—by serving in the Trump administration as former Republican President Donald Trump's ambassador to the United Nations.

Haley said in her video:
"You should know this about me: I don't put up with bullies."
"And when you kick back, it hurts them more if you're wearing heels."
You can see Haley's campaign announcement video below.

Haley supported and campaigned for Florida Republican Senator Marco Rubio during the 2016 presidential campaign and was once highly critical of Trump, even bearing the brunt of one of his attacks after she called for him to release his tax records.
Indeed, at one point Haley condemned Trump's failing to denounce Ku Klux Klan leader David Duke, saying Trump "is not who we want as president." However, she later endorsed him after Rubio dropped out of the 2016 presidential race despite warning his often inflammatory and racist rhetoric could lead to violence.
After resigning as U.N. ambassador in 2018, Haley described Trump as a "friend" and declared she would not "apologize" for working with him. She later garnered criticism for backing Trump's "Big Lie" that the 2020 general election was stolen from him and fiercely opposed his second impeachment for inciting an insurrection in the form of the Capitol riot.
Haley's relationship with Trump appears to have changed after January 6, 2021—the day a mob of his supporters attacked the United States Capitol on the false premise the election had been stolen—given he publicly snubbed her request for a sit-down at his Mar-a-Lago estate in the wake of the attack.
And yet despite her claim she is angry with Trump for the role he played on that day, Haley wrote she would "gladly defend the bulk of the Trump record and his determination to shake up the corrupt status quo in Washington" and said she will support his decision to run in 2024.
Social media users were quick to point out her hypocrisy.
Haley is calling for a "generational change" in the Republican Party, noting the GOP "have lost the popular vote in seven out of the last eight presidential elections" and must take on more substantive issues.
In its coverage of the announcement, the New York Timesnoted Haley's campaign "has drawn encouragement from many polls showing that in a hypothetical multicandidate field, Mr. Trump wins less than 50 percent of Republican voters" and her entry into the race "underscores how the former President has failed to scare off rivals in his third presidential campaign."
The newspaper went on to say Trump encouraged Haley to run and it is unlikely he perceives her to be a threat because he has not given her an insulting nickname or attacked her publicly.