In a since deleted Instagram post made Wednesday night, Donald Trump, Jr. shared a poorly photoshopped image of a CNN Gallup poll graphic. The poorly altered image showed his father finally reaching a 50 percent approval rating.
In his caption, the younger Trump stated:
---
Amazing. I guess there is a magic wand to make things happen and @realdonaldtrump seems to have it. #maga #americafirst"

Caption by Donald Trump Jr. on since deleted Instagram post. (screen grab)
The doctored image intended to show his father's approval rating at 50 percent versus President Barack Obama's 45 percent approval rating. Only the 50 percent for Trump failed to pass even brief examination.
@DonaldJTrumpJr lies as much as his Dad. This week, he posted an image with fake Trump poll/economic #'s compared t… https://t.co/qndU5e16ji

— John Williams (@John Williams) 1533932884.0
Whoever altered the original CNN screen grab left the "50%" misaligned with the text on the original graphic. Also, the background shade of red was drastically different.
@Matt_Kiser @currentstatus So wait, let me get this straight. Polls are fake until they show positive numbers for T… https://t.co/7SL6wyxNr5

— Brandon Bilinski (@Brandon Bilinski) 1533934717.0
After zooming in, people also clearly saw the original "40%" was still visible under the fake number. It didn't take long for the internet to pick up on the error of Trump Jr.'s ways.
Junior just posted a photoshopped photo of his dad's approval ratings & artificially inflated Trump's rating so tha… https://t.co/pXHQ0bI47V

— William LeGate (@William LeGate) 1533771485.0
@williamlegate @rolandscahill Here's the original: https://t.co/jNxLVcJrRU

— Sally (@Sally) 1533781831.0
Trump campaign forced to use badly made Photoshop images to spread their lies. https://t.co/tUOb0Y2QDG

— Mr. Reactionary (@Mr. Reactionary) 1533913114.0
@realDonaldTrump @DonaldJTrumpJr #Fakepresident s son makes up #fake poll. #LiarInChief As a father he has taught… https://t.co/PompfC6EvA

— I am Deborah Allen (@I am Deborah Allen) 1533934534.0
A few went to Trump Sr. to ask about the graphic his son shared.
@realDonaldTrump @GrahamLedger why dont you discuss how one of your sons photo shopped a popularity poll in your fa… https://t.co/gGb0xGjZeh

— Deep Thoughts by Jack Handey (@Deep Thoughts by Jack Handey) 1533821198.0
@realDonaldTrump I see that your "wonderful son" is as much of a GD liar as you, distributing a fake poll results g… https://t.co/tkp9lADzAj

— SmorrisonF (@SmorrisonF) 1533915884.0
While some theorized on the real reason behind the fake image.
Trump had the poll rigged to hang next to the fake time magazine its not the media that is fake the fake ness is tr… https://t.co/I56mxVk2EI

— karen byrne (@karen byrne) 1533925123.0
Some found irony in Trump Jr.'s magic wand comment since it is one of the photoshop tools used when altering images.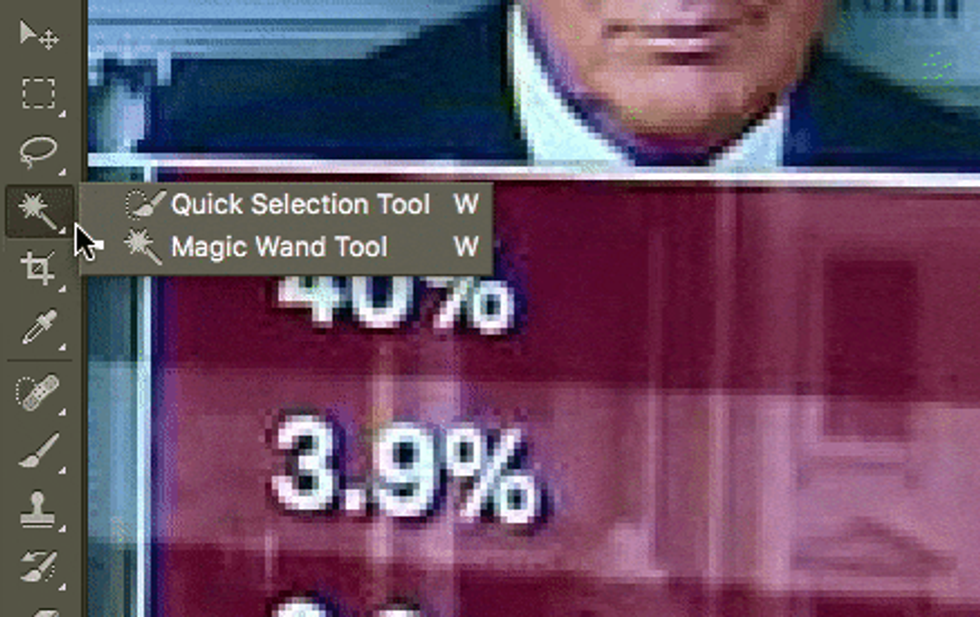 The magic wand from Photoshop. (Photoshop)
While others offered their own fake poll numbers.
@TheBeatWithAri @RealCandaceO Just did a fake poll in my mind that I know to be true and 100% of the white hate-gro… https://t.co/XzMmbc3A3g

— JD that one white boy (@JD that one white boy) 1533725271.0
Although it appears not everyone got the memo as Nevada Republican State Senate Leader and candidate for Nevada Lieutenant Governor Michael Roberson shared the clearly altered image Friday morning, well after the public called it out as fake.
Ironically, he captioned the image "Facts are stubborn things."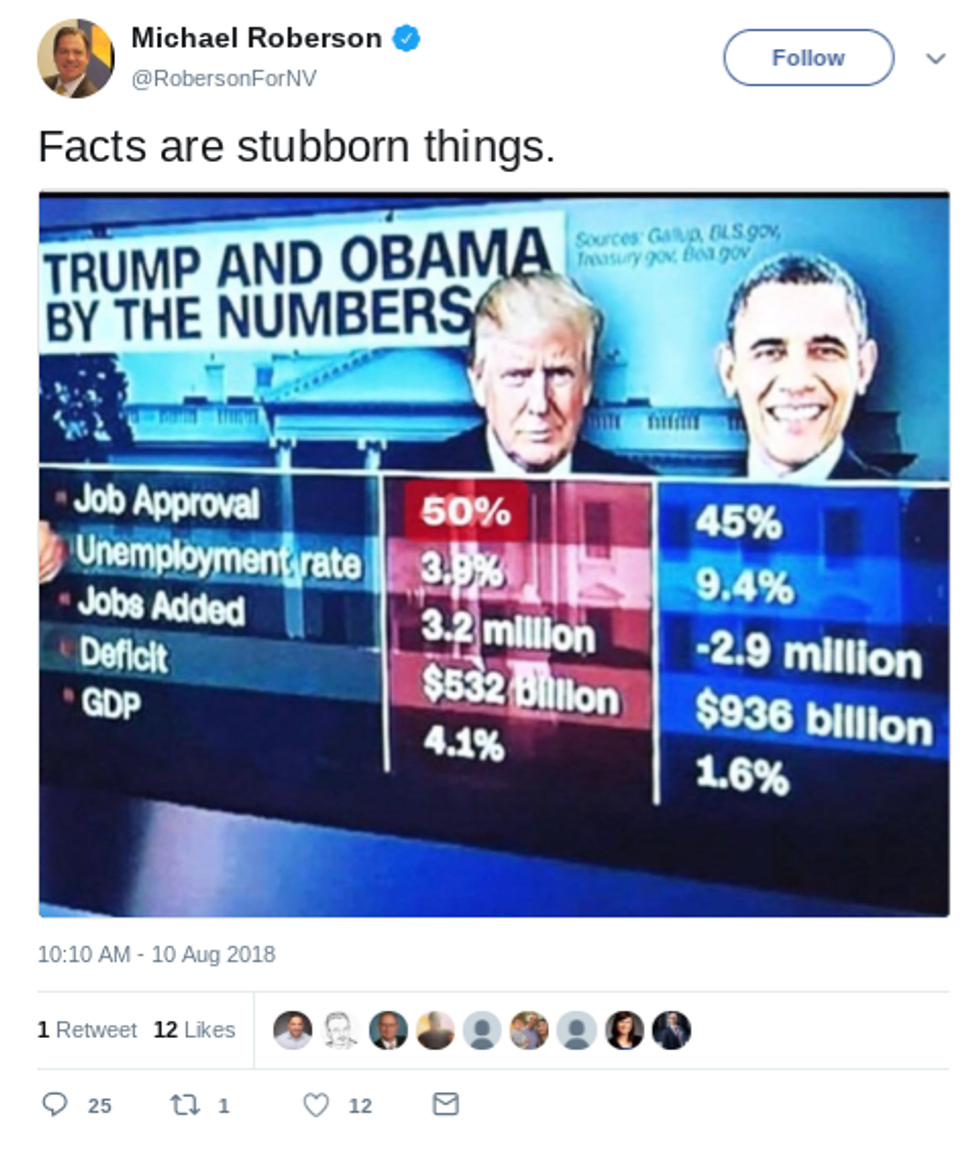 Twitter post by Nevada Republican candidate Michael Roberson. (Twitter screen grab)
After the public notified Roberson, rather than admit his mistake and delete the post, he claimed he was owning Libs with a badly photoshopped image.
Love the apoplectic comments below. I just polled my own household and Trump is at 50%, so the graphic stays. Libs… https://t.co/QVsRSNScuq

— Michael Roberson (@Michael Roberson) 1533931080.0
Twitter user Alex Kaplan broke the whole thing down in the following series of tweets.
First he shared the Instagram post by Trump Jr. as well as several pro-Trump Facebook pages.
A photoshopped image Donald Trump Jr. pushed on Instagram of his father's approval rating being 50% in a CNN graphi… https://t.co/W46NdqDCJw

— Alex Kaplan (@Alex Kaplan) 1533827495.0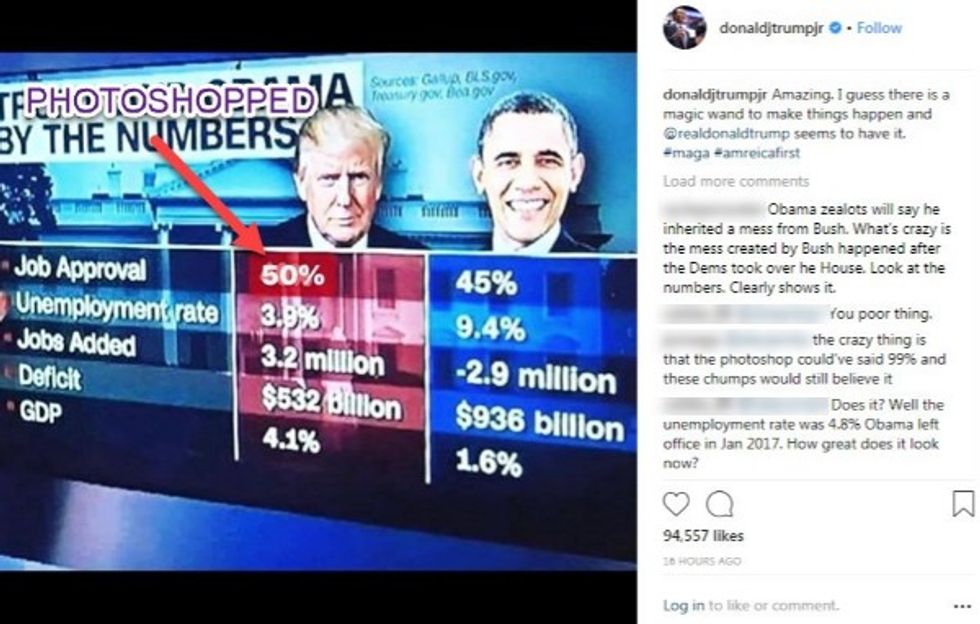 Donald Trump Jr. Instagram post with photoshopped and an arrow added by Alex Kaplan. (Twitter)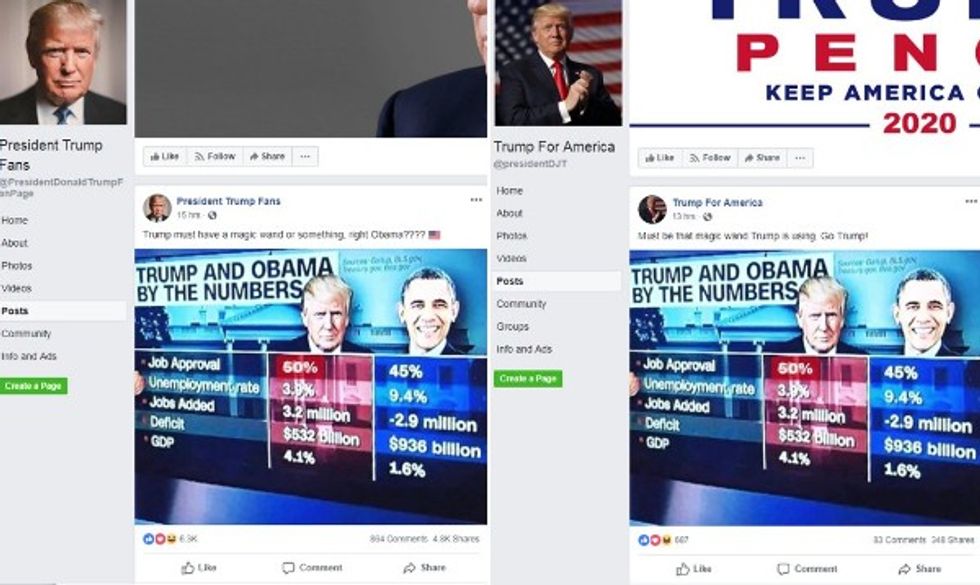 Pro-Trump Facebook pages share of altered CNN graphic. (Twitter)
After Trump Jr. deleted his Instagram post, Kaplan noted the Facebook posts of the same image had been turned into memes with the same numbers, but no basis in reality.
It appears that the photoshopped image has now been turned into a meme (text in the meme seems to match what was in… https://t.co/oF9xJdLavk

— Alex Kaplan (@Alex Kaplan) 1533908259.0
Trump Jr. has deleted his Instagram post.

— Alex Kaplan (@Alex Kaplan) 1533926835.0
Trump Jr. did not respond to any media inquiries about the graphic before or after deleting it from Instagram. It is unclear where he got the image, but he retweeted a similar claim from Twitter user Paul Joseph Watson making a 50 percent approval rating claim.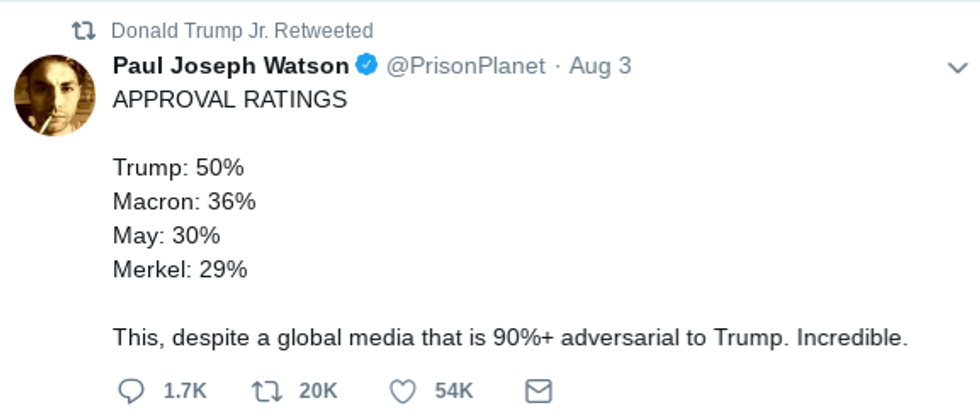 Retweet by Donald Trump Jr. (Twitter)
@PrisonPlanet Sure says the guy who shared the fake poll of trump's approval rating at 50% 😂😂😂

— Bus the Vote! (@Bus the Vote!) 1533918657.0