It's no secret that the surveys disseminated to President Donald Trump's supporters from his 2020 reelection campaign is less for information and more directed at glorifying Trump or vilifying Democrats.
The Trump campaign's latest survey, regarding 2020 Democratic candidates, focuses on the latter.
---
this survey is incredible https://t.co/ZK4w0rpXAC

— Ashley Feinberg (@Ashley Feinberg)1551990272.0
The questions are misleading at best.

@ashleyfeinberg/Twitter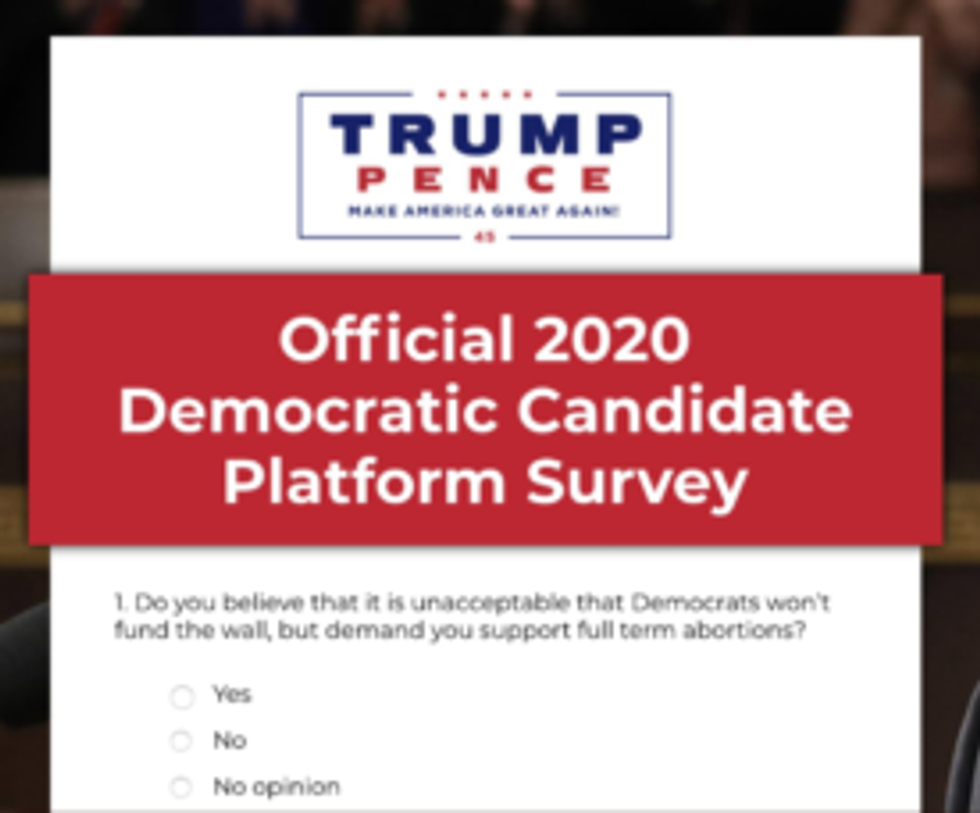 @ashleyfeinberg/Twitter

@ashleyfeinberg/Twitter
But there was one glaring error. See if you can spot it.

@ashleyfeinberg/Twitter
Twitter certainly did.
Soon, people were submitting surveys of their own.
@ashleyfeinberg How incredible is this survey?

— R (@R)1551990361.0
@ashleyfeinberg I work in research. Given that knowledge, do you not disagree that it is not unremarkable that upon… https://t.co/XfU9Wj0Lh9

— do not write in this space (@do not write in this space)1551991776.0
They weren't done.
The owning was swift but merciless.
@ashleyfeinberg I think the Dem candidate will get Yes electoral votes!

— Shoshana (@Shoshana)1551990566.0
@ashleyfeinberg Asking a "How Many" question, with answer choices being "Yes" and "No" just lines up perfectly with this admin

— S H W E T A. (@S H W E T A.)1551991390.0
@ashleyfeinberg #9 - In the words of Mona Lisa Vito - "It's a bullshit question, it's impossible to answer." https://t.co/n6JGKCZ3Zk

— Lizzie B 🏴󠁧󠁢󠁳󠁣󠁴󠁿 🇨🇦 ❄️ (@Lizzie B 🏴󠁧󠁢󠁳󠁣󠁴󠁿 🇨🇦 ❄️)1551990691.0
Unsurprisingly, the answers required a donation at the end.
@ashleyfeinberg Interesting what happens when you've finished and try to click "Continue," too: https://t.co/wYBRaubxfq

— Ken Walker (@Ken Walker)1551994278.0
The error was eventually fixed.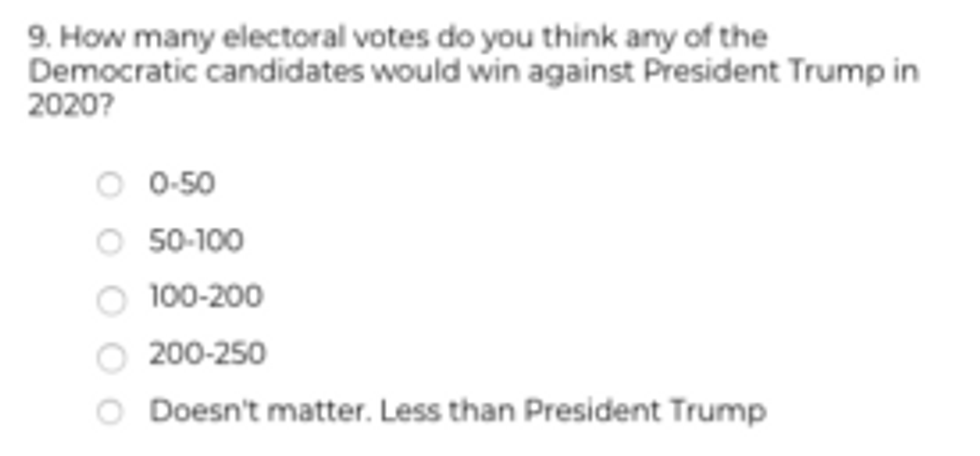 donaldjtrump.com
Apparently the Trump Pence mailing list is where all the action is.
@ashleyfeinberg The day I started getting @GOP surveys in the mail was one of the best days of my life. They're all… https://t.co/Nxak6oTfLl

— Elisheva Avital (@Elisheva Avital)1551990921.0
@darrelplant @ashleyfeinberg @ashleyfeinberg You might enjoy some of the other email/text/poll insanity in this thr… https://t.co/zdXfdiLYCc

— Zachary Elwood (@Zachary Elwood)1551990523.0
Feel free to let the President know how you feel!